Recipe for Easy Barbecue Beef – Skirt Steak a la Provencal
One much overlooked cut of meat is skirt steak, cooked correctly it has so much flavour and the added benefit of being half the price of fillet. So when we saw two huge slabs of it in our local Waitrose we knew we'd found the perfect dish for that evening's family feast, served with a hot, poured over garlic, herb and lemon vinaigrette…read more at Mirabeau Wine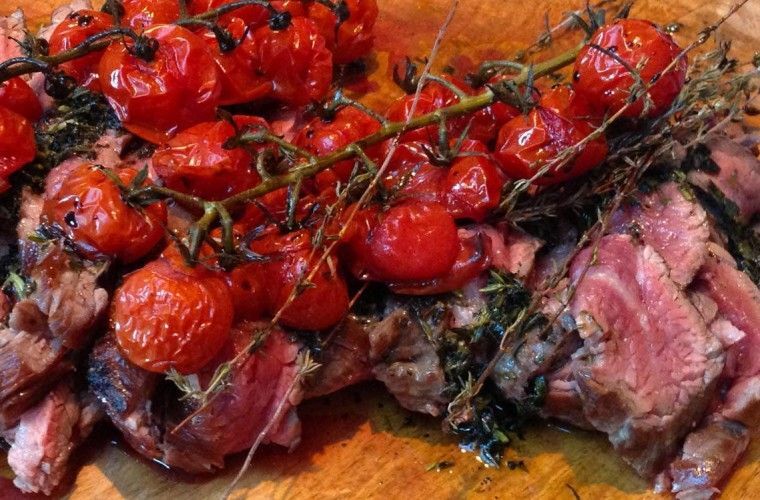 Barbecue Beef a la Provencal
Juicy tender ribbons of bbq steak drizzled in garlic and olive oil with fresh roasted cherry tomatoes. Quick easy, healthy, delicious and budget friendly.
Ingredients
1

kg

skirt steak

olive oil

1

clove

garlic

chopped

Basil

chopped, fresh if at all possible

Oregano

chopped, fresh if at all possible

Parsley

chopped, fresh if at all possible

1

Lemon
Instructions
First I made the vinaigrette to go over the meat once finished, as once it comes of the barbie you don't have much time to mess around.

Use about half a cup of olive oil and gently fry the chopped garlic to flavour the oil. Set aside.

Prepare the meat by rubbing it with olive oil, salt and pepper.

We made some simple new potatoes as a side dish, so cook those and have them ready to be served.

Some green beans or roasted baby tomatoes would also be a nice addition.

Once all's prepared chuck the meat on the barbecue and cook for about 5 minutes each side (or a bit more if you don't want it too raw).

Please don't overcook this cut of meat, as it will turn into a shoe-sole, I guarantee it.

Whilst it's on the grill, reheat the olive oil and add the chopped herbs, keep warm but don't let it boil.

Once the steak comes off, find a chopping board and cut it into thin-ish slices.

Transfer the meat to your serving plate (unless the board does the trick) and pour over the hot sauce, making sure all the bits of meat are nicely covered.

Sprinkle some more sea salt and squeeze a lemon over it all to finish off and decorate it with your roast baby tomatoes.

Get it on the table as quickly as possible as it does go cold.
Notes
This dish worked like a treat, everyone loved it and yet it's simple to prepare and doesn't cost the earth.