French Bistro Coq au Vin
A traditional French bistro is an interesting study in dining psychology. The tables are impossibly close together, yet it 's hard to make out the neighbour's conversation as sound reverberates off all the hard surfaces. The decor is basic; the chairs are not chosen for lingering, and the table settings are ordinary. Yet, there is a "je ne sais quoi" attraction to eating in a frenzied environment. Personally, I think it is because one's expectations are fixated on time-tested recipes such as Coq au Vin. This recipe is by our friend David @ Cocoa & Lavender.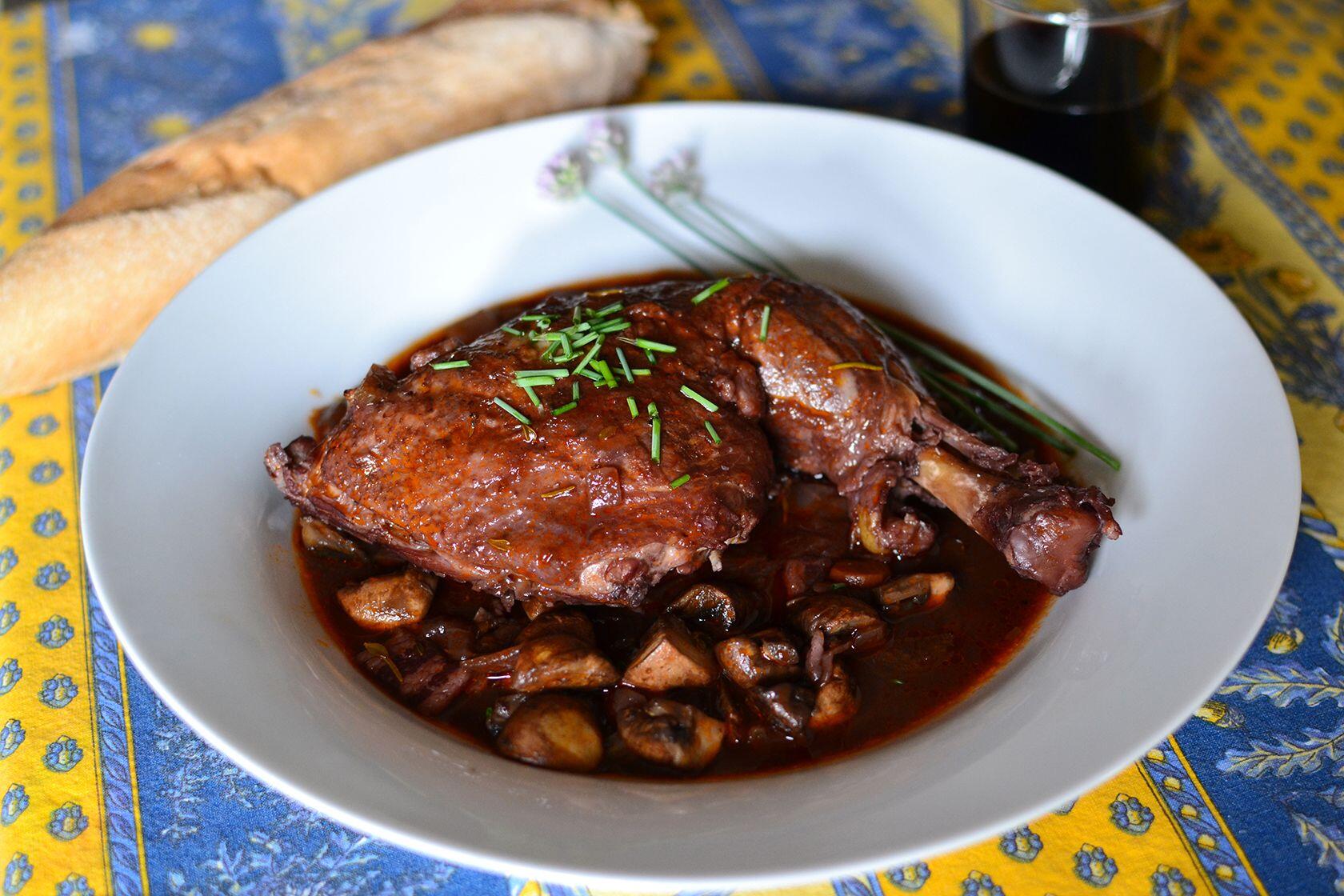 Coq au Vin
This classic French poultry recipe by Chef Ryan McIntyre, Bistro Zinc, Lenox, MA was adapted for Cocoa & Lavender.
Ingredients
2

tbsp

vegetable oil

divided

4 or 5

skin-on, bone-in chicken legs

thigh and drumstick

Kosher salt

Freshly ground black pepper

12

oz

thick-cut bacon*

cut crosswise into 1/3-inch slices

3

Carrots

peeled, chopped

3

Celery stalks

minced

1

oinion

minced

4

cups

dry red wine, such as Burgundy

divided

1/2

cup

Tomato paste

1

quart

low-sodium chicken broth

12

sprigs

Thyme

6

sprigs

rosemary

1

lb

wild mushrooms**

cut in bite-size pieces
Instructions
Preheat oven to 350°F.

Heat 1 tablespoon oil in a large ovenproof Dutch oven over medium-high heat.

Season chicken with salt and pepper.

Cook chicken in batches until browned, 5-6 minutes per side.

Transfer to a plate and drain fat from pot.

Add bacon to pot; cook until rendered. Drain all but 1 tablespoon fat from the pan.

Add carrots, celery, and onion; cook until onion is translucent, 7-8 minutes.

Stir in 1 cup wine and tomato paste; simmer for 2-3 minutes.

Add remaining 3 cups wine. Gently boil, stirring occasionally until wine is reduced by half, about 15-20 minutes.

Return chicken to pot.

Add broth.

Tie thyme and rosemary sprigs together; add to pot.

Bring to a boil and cover pot.

Transfer pot to oven and braise until chicken is tender, about 1 1/4 hours.

Meanwhile, heat 1 tablespoon oil in a large pot over medium-high heat.

Add mushrooms; sauté until browned, about 5 minutes.

Transfer chicken from sauce to pot with mushrooms; keep warm.

Simmer sauce over medium heat until reduced by 1/3, about 20 minutes.

Season with salt and pepper. Go lightly on the salt until you taste it.

Add mushrooms and chicken to sauce.
Notes
For the bacon - David used salt pork to avoid a smoky flavour
For the mushrooms - use baby bellas, shiitake & oyster mushrooms
Coq au Vin can be made 3 days ahead. Chill uncovered until cold. Cover, keep chilled. Rewarm before serving.