Lavender in Provence, from Farmers to Artisans to Recipes
In most people's minds, lavender, rosé wine, and Provence are inseparable. As a result, the flowering lavender fields are a magnetic attraction for locals and visitors alike from mid-June until the middle of August.
Farming Lavender
The Romans first introduced the lavender plant to the South of France as they were aware of lavender's health and hygiene benefits. Provence's hot, dry climate and ample well-drained land between 600 – 1,400 metres in altitude suit these low shrubs. Today, long after the Romans, the lovely fragrant plants are an economic driver in the region, impacting agriculture, tourism, manufacturing, and retail. There are 1,500 producers and over 25,000 hectares under cultivation in four (4) departments the Drôme, Alpes-de-Haute-Provence, Hautes-Alpes, Vaucluse, with some small production in the Auvergne, Quercy and the Ardèche. According to France 24, there are roughly 120 distilleries.

Due to an infectious disease, France's lavender and essential oil production dropped below Bulgaria's. However, the French industry is recovering, and the oil retains the top spot for quality.
Field to Bottle
A heavenly scent floats on warm evening breezes during the lavender harvest in Provence at the end of July. The distillation has begun, alerted by the first wafts of perfumed air. Inside enormous metal vats, steam rises through the lavender cuttings forcing the flowers to release their essential oil. The resulting liquid contains the flower's essence, oil, and fragrance at the end of the process.

It's hard to believe, but it wasn't until the 1950s that mechanical harvesting via tractor began. These old tractors had special blades to cut the lavender as they moved along the rows. The cut flowers are tied by the machine and left in small bunches to dry in the sun. Today, harvesting machines cut and roll the plants into big bundles. This process saves time, but the specialists believe the essential oil at the end of the distilling process is less pure.
Pure lavender oil is expensive, and many poor-quality products are on the market. The yield from a hectare of lavender flowers produces only about 15 kilograms of essential oil. If you are fortunate to witness the harvest and watch the distillation process, it's easy to appreciate how much lavender needs to be grown to produce that little vial of essential oil.
Artisan Traditions
Exploring the Provencal market stands piled high with seasonal produce, fragrant fresh fruit, buckets of just-picked flowers, table linens and bright pottery is pure delight. However, it's not always rewarding for market vendors facing early mornings, erratic weather, and fickle crowds. Determined to carry on an artisanal tradition, Elsa Lenthal, the founder of Fuseaux de Lavande de Provence, chose to produce lavender wands in these markets as her summer job. She has turned that summer gig into a full-time activity promoting an old Provencal custom.

Organic lavender is at the core of L'AUGUSTE Provence and is associated with the region's outstanding beauty and long-standing traditions. The company's signature product is a sachet filled with organic lavender from the fields of Provence in a matching gift box, both in an exclusive watercolour design.

Remember Provence's lavender bags contain dried flowers collected and left in the sun to dry. This process removes residual moisture from the plant while retaining the flower's scent. Use the lavender sachets to keep laundry fragrant while protecting it from moths. The smell of lavender remains active for about two to three years; squeeze the sachets to reactivate its diffusion. Occasionally, refresh the sachets with a few drops of essential oil, then slip them between the sheets or in your clothes drawers.
Lavender Recipes
Lavender's intoxicating fragrance is like a journey into a perfume bottle. So why not take that into the kitchen? The herb is a member of the mint family, and specifically grown culinary lavender is edible and adds a unique flavour to baked goods, desserts, and savoury dishes.
Sweet Lavender

Fresh Apricots are the key to creating a delicious apricot jam. This jam includes a hint of vanilla, lavender, and lime!
Apricot Jam with Vanilla, Lime and Lavender
Apricot Jam is the perfect spread for your morning toast to brighten your day. A mix of apricots, vanilla, lime, and lavender creating a tasteful jam.
Check out this recipe

Make some madeleines if you are looking for the perfect dessert for your next get-together with family or friends. This madeleine recipe includes culinary lavender, lemon, and honey. For extra flavour and style, dip the madeleines in chocolate.
Lemon & Lavender Honey Madeleines dipped in Chocolate
The perfect treat to share! This recipe makes 30 large madeleines or 48 small madeleines.
Check out this recipe

A shortbread baked with fresh lavender. All will enjoy the aromatic smell, taste and colour!
Lavender Shortbread
This recipe takes my classic shortbread recipe and adds a new flavour and colour dimension, both natural, by adding Fresh Lavender. Processing fresh lavender flowers with sugar releases the natural oils to create a heavenly smell and colour of our beloved lavender, an herb thought of mostly for perfumes and now for our culinary delight. Close your eyes, and you will think you are in a lavender field!
Check out this recipe

If you are looking for a frozen dessert, lavender ice cream is the perfect option!
Lavender Ice Cream
Lavender ice cream is an excellent way to cool off during a warm summers' day without an overly-sweet treat. This ice cream is easy to make and sure to impress, even if you don't have access to fresh-cut lavender from Provence.
Check out this recipe

A custard sauce made with fresh lavender flowers enhances any delicate dessert of your choosing.
Lavender Crème Anglaise
If you're looking to broaden your horizons and add some aromatic flavours to your dishes, this custard sauce is the way to go. Whether you add it to some delicate desserts or brighten up a seafood dish, this crème anglaise is a beautiful custard sauce recipe to keep in your back pocket.
Check out this recipe

A fun ice cream that perfectly mixes the flavour of lavender and your favourite stone fruit (apricot, peach, plum).
Apricot and Lavender Ice Cream
Don't shy away from making ice cream. This recipe takes advantage of ripe stonefruit (apricot, peach), and needs little sugar. The lavender flavouring gives it that hint of Provence.
Check out this recipe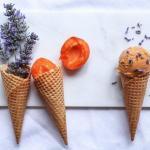 A lavender and honey pudding made with fruit and almonds satisfies various cravings!
Creamy Lavender Honey and Almond Pots
A rich, decadent and creamy pud with summer berries and a lovely crunch of almonds.
Check out this recipe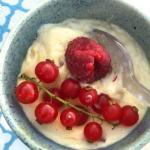 A quick bread lavender buttermilk cake served with berries on top.
Lemon Lavender Buttermilk Cornmeal Olive Oil Cake
This recipe was minimally adapted from the recipe by Nicole Riegl of http://www.rieglpalate.com/
Check out this recipe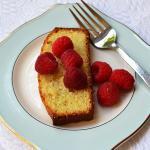 Savoury Lavender
A cold summer soup is a nice change of pace made with blueberries, lemon, and lavender.
Blueberry-Lavender Soup 
This recipe was adapted from Cooking in the Shaker Spirit, by James Haller.
Check out this recipe

The hint of lavender amplifies this main course dish. In this case, lamb chops brushed in lavender honey are the perfect example.
Lavender Honey Brushed Lamb Chops Served with Moroccan Chickpea Couscous Salad
Prepare the salad in advance and then the only thing that is left to do when your guests arrive is to roast the lamb. Easy and delicious with all the flavours of Provence combined on a plate.
Check out this recipe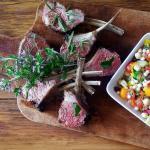 Serve this pasta dish as a starter course or main dish. Purple Haze Ravioli is cooked In lavender-rosemary butter, Marcona almonds, and candied orange peels to create a tasteful dish.
Purple Haze Ravioli
Delicate homemade ravioli stuffed with tangy goat cheese and herbs, served with lavender-rosemary-infused brown butter with Marcona almonds and candied orange peel.
Check out this recipe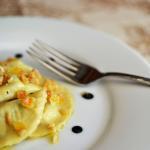 Refreshing Lavender
A refreshing beverage is just as important as the meal itself. Try a lavender mint Meyer lemonade at your next summer lunch.
Lavender Mint Meyer Lemonade
Refreshing and tasty this drink may be come your go-to summer beverage.
Check out this recipe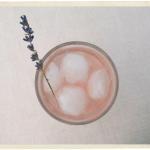 All rights reserved. Perfectly Provence articles and other content may not be published, broadcast, rewritten (including translations into other languages) or redistributed without written permission. For usage information, please contact us.
Syndication Information
Affiliate Information
As an Amazon Associate, this website earns from qualifying purchases. Some recipes, posts and pages may have affiliate links. If you purchase via these links, we receive a small commission that does not impact your price. Thank you in advance for supporting our work to maintain Perfectly Provence.