A Lesson in Making Apricot Lavender Jam
David Scott Allen shared his experience in Santa Fe, New Mexico, last summer. The destination is known for its art scene, outdoor opera (Santa Fe Opera), and creative New Mexican cuisine. However, a much less known fact about Santa Fe is the number of apricots that grow there. During their visit, they picked four pounds of apricots from a friend's tree. Then this issue was what to do with the bounty? David turned the fruit into a very flavourful apricot jam with vanilla, lime, and lavender during their visit.
Read the original article "A Plethora" for details of their trip and photos of Santa Fe.

Apricot Jam with Vanilla, Lime and Lavender
Apricot Jam is the perfect spread for your morning toast to brighten your day. A mix of apricots, vanilla, lime, and lavender creating a tasteful jam.
Ingredients
3.5

lbs

Pitted Apricots

10

Apricot Pits

1

Vanilla Bean

1

tsp

Culinary Lavender Buds

crushed

1.5

pound

Sugar

2

tbsp

Lemon Juice

half a lemon

2

tbsp

Lime Juice

1 lime
Instructions
Pit the apricots making sure to remove any blemishes. Discard apricot if the surrounding of the pit is brown.

Cut the vanilla bean into eight (8) pieces. Crack the reserved apricot pits with a pair of pliers.

Place the vanilla bean pieces and cracked apricot pits on a piece of cheesecloth and tie them together into a bundle.

Combine the pitted apricots with sugar, lavender, and lemon juice. Stir together and allow to macerate for 10 minutes. Set two small plates in the freezer.

Scrape the apricot mixture into a large pot set on medium-high heat. Add the cheesecloth bag, and bring the mixture to a boil. Stir often to keep the bottom from sticking.

After 15 minutes, add the lime juice, stir, and allow to return to a boil. Reduce heat to medium and let the mixture simmer for 10 minutes.

To test the jam, put a small spoonful on a plate into the freezer. If it doesn't move easily when it gels, it is ready. If it runs when you tilt the plate, cook another 5-10 minutes and test again. Then, remove the cheesecloth bag and discard.

Optional Step: Use an immersion blender to purée some of the mixture, stir to blend. Adds a mixture of texture.

Divide the jam among 7-8 sterilized 1/2-pint jars. Wipe rims clean and top with sterilized lids. Screw on the rings (not too tightly) and process in boiling water for 10 minutes.

Remove and allow to cool. When you hear the "button" in the middle of the lid ping the seal is set. (If it doesn't ping on its own lightly press with your finger and it should pop). If you have any issues with sealing the jar — keep refrigerated.
Notes
The kernel inside the apricot pit adds an almond-like flavour to the jam.
The recipe yields a little over 7 half-pint jars.
Other Apricot Recipes:
Apricot and Lavender Ice Cream
Don't shy away from making ice cream. This recipe takes advantage of ripe stonefruit (apricot, peach), and needs little sugar. The lavender flavouring gives it that hint of Provence.
Check out this recipe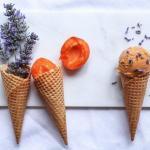 Apricot Cake - Gâteau d'Abricots
Très vite fait, très vite mangé, ce gâteau est parfait pour tenir le rythme rapide de Juin. This apricot cake is quick to make and disappear even faster. This recipe is suitable for lactose-free diets, and perfect for busy summer months when the stone fruit are the ripest.
Check out this recipe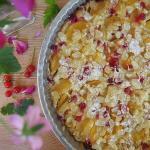 Roasted Apricots with Honey and Almonds
This dessert recipe can be made on the BBQ or in the oven. Easy to prepare the combination of roasted apricots and yogurt-cream are a match made in Provencal heaven.
Check out this recipe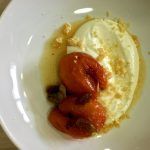 Apricot Tart
This sweet apricot tart recipe is very easy to make and tasty enough for seconds. It is even better the next day. Note: You can prepare this tart with other stone fruit such as peaches or plums.
Check out this recipe