The Sweet Pleasure of Lemon and Lavender Madeleines
Recently, I felt inspired to bake some delicious Lemon and Lavender Honey Madeleines. I hadn't made madeleines since I left my last restaurant job several years ago. My madeleine moulds were still wrapped in the same plastic from the day when my pastry chef handed them back to me.

Lemon & Lavender Honey Madeleines dipped in Chocolate
The perfect treat to share! This recipe makes 30 large madeleines or 48 small madeleines.
Ingredients
Extra flour and room temperature butter for the moulds

13

tbsp

Unsalted Butter

6.5 ounces

1 & 2/3

cups

Confectioner's Sugar

6.75 ounces

1/2

cup

All-Purpose Flour

2.5 ounces

1/2

cup

Fine Almond Flour

1.5 ounces

6

large

Egg Whites

2

Lemons

zested

1/4

cup

Fresh Lemon Juice

1

tbsp

Lavender Honey

melted / liquidy
Instructions
Heat butter in a small pot over a medium flame until lightly brown, about 3 minutes. Immediately transfer to another container to stop cooking and cool off quickly.

Sift the sugar and flour together into a bowl. Add the almond flour and mix well.

Beat the egg whites in a large bowl with a whisk until frothy. Next, stir in the flour mixture and then the cooled brown butter. Finally, incorporate in the zest, juice, and honey.

Prep the moulds by generously buttering each mould. I like to sprinkle flour over with a sifter or small strainer until well coated and then tap out the excess flour. It is important to coat the mould well because the butter and flour help to create the exterior texture. Fill the moulds just to the top and then refrigerate for 1 hour. If you are serving later at night, hold in the pans until you are ready for them.

Preheat the oven to 375°F. Make sure it is well heated before you cook your madeleines.

Cook madeleines until the edges are turning golden brown, about 15 minutes. Pull them out of the oven and let them cool slightly for 5 minutes then eat a few before anyone notices. Tap them out of their moulds.
Other Desserts to Share:
Double Chocolate Chip Cookies
These cookies are undoubtedly English. But they are particularly appreciated by the French and often found among the tempting sweets in some bakeries. In Paris, they can be found almost everywhere, from local bakeries to fine patisseries. There are even have addresses selling only cookies now (Scoop Me a Cookie, Laura Todd Cookies, La Fabrique Cookies,..). In order to delight you during cold autumn/winter nights, here is an unbeatable recipe for these sweet treats!
Check out this recipe

Madeleines
These little sweet treats are not quite cookies and not quite cakes. Easy to make and hard to keep in stock.
Check out this recipe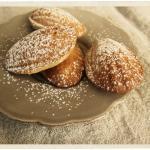 Madeleines with Orange Blossom Water
If you're looking for a picnic-worthy treat to enjoy in the sunshine (or indoors for a bright flavour reminiscent of springtime), then look no further! These madeleines have gentle citrus notes from the orange blossom water.
Check out this recipe

Valentine's heart-shaped cookies
We've got a super easy and oh so pretty cookie recipe: heart-shaped citrus cookies with blood orange icing. In season and naturally pink! It's the perfect sweet treat to enjoy with your partner or your gals.
Check out this recipe