Lavender Shortbread a Sweet Provencal Treat
The following recipe for lavender shortbread is my Provencal take on the Scottish classic. However, let's start with an introduction to baking with fresh lavender. I love nothing more than throwing a handful of fresh lavender or any other herb into my baking. It takes me to simpler times with fewer processed foods.

Personally, I love lavender in particular because of its wonderfully aromatic smell, taste and colour. It can be infused in sugar with a food processor, which releases the natural oils and sends out a heavenly smell akin to standing in the middle of a lavender field. Infuse lavender into heavy cream for custards. Use the custard base in recipes such as crème brulée, ice cream or even imagine a wonderful lavender crème anglaise over poached salmon. You can also infuse things like cream cheese, butter, goat cheese for a unique spread. The possibilities are based solely on taking your favourite recipe and adding a new dimension.
The important thing about using fresh lavender is to make sure that it is organic and has not been sprayed with any pesticides or grown with any fertilizer that is not consumer-friendly. Should you not have access to fresh lavender, you can use dried but make sure it is culinary. And also, use only about ¼ the suggested amount as dried herbs are more potent than fresh. You don't want your wonderful baked goods to taste like perfume!

Lavender Shortbread
This recipe takes my classic shortbread recipe and adds a new flavour and colour dimension, both natural, by adding Fresh Lavender. Processing fresh lavender flowers with sugar releases the natural oils to create a heavenly smell and colour of our beloved lavender, an herb thought of mostly for perfumes and now for our culinary delight. Close your eyes, and you will think you are in a lavender field!
Ingredients
3

cups

All-Purpose Flour

¾

cup

Granulated Sugar

1 ½

cups

Unsalted Butter

cold, cut into cubes

handful

Fresh Lavender*
Instructions
Preheat the oven to 350°F (175°C).

In a food processor, process the sugar and a handful of Lavender Flowers. Process until fully incorporated and the Lavender you see is just tiny "flecks." The sugar will turn a beautiful light lavender hue.**

In a stand mixer or by hand, cream the butter and Lavender-infused sugar until well blended, scraping down the sides as needed.

Add in flour and beat until well blended.

Scrape down the sides of the bowl.

Place half of the shortbread dough on parchment paper and roll into a "log" approximately 2" wide. Refrigerate wrapped in parchment paper or plastic wrap for a few hours until firm enough to slice.

Remove from refrigerator and slice into ½" thick cookies and place on a lined baking sheet.

Bake approximately 15 minutes or until slightly golden brown on the bottom and the surface "springs back" to the touch; the cookies will continue to bake after removed from the oven so you do not want them to be completely firm.
Notes
*If you do not have fresh lavender available, you may purchase culinary-grade lavender from spice companies such as Olive Nation.
**It is suggested that you make more infused sugar than you need for this recipe and use it for other recipes such as Lavender Lemon Pound Cake, Lavender Simple Syrup, Lavender Ice Cream; the possibilities are endless! Make sure to store the sugar in a tightly sealed container or glass jar; to avoid the sugar from hardening; if it does, place it back in the food processer and reprocess.
Recipes with Lavender
Lavender Ice Cream
Lavender ice cream is an excellent way to cool off during a warm summers' day without an overly-sweet treat. This ice cream is easy to make and sure to impress, even if you don't have access to fresh-cut lavender from Provence.
Check out this recipe

Lavender Mint Meyer Lemonade
Refreshing and tasty this drink may be come your go-to summer beverage.
Check out this recipe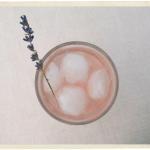 Creamy Lavender Honey and Almond Pots
A rich, decadent and creamy pud with summer berries and a lovely crunch of almonds.
Check out this recipe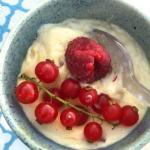 Blueberry-Lavender Soup 
This recipe was adapted from Cooking in the Shaker Spirit, by James Haller.
Check out this recipe

Apricot and Lavender Ice Cream
Don't shy away from making ice cream. This recipe takes advantage of ripe stonefruit (apricot, peach), and needs little sugar. The lavender flavouring gives it that hint of Provence.
Check out this recipe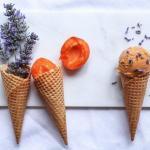 Lavender Honey Brushed Lamb Chops Served with Moroccan Chickpea Couscous Salad
Prepare the salad in advance and then the only thing that is left to do when your guests arrive is to roast the lamb. Easy and delicious with all the flavours of Provence combined on a plate.
Check out this recipe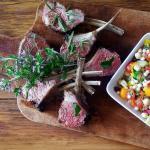 Lemon Lavender Buttermilk Cornmeal Olive Oil Cake
This recipe was minimally adapted from the recipe by Nicole Riegl of http://www.rieglpalate.com/
Check out this recipe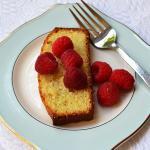 Purple Haze Ravioli
Delicate homemade ravioli stuffed with tangy goat cheese and herbs, served with lavender-rosemary-infused brown butter with Marcona almonds and candied orange peel.
Check out this recipe