Lavender Flavoured Crème Anglaise
Crème Anglaise is a light custard sauce that is used both for sweet and savoury alike, depending on its flavour and your level of desired creativity. Pour it over fruit, a cake or under meringue as in a "Floating Island" or use it to sauce fish, meat and poultry. It can also be used to make ice cream or crème brulée by either freezing or baking. I would pour Crème Anglaise over a Dark Chocolate Molten Cake, a super moist Lemon Pound Cake or a Bourbon-infused Bread Pudding. For savoury, how about over Grilled Salmon or Lobster a la Provencal?
Be bold and have fun as lavender is truly a wonderful flavour to add to your repertoire but watch its potency and start slow.

Lavender Crème Anglaise
If you're looking to broaden your horizons and add some aromatic flavours to your dishes, this custard sauce is the way to go. Whether you add it to some delicate desserts or brighten up a seafood dish, this crème anglaise is a beautiful custard sauce recipe to keep in your back pocket.
Ingredients
2 ½

cups

Half and Half

7

Egg Yolks

medium size eggs

3/4

cup

Granulated Sugar

½

oz

Fresh Lavender Flowers*

no stems
Instructions
In a heavy saucepan, bring the half & half and lavender just to a boil. Turn off heat and let sit for 20 minutes to allow lavender to infuse into the heavy cream. Strain out lavender.

Bring back to a boil and turn off the heat.

Whisk the egg yolks and sugar together in a mixing bowl.

Whisk in 1/3 of the hot heavy cream into the egg/sugar mixture to allow the temperature of the eggs/sugar to equal that of the heavy cream.**

Return the entire mixture to the saucepan with the remaining heavy cream.

Whisk the sauce over very low heat, stirring constantly with a wooden spoon or rubber spatula until it is thick enough to coat the back of a spoon; this will happen quickly and remember that the liquid is hot and will be much thicker when it cools.

Do not allow the mixture to curdle.

As soon as the sauce thickens, removes it from heat and pour it through a fine mesh strainer into a clean bowl.

Chill the sauce over an ice bath (bowl with ice underneath).

Cover and refrigerate.
Notes
*If using dried lavender, use 1/8 cup; dry herbs are more potent than fresh.
**

This is called "tempering," and is done to avoid "cooking" the eggs.
More Recipes with Lavender
Blueberry-Lavender Soup 
This recipe was adapted from Cooking in the Shaker Spirit, by James Haller.
Check out this recipe

Lavender Honey Brushed Lamb Chops Served with Moroccan Chickpea Couscous Salad
Prepare the salad in advance and then the only thing that is left to do when your guests arrive is to roast the lamb. Easy and delicious with all the flavours of Provence combined on a plate.
Check out this recipe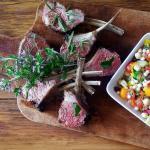 Lavender Mint Meyer Lemonade
Refreshing and tasty this drink may be come your go-to summer beverage.
Check out this recipe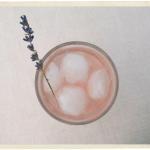 Lemon Lavender Buttermilk Cornmeal Olive Oil Cake
This recipe was minimally adapted from the recipe by Nicole Riegl of http://www.rieglpalate.com/
Check out this recipe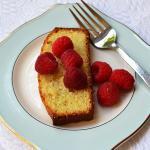 Lavender Varieties
Did you know that lavender is actually a family of Lamiaceae plants that includes several species? As part of the mint family, there are 39 varieties of lavender. Although we typically associate lavender with purple flowers, the varietals include many colours, from deep blue to white. The plants love the dry, sandy, rocky soil that is typical of southern France. A relatively easy plant to grow. Lavender is well-suited to the Provencal climate with hot, dry summers and cold winters; the plants require minimal care.
Lavandula angustifolia
This is the lavender scientific name of 'fine lavender,' or 'true lavender,' which is also called 'officinal lavender.' It grows exclusively above 2600 feet of altitude. A relatively small stem characterizes the lavender plant compared to other varieties.
There is only one flower stalk on each stem. Its flower is a slightly purple-blue but more open than the lavandin flower. This is the best for perfumers because of its delicate scent. Once distilled, the essential oil of fine lavender is believed to have medicinal virtues.
Lavandula latifolia
The 'aspic lavender' grows at altitudes greater than 2000 feet above sea level. The plant is larger in size but with smaller stems in comparison with fine lavender. The scent of this variety is very camphoric. This variety is mainly found in Spain and Portugal.
Lavandula hybrida
This hybrid is a combination of the previous two varieties, and therefore it reproduces only by plants and not by sowing seeds. Lavandin (French name) is a robust plant with long green stems forming a ball-shaped tuft. Its flower stalks are long and blue, almost purple.
The blooms from these plants are used mainly focused on olfactory qualities. Used extensively in the perfume and detergents industry to produce essential oils, lavender soap, and make sachets or lavender bouquets.