Apricot and Lavender Ice Cream Recipe a Summer Treat
Summer is the time to indulge in a sweet scoop (or a few) of ice cream. This original seasonal ice cream with apricot and lavender tastes just like a mouthful of Provence! Lavender pairs extremely well with stone fruits such as apricot, peach, or plum and bring a subtle and fragrant taste. For ice creams and sorbets, apricots add both a velvety and meaty texture. There are no eggs needed for this recipe, just delicious ripe fruits, sugar, cream and lavender.
If you really want to a treat, serve this dessert with Mirabeau Azure rosé.
The recipe by Sophie Bellard follows: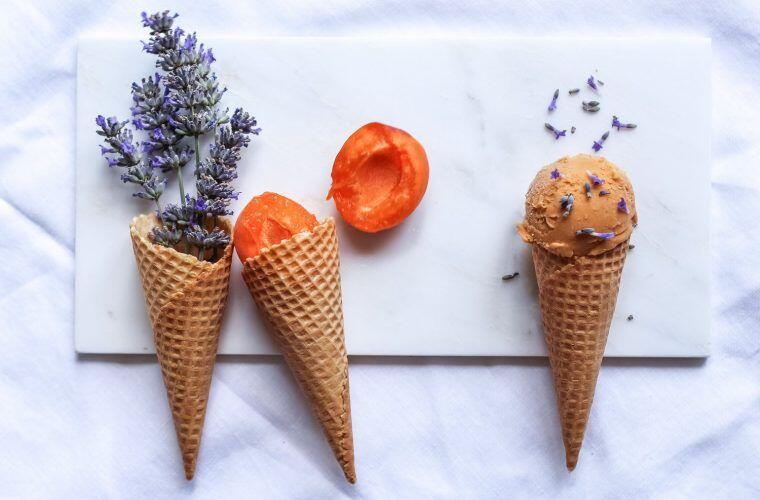 Apricot and Lavender Ice Cream
Don't shy away from making ice cream. This recipe takes advantage of ripe stonefruit (apricot, peach), and needs little sugar. The lavender flavouring gives it that hint of Provence.
Ingredients
400

g (14oz)

Apricots

pitted (ripe, sweet but still firm)

1

large

White Peach

it should be ripe

300

g (11 oz)

Single or Double Cream

90

g (3 oz)

Sugar

3

stems

Untreated Lavender

the upper part with the flowers
Instructions
In a small saucepan, bring cream and sugar to a boil.

Remove from heat, add the whole lavenders and cover.

Let the lavender infuse for 10 minutes, then sieve to remove all the flowers.

Put the apricots and peach in a blender and mix for about 30 sec to 1 min, until smooth.

Press the apricot purée through a sieve into a blender.

Add the cream. Mix until homogeneous.

Cover and put the mixture in the fridge for at least 2 hours. You can even prepare it the day before and leave it to rest in the fridge overnight.

Freeze according to your ice cream maker's instructions (usually between 20-40 minutes).

Transfer into a freezer safe container and freeze for at least 3 hours before serving.
Notes
Culinary Tip: Lavender can be very overpowering, so make sure not to use too much and not to infuse the flowers for more than 10 minutes.