Purple Haze Ravioli a Pasta Recipe Inspired by Provence
As with all of David Scott Allen's kitchen creations, we are privileged to follow him on the journey through the where, the why and the how when it comes to choosing his recipe. And this recipe begins with a birthday dinner out with friends…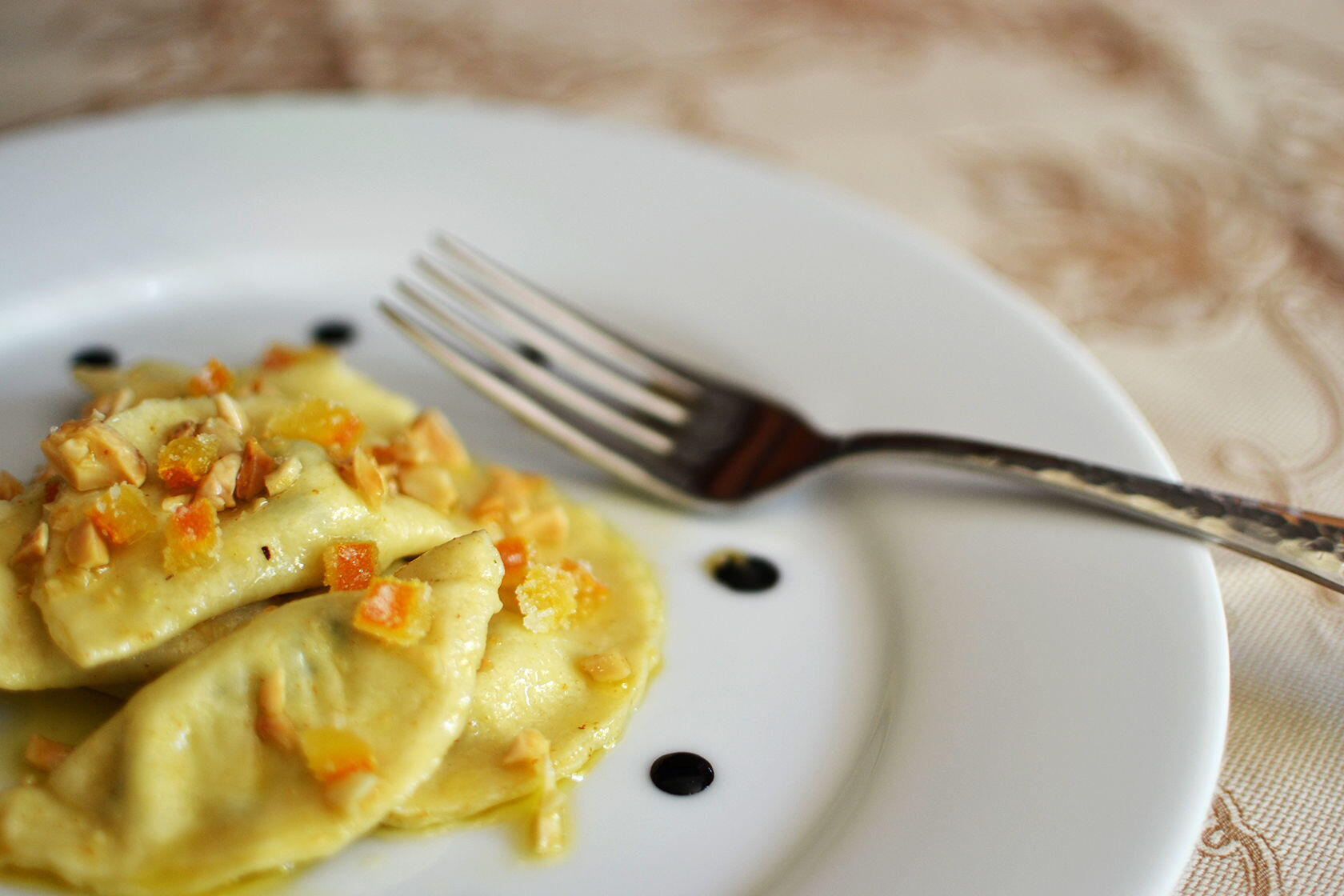 Purple Haze Ravioli
Delicate homemade ravioli stuffed with tangy goat cheese and herbs, served with lavender-rosemary-infused brown butter with Marcona almonds and candied orange peel.
Ingredients
4

oz

fresh goat cheese

I used Fiore di Capra

3

tsp

dried culinary lavender buds

divided

1/2

tsp

fennel pollen

1/4

tsp

Freshly ground white pepper

1 1/2

tbsp

Fresh Chives

finely chopped

1/4

cup

grated Pecorino Romano

2

extra large

Eggs

well beaten, divided

1 1/2

cups

Flour

type "00"

Salt

8

tbsp

Unsalted Butter

preferably European

1

tbsp

Fresh rosemary

coarsely chopped

4

tbsp

Marcona almonds

coarsely chopped

4

tbsp

diced candied orange peel

(recipe follows below)

crema di balsamica
Instructions
Advance preparation of the cheese (2 days before)
A day or two before making the ravioli, bring goat cheese to room temperature in a small bowl.

Using a spice grinder, pulverize 1 teaspoon lavender buds, the fennel pollen, and the white pepper.

Add this to the cheese, along with the chopped fresh chives.

Mix well, cover, and chill overnight or for two days, to allow flavors to meld. (Or, if you can find Purple Haze, you can simply soften the cheese and add the chives.)
For the Ravioli
For the ravioli, first bring the cheese mixture to room temperature.

Place the flour on a wooden or stone countertop, and make a well in the center.

Add remaining egg (don't scrape the egg bowl, and don't clean the bowl! Set it aside; you will use this residue later).

Add a pinch of salt.

Using a fork - or your fingers - gently stir the egg so that it gathers the flour little by little, until it forms a dough. Most, but not all, of the flour will be absorbed.

Knead the dough for a few minutes, then wrap in plastic wrap and let it rest for 20-30 minutes.

While dough rests, stir the grated Pecorino Romano and 2 tablespoons of the beaten egg into the cheese mixture.

Knead the dough on a floured board a few times then cut into quarters. Start rolling one quarter, while keeping the others tightly wrapped in plastic wrap.

Using an Atlas or other quality pasta machine, roll out the dough starting at the widest setting, and repeat, Working through to setting No. 6.

Add flour as necessary to keep dough from sticking to the rollers.

From the sheets of pasta, cut out 3-inch circles and set them aside on a flour-dusted surface, covered with a damp cloth or damp paper towel.

You will need 30 discs. Extra pasta can be saved for another use.

When ready to fill, place 1/2 teaspoon of filling just off center of each disc.

Retrieve the bowl used to beat the eggs and add a tablespoon of water, mixing it with any remaining egg.

Using a pastry brush, "paint" along half the outside edge of each disc, then fold the other half over the filling, gently pressing out any air.

Then pinch edges tightly with your fingers. Place on a parchment-lined cookie sheet.

When all the ravioli are formed, place the cookie sheet in the freezer while you boil the pasta water and make the sauce.

Place a large kettle of water on high heat and bring to a boil.

Add a fistful of salt after it comes to a boil. Keep at a gentle boil.

Melt the butter in a small skillet (don't use a nonstick skillet or you not be able to see when the butter takes on color) and add 2 teaspoons lavender buds plus the rosemary.

Press down on the herbs to release their flavor.

Cook until the butter turns nutty and light brown.

Strain through a fine-mesh sieve into a large skillet.

Add the chopped almonds; keep warm.

Remove the ravioli from the freezer and slip them gently into the boiling water.

Keep the water at a gentle boil, so as not to damage the ravioli.

Cook for 3 minutes and remove them from the water with a strainer.

Add the ravioli to the brown butter sauce, and toss gently to coat the pasta.

Divide among heated plates, spoon remaining browned butter and Marcona almonds over the pasta, and sprinkle with the diced orange peel.

Dot the crema di balsamica around the edge of the plate, or be artistic and make a "smear" on one side.
Notes
Serves 6 as a first course, or 2-3 as a main course.
Candied Orange Peel
1 large thick-skinned organic navel orange
1 1/2 cups sugar, plus extra
1/2 cup water
Score the orange in quarters and remove the peel (zest plus pith) and reserve the orange segments for another use.
Slice the peel into 1/4-inch long strips and place in a small saucepan. Cover with water and bring to a boil. Drain, cover again with cold water and bring to a boil once more. Drain and place strips on paper towels to drain.
In the same saucepan, place 1 1/2 cups sugar and 1/2 cup water. Bring to a simmer and simmer for 9-10 minutes. Add orange peel strips and bring to a gentle simmer. Cook for 45 minutes, or until pith is translucent.
Place a sheet of aluminum foil on the counter. Drain the peel strips and place them on the foil. Sprinkle liberally with sugar, toss back and forth on the foil, then continue to sprinkle with additional sugar and toss till strips are well coated.
Place strips on a cooling rack. When cool, place in an airtight container. I keep them in the refrigerator.
Can be made up to a week in advance. Surplus not used in the recipe makes a pleasant snack.