Fig Recipes for all Seasons
My good friend Carola has the most amazing fig trees in her garden. Twice a year they are laden with fruit and she has become something of an expert in creating new ways of eating this healthy crop.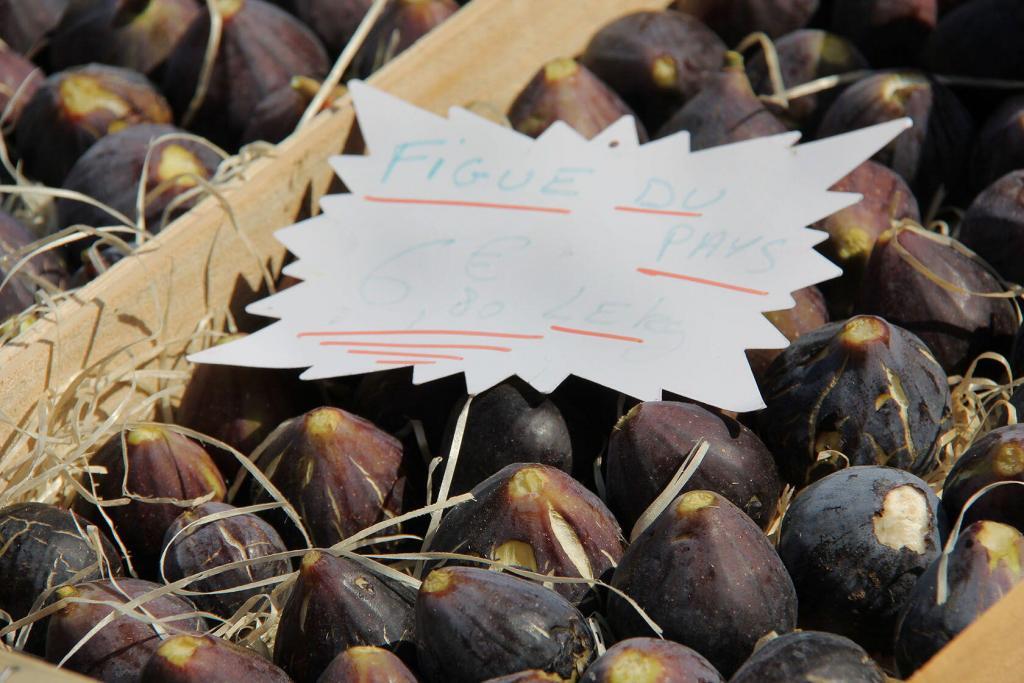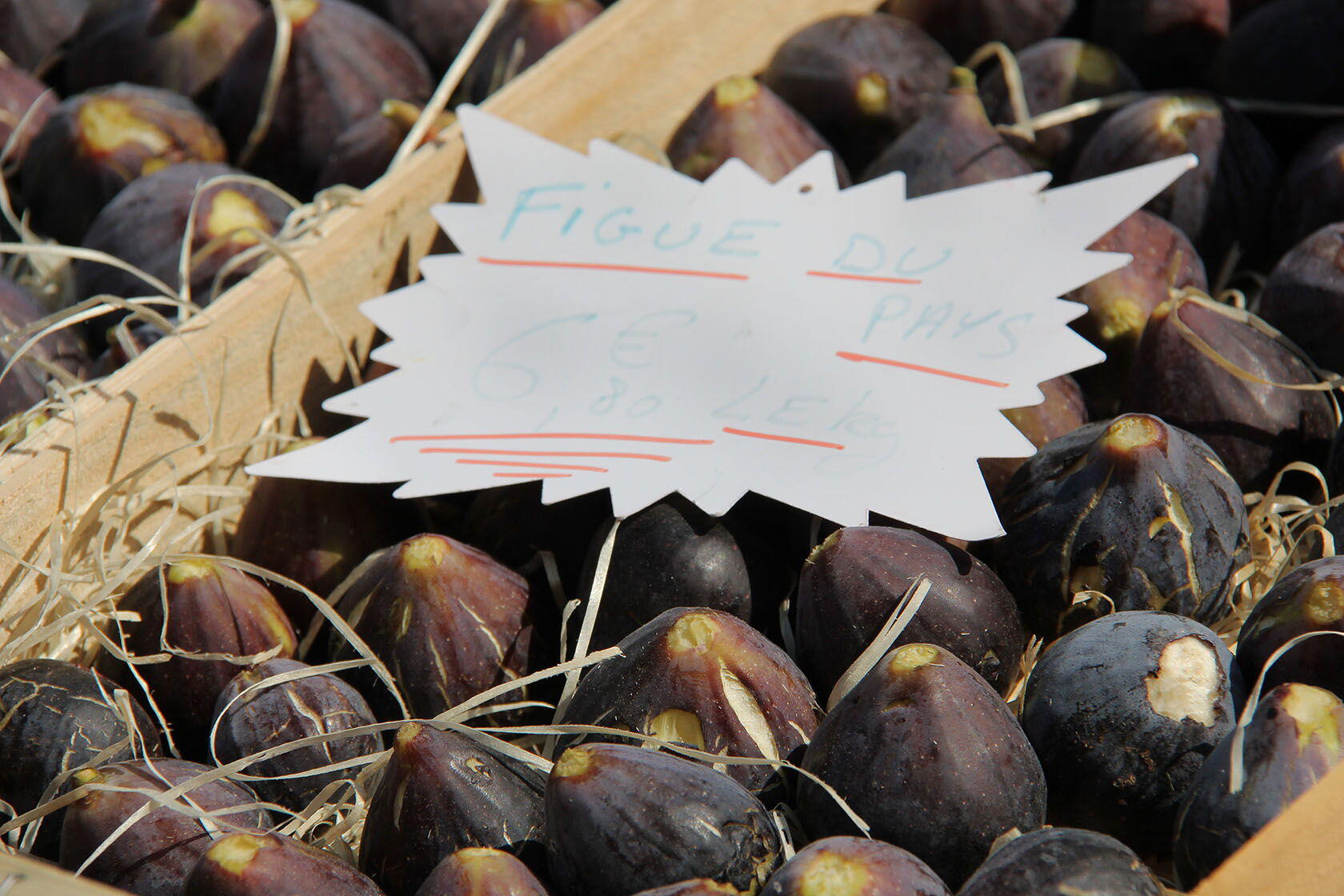 No matter how much you like a fresh fig after a while it can become a little, well dare I say it (quietly) predictable?!  Figs with yogurt, figs with crème fraiche, figs with ice cream are all well and good however eventually you will shout: ENOUGH! So Carola – an amazing cook and entrepreneur – has created a range of tasty alternatives that are amazing in their simplicity.
Duck with figs
Serves 4
This is a truly a moreish dish that is so simple to make.
Take two duck breasts and pan-fry them to seal in the flavour and release the juices. Slice up and place to one side. Chop and slice into segments an apple and large potato (use one of each per person) and put them into the pan on a low heat coating in the juice until soft.  Add a couple of figs for each person and then return the duck pieces to the pan. If the pan is ovenproof pop it into the oven for about 30 minutes on medium heat (gas mark 5); otherwise use a shallow casserole dish. There is no need to cover the pan/dish and apart from the occasional basting, there is nothing more to do! This dish is ready when the potatoes are soft which should be in less than 30 minutes.
You might like to serve it with some fresh seasonal vegetables and plenty of bread to soak up the juices. I am almost drooling just recalling the flavours!
Pizza Carola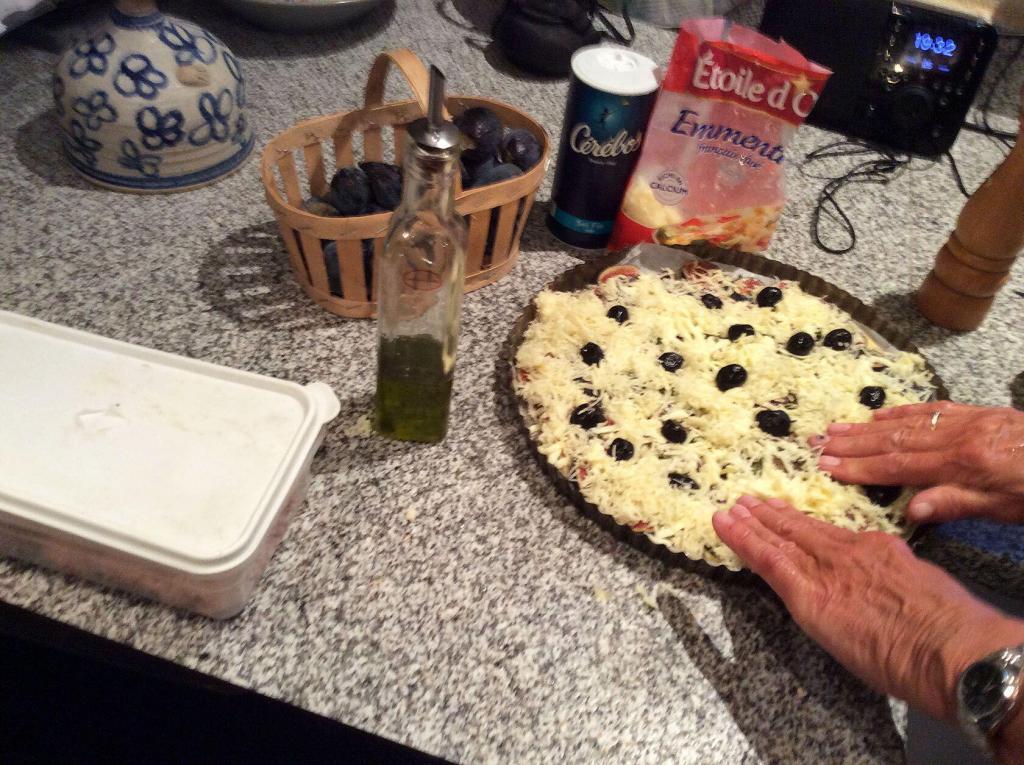 This now features on the menu of the pizza van in Caromb! Testimony to its yumminess!
A simple yet stunning creation that is great as an hors d'oeuvre or simple lunch served with a salad.  The list of ingredients is small and it takes about 10 minutes to prepare this flavorful dish. After about 10 minutes in a medium/hot oven, it is ready to eat!!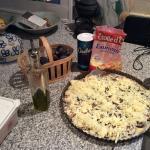 September's figs in December!
The choice of cheeses in France does make it difficult to choose however this is a great treat at Christmas (or any other time of the year, if I am honest!) and feels good for you too!
Take previously frozen figs from the freezer about 15 minutes before you want to eat them. Top a piece of cheese (works best with camembert, brie and any other soft cheese) with a slice of fig. Eat! It is that simple.
On the subject of soft cheese, Carola has also created a cheese dish using a good Brie (Lidl is recommended!).
Slice the refrigerated cheese horizontally to create 2 rounds. Drizzle the inside of one with olive oil and add a generous layer of fresh basil leaves. Replace the other round to reform the cheese and wrap in some cling film. Refrigerate (ideally overnight). Then serve with crusty bread. Delicious!
Bon appétit!
Other Recipes with Figs
Fig and Tomato Salad
This is a easy and delicious salad that combines sweet fig and tangy tomatoes on one plate.
Check out this recipe

Cambozola and Fig Flatbread
A warm and toasty lavash (sheet flatbread) covered in bold creamy Cambozola cheese and figs with fresh thyme and pine nuts baked to perfection.
Check out this recipe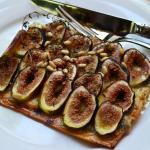 Duck Breasts with figs
This main dish is a recipe from Hilda it is easy to prepare and a perfect savoury pairing with duck and figs. According to Hilda, "This is a truly moorish dish that is so simple to make."
Check out this recipe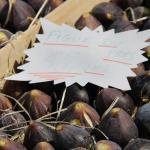 Roasted Figs with Cheese and Bacon
This recipe is the perfect storm of sweet and savoury yumminess and a great appetizer.
Check out this recipe