Fall Recipe Cambozola and Fig Flatbread
A Provençal twist on pizza from a delicious fig(ment) of David Allen Scott's imagination, as he takes an abundance of gifted sweet figs and turns them into a savoury delight for two with cambozola. Read more on David's insightful idea here…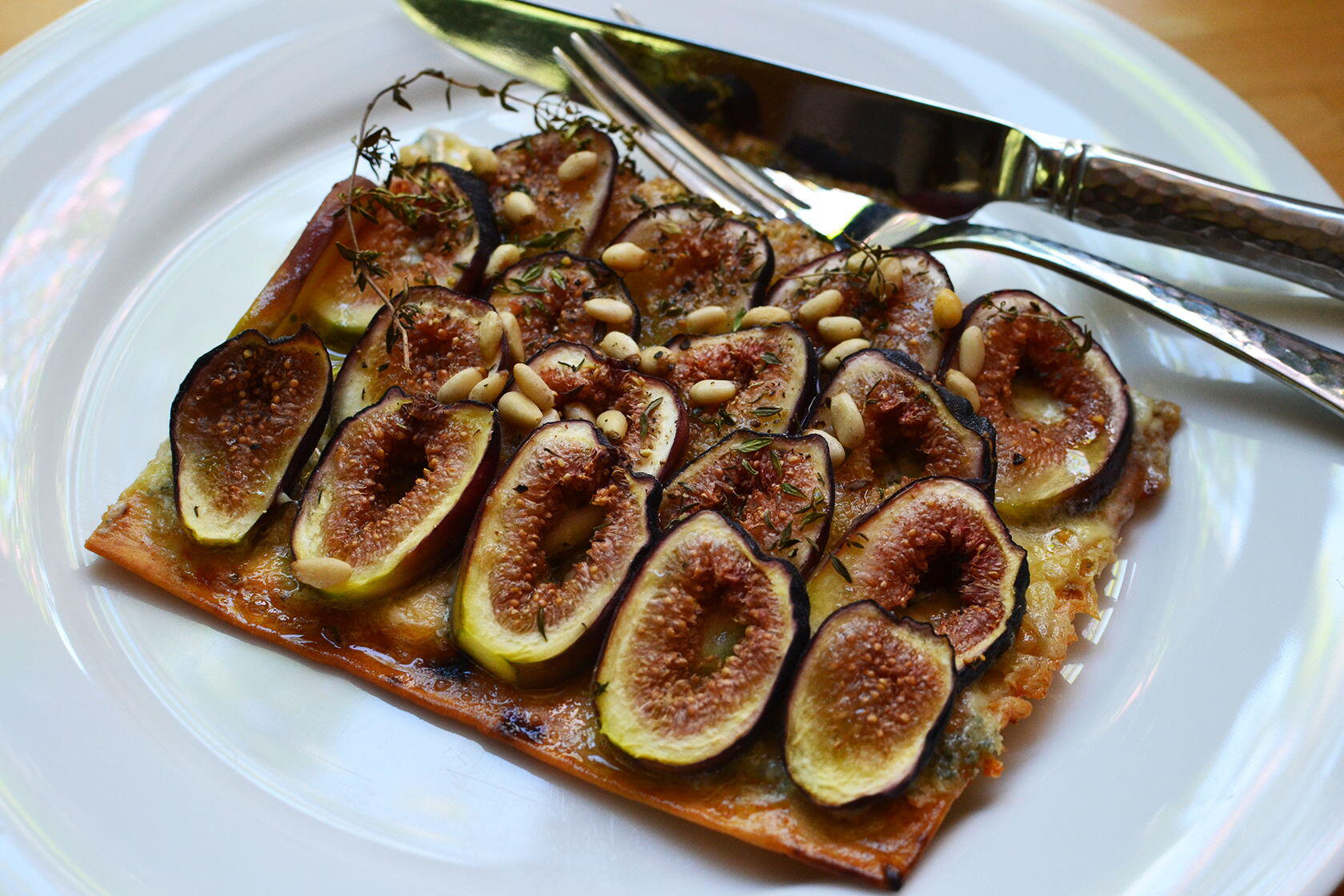 Cambozola and Fig Flatbread
A warm and toasty lavash (sheet flatbread) covered in bold creamy Cambozola cheese and figs with fresh thyme and pine nuts baked to perfection.
Ingredients
1

large

sheet lavash

1

large

Egg white

6

oz

Cambozola cheese

without the rind, at room temperature

2

tbsp

fresh thyme leaves

1 teaspoon if using dried

16

(approx 1lb)

figs

cut into 1/4-inch thick slices

a handful of pine nuts

Salt

Freshly ground black pepper

Extra virgin olive oil
Instructions
Preheat oven to 400°F (200°C).

Place the lavash on a baking sheet and brush with a little egg white. Place in the oven for 1 minute to seal the bread.

Let cool.

Once cool, mix the remaining egg white with the softened cheese and spread evenly over the entire lavash.

Sprinkle with half the thyme leaves (or all the dried thyme, if using).

Layer the figs on top of the cheese, as if they were roofing shingles.

Sprinkle with the pine nuts and remaining fresh thyme leaves.

Lightly salt and generously pepper the top of the flatbread.

Drizzle with olive oil, and bake for 11-12 minutes until edges are crisp and brown and figs are soft.

Cut into quarters and serve immediately.
Notes
Serves 2 as a light meal with a salad, or 4 as a first course.