Why I Love of Figs and an Easy Dessert Recipe
Before I moved to France,  I had never seen a fresh fig. The only figs I knew were in that classic American cookie – Fig Newtons. Although, admittedly, it's a pretty good choice in the grocery store cookie aisle.
Discovering Figs
When I moved to the south of France with Eric, we lived among olive trees, grape vines, and plenty of fig trees. I discovered green figs for the first time, which I prefer to black figs as they are a bit less syrupy and sweet. I loved being able to wander off and return with a bag full of goodness. Now, I love fresh figs, cooked figs, fig jam, and this roasted fig and honey recipe.

Facts About Figs
 Figs are not fruit! What figs are is a bunch of flowers inverted inside a pod (the black or the green one). The many tiny flowers are what produce the crunchy little edible seeds that give figs their unique texture.
This whole flower inside business makes reproduction a bit challenging because, as I know you know, cross-pollination requires flowers normally on the outside for a plant to reproduce. However, the fig is doing something right because fossils of fig trees have been discovered dating back to 9400 BC! Our wonderful fig tree has two options, one is a human intervention which is how most of the fig production in Spain occurs, and the other is thanks to a particular species of a wasp that passes through that tiny entrance that you see at the bottom of figs to get up in there and lay some eggs. When the little hatchlings exist, they take some pollen with them, and off they go to enter another fig, and cross-pollution has occurred. Nearly every species of the fig tree is pollinated by its own distinct species of fig wasp. Pretty incredible mother nature, no?  And don't worry, whatever was left of that wasp is long gone by the time you eat the fig.
Eating one-half cup of figs has as much calcium as drinking one-half cup of milk
The Spaniards introduced Mission Figs to the California territory in the early 16th century
Figs stand out because they are one of the "fruits" with more sugar than most and also with more fibre. They are recommended for a healthy diet but also for slimming diets. Figs contain only 85 kilocalories for every 100 grams we eat; they are also rich in potassium and vitamin B6. So have at it!
Here in France and Spain, we are in fig season through October, and I hope you will enjoy the recipe for roasted figs below. Sign up for our newsletter for more information on seasonal produce in France and Spain, along with recipes and culinary tips.
Better yet! Join us in person for workshops in Paris or culinary holidays in Seville, Spain and Uzes, France.
Let's Eat the World (website)
Cook'n with Class (website)
Culinary holidays in France and Spain
In Uzès (and Seville), class sizes are small, with six participants, to maximize the hands-on cooking experience. However, these culinary holidays are not just about long hours spent in the kitchen. You and your classmates will have a chance to visit local producers at their farms and in the markets, sample fresh cheeses, see the olive groves and taste some fabulous local wine. Read more about these culinary holidays.

Roasted Figs with Honey
The best part about fig season? Figs, of course! Enjoy these roasted figs with yogurt or a delicious bowl of ice cream.
Ingredients
18

Figs

3

Tbsp

Liquid Honey

1

Lemon or Lime Zest
Instructions
Cut the figs in half and place them on a baking tray

Warm the honey, zest the lemon into it, and drizzle the warm honey over the figs.

Bake for 10 minutes at 150ºC (300ºF).

Serve with ice cream and a few buttery cookies. Also a nice addition to your plain yogurt.
Additional Fig Recipes
Fig Tart with Marzipan
This tart is relatively easy to make and absolutely a crowd favourite.
Check out this recipe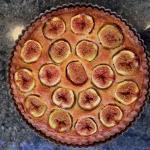 Cheese plate with Seasonal Figs
The quantities will vary depending on the numbers at your table. However, as a rule, provide a selection of cheeses from mild to strong. You can prepare individual plates for each person or one larger board allowing everyone to select their favourite cheeses.
Check out this recipe

Almond and Fig Cake
This cake is quick to prepare. It is a sweet treat that is perfect with a hot cup of coffee or tea or just as lovely with some wine. Delicious, and even better still, enjoyed with friends and a glass of wine
Check out this recipe

Fig and Buttermilk Custard Tart 
The recipe makes a 1-10 inch tart, which should serve 6-8 people.
Check out this recipe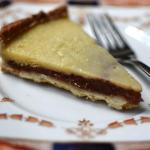 Fig Tart with Orange Flower Custard
This is a delicious tart, easy to make a perfect way to use up those figs that your guests brought to your dinner party.
Check out this recipe