A Delicious Interview with Le Chef's Wife Anina Belle
Meeting that special someone on the French Riviera while studying in the South of France certainly sounds like a movie script base for Netflix series. Yet, that is precisely how it happened for Anina Belle and Sébastien Giannini. They met in Nice while she was on a university exchange program (clearly, I went to the wrong school!). Then they followed a career opportunity to Montreal, Canada, and now live in Washington, D.C., where they juggle jobs, two small children, and a dog. Although I am unsure how she manages it all, Anina Belle is the smiling face behind the website, blog and go-to resource for French Riviera recipes – Le Chef's Wife. She carved time out of her schedule for an interview which we have published below.
---
Interview Le Chef's Wife
1. Meeting a dashing Frenchman on Riviera who can cook sounds like a dream! Where did you meet?
It was a dream. I was an exchange student in the last year of my business degree. I was tasked with interviewing the Executive Chef of a beautiful medieval-style luxury hotel outside of Cannes, in Auribeau sur Siagne, for my term project. The Chef, Le Chef, as I call him, is now my husband, Sébastien. It was truly love at first sight. We were engaged a few months later – I never ended up moving back home!

2. At the time, he didn't speak much English. How did you communicate?
I was fortunate to have studied French Immersion at school, so I had a good base of French, but I was far from fluent. We made it work. There were many misunderstandings initially, but we worked our way through it.
3. Nice is beautiful but also a big city with a busy airport and many visitors. What was it like living and working in Nice?
I loved it. There are so many different "quartiers" in Nice. It didn't feel like a big city to me. It felt like home. In our last six years on La Côte, we lived in a little apartment overlooking the port in the Mont Boron area of Nice. Our living room had a beautiful view of the Mediterranean Sea, so it always felt light and airy. We would take our dog Heidi and walk to the port for lunch. The Bistro du Port is still there and is one of my favourite places to eat and watch people. Working in Nice was great. I loved the work/life balance. Lunchtime was often spent on Le Promenade des Anglais, eating a sandwich or salad on the famous blue chairs overlooking the sea.

4. Did you have a favourite market or place for food shopping in Nice?
Le Cours Saleya is often where we went because of its proximity to our home. I could walk there in under 30 minutes. The fresh produce and selection of fresh flowers are excellent.
5. Before you moved to the French Riviera, what was your understanding and knowledge of the local cuisine and ingredients?
My mother is French Canadian, so she instilled a love of French food in me from a young age. We used to host dinner parties for my French Immersion friends, and she would teach us to cook Boeuf Bourguignon or Vichyssoise Soup. I loved those dinners! When I was about 18 or 19, I discovered Peter Mayle's books and knew I had to visit the South of France! The sweetest thing my husband ever did for me was to stand in line for hours at the English bookshop in Cannes to meet Peter Mayle and get him to sign several of his books for me.
6. What was your favourite thing about living in Nice?
The food, the weather, the beauty of the landscape, our friends, the culture, everything! Nice is an excellent hub from which to explore Europe – Florence is only a few hours away by car, and so is Provence. Everything is so accessible.
7. During your time in France, you also lived in Antibes. How would you describe the difference between these neighbouring cities to someone who had never visited?
I highly recommend getting away to the little villages! They show the heartbeat of the French Riviera. Antibes was a wonderful place to live – the market is one of the best on the riviera, and the historic downtown is so beautiful. The beaches are also fantastic (soft, sandy beaches, unlike in Nice!). I enjoyed the beauty of working in Juan les Pins and going out for an evening jog with my colleagues around the Cap d'Antibes. Stunning!
I recommend taking trips to La Turbie (situated above Monaco with incredible Roman ruins as well as one of my favourite restaurants (le Café de la Fontaine) as well as Eze (the best views on La Cote) and Villefranche sur Mer for its colourful houses and beachside dining. On the other side of Nice, Vence, Biot, Mougins, and Theole sur Mer are also worth the visit.
8. If you had to pick one recipe that transports (teleports) you to the French Riviera, what would it be?
Branzino with Sauce Vierge! I love sauce vierge – a provençal style salsa made with tomatoes, basil, olives, capers, shallots and pine nuts. It is delicious over fish, but I also love it with chicken or pasta.

Or Les Petits Farcis… I think of my grandmother-in-law, Pierrette, every time I make them. Her recipe is the best and transports me to La Côte every time. Oh! And La Salade Niçoise! The authentic recipe, without potatoes or green beans. The basil in the dressing is everything.
While it is impossible for me to pick just one recipe – I dedicated an entire section of my blog to French Riviera Recipes.

9. Did you have a favourite destination on the French Riviera?
Nice – I wrote an article on how I would spend 24 hours in Nice here.
Also, a day that starts with coffee in Villefranche, a walk around Cap Ferrat, Lunch in Eze, Dinner in La Turbie and drinks in Monaco would be pretty epic!
10. When did you launch Le Chef's Wife?
I started the blog in 2018, shortly after the birth of my daughter. I had a burst of creativity and wanted to document recipes and our love story for her.

11. You like to cook and live with a chef, but why did you begin sharing your recipes with a broader audience?
People were always asking me for recipes! I love to take photos and often share pictures of my husband's cooking at home on my Instagram. People would ask for the recipes, so I started typing them out and sharing them in Instagram stories, but that didn't make much sense as they would disappear after 24 hours. So, I started taking notes when Sébastien was cooking to retype the recipes (and the correct quantities) on the blog. I have always loved to write, so it was a gratifying process. Along the way, I became a much better cook myself too!

12. Can you explain your Sunday Soup Challenge?
I host a Soup Sunday Challenge every year, starting in January and ending in February. I share a new soup recipe weekly and invite my community to join me for a live cooking demonstration every Sunday at 11 am EST on Instagram. Having a big pot of soup in the fridge has always been a lifesaver for me as a busy mom, and I couldn't believe the community rallied around making soup together! People worldwide shared photos of their soups weekly- I learnt many new recipes too. This year my husband and I were invited to share our recipe for French Onion Soup Gratinée on The Today Show – a pinch-me moment for sure!

13. Are the ingredients for your recipes easy to find in North America?
Absolutely. I do most of my shopping at local farmers' markets and grocery stores in the Washington, D.C., area. However, if it is not easy to find, I share the link where people can find it online.
14. How much cooking experience do your recipes require?
Very little. I try to break it down so that people with busy lives and no culinary experience can succeed in the kitchen. There is no better feeling than pulling a perfectly cooked Poulet Rôti or homemade French Baguette out of the oven! My baguettes for beginners recipe is one of the most popular on my blog – I had no baking experience and was able to make baguettes in 2 hours with this recipe.

15. If you had to choose one of your recipes as your favourite, what would it be?
Easy – the Moelleux au Chocolat. One of the first recipes my husband ever made for me. The chocolate is so decadent, not too sweet, and it just oozes out of the cake beautifully.

---
Welcome to Le Chef's Wife Blog – a resource for home cooks and Francophiles. Here you will find seasonal French Recipes inspired by the French Riviera.
The French Riviera is a mindset, une manière d'être, more than a destination. In my experience, it is about living each day as if it was that perfect summer day you never want to end. Sun-kissed, deliciously slow and luxurious with soupçon of glamour.
Anina Belle Giannini, Le Chef's Wife
Image credits: Photos were provided and published with the permission of Anina Belle Giannini, Le Chef's Wife.
---
More Recipes from the Riviera
Salade Niçoise
My version of this meal-sized salad from Nice for the purists and the rest of us.
Check out this recipe

La Trucha a Niçoise Favourite
The trucha is a nourishing staple of Cuisine Nissarde. Enjoy it hot, warm, or cold with olive oil and crusty bread. This recipe makes enough for two (2) people for a lunchtime meal. * Variations listed in notes.
Check out this recipe

Niçoise Ratatoille - La Ratatouia Nissarda
The secret of a good ratatouille is to fry each vegetable separately before the onion and tomato are added. The talented cook obtains a mixture of tender vegetables and not oily mush. Prepare ratatouille in large quantities because it can be eaten hot or cold. Serve as a main course with meat or fish, a side dish, or an omelette. While ratatouille can be eaten cold, it is best reheated.
Check out this recipe

Swiss Chard, Raisin and Pine Nuts Tart
Tarte niçoise aux blettes et pignons de pin is such mouthful, of words, for a dessert. On my last visit to Nice, I tasted this fabulous local délice. French cooking is absolutely regional like its weather, and you can only find certain specialities in specific towns. Ok, I have to say this tart is not for everyone. Dessert with veggies in it does sound strange. Some might sprinkle confectioner's sugar before serving. The tart is even better the next day.
Check out this recipe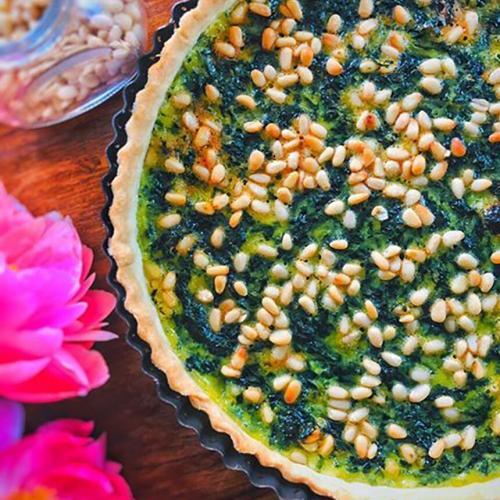 Fava Bean Tart - la Tourte de Fèves
Considered part of the culinary traditions of Nice – Cuisine Nissarde - la Tourta ai Fava is a timeless dessert that requires patience and time, as the cooking takes place over two days. But the sweet result is well worth it!
Check out this recipe

Tourte de Blettes Salée from Nice
This savoury tart's main ingredient is blette (chard), which grows all year near Nice, France. Considered part of traditional Niçose cuisine, there are two variations sweet and savoury (salée). Serve this tart with a green salad for lunch or a light dinner.
Check out this recipe

All rights reserved. Perfectly Provence articles and other content may not be published, broadcast, rewritten (including translations into other languages) or redistributed without written permission. For usage information, please contact us.
Syndication Information
Affiliate Information
As an Amazon Associate, this website earns from qualifying purchases. Some recipes, posts and pages may have affiliate links. If you purchase via these links, we receive a small commission that does not impact your price. Thank you in advance for supporting our work to maintain Perfectly Provence.