Delicious Summer Menu from a Cooking School in Provence
This delicious summer menu comes from Stephanie Villegas, a private chef and owner of Laurel, a cooking school in Provence. A Mexican-American, Stephanie married a Frenchman, and they now live in the historic Alpilles village of Fontvieille. Stephanie created a 3-course menu that is ideally suited for summer entertaining. Her recipes use fresh, seasonal ingredients and require minimal cooking.
As for what's going on at Laurel this summer, there are a few spots left in her Marché Tour Cooking Classes and private chef dinners. She also plans to launch a fun recurring culinary series beginning in September for folks here in the early fall or a longer stay in Provence.

A bit about Fontvieille
Fontvieille is a charming village at the western edge of the Alpilles close to Arles. There is plenty of history in and near Fontvieille, from the remains of the Roman-era Barbegal aqueduct, an ingenious gravity-fed watermill. Montmajour, a Benedictine abbey, is just to the west of the town, and on the eastern edge is the elegant Château d'Estoublon, a winery and a great choice for lunch. In the centre of Fontvieille are several bars, restaurants, bakeries and shops for all the essentials, and now Stephanie's cooking school – Atelier Laurel.

Chef's Summer Menu
The smell of sweet roasting peppers, an invigorating waft of fresh lemon, the sound of ice cubes in a bucket, summer is finally here in Provence. While summer can mean many things around here, working in the heat and a few more cars on the road, it's also synonymous with taking things slow, spending the longer evening light hours with friends and family and eating light, fresh dishes packed with summer's sweetness.
I've chosen three recipes to transport you to summer in Provence. These techniques are simple for an elegantly casual dinner or long lunch with friends, and the ingredients speak for themselves. At this time of year, fruit and vegetables are so full of flavour that there's not much you need to do to help them sing.
I hope you enjoy this summer meal, ideally on a terrace with a chilled glass of wine.
Bon Appétit!
First Course:
Appetizer Roasted Peppers, Chickpeas and Sheep's Cheese Yogurt
This is an easy and delicious recipe that is perfect for your next summer meal with friends!
Check out this recipe

Main Course:

Panisse Recipe
Made with chickpea flour, panisse is naturally gluten-free and can be enjoyed hot or warmly. Panisse makes a great side dish, or try it as a snack with cocktails.
Check out this recipe

Whole Grilled or Roasted Daurade Royale Wrapped in Fresh Herbs
Fresh fish is the key to this recipe. Serve with blistered tomatoes on the vine and panisse for a delicious meal.
Check out this recipe

Sweet Finish:
Stone Fruit and Rosemary Clafoutis
This dessert is easy to make in advance and versatile depending on what fruit is in season. In this case, I used fresh apricots.
Check out this recipe

For Pinterest Fans

---
Stephanie's Bio
Born in San Francisco, California, Stephanie Villegas is a chef working and living in Provence. After a decade-long career in tech, Stephanie decided to follow her culinary passions and become a chef. She earned her culinary diploma at France's esteemed Ferrandi Paris and has worked in renowned restaurant kitchens from Paris to Provence. In 2022, she opened Laurel, a cooking school and private chef service located in the charming provençal village of Fontvieille.
With a mission to bring people closer together through food, she focuses on freshness and seasonality. As a Mexican-American, married to a Frenchman, living in Provence, you can be sure to find inspiration from around the world in her dishes.
On her table, you'll find ingredients you know, discover new ones and enjoy generous dishes of refined simplicity.
Get in Touch with Stephanie
Facebook page: Atelier Laurel
Instagram: @atelier_laurel
---
More Summer Recipes from France
Tomato Tart à la Provencal
Serve this savoury tart as a lunch dish with a crisp green salad, or as an appetizer with some rosé from Provence.
Check out this recipe

Tarte Soleil - Puff-Pastry Appetizer
From the chef, "Provençals like things sunny and pretty, so this is a popular take on the local, traditional fougasse. It can be filled with any strong-flavoured spreadable mixture such as tapenade or anchoiade or a sundried-tomato paste or even a spinach/ricotta or goat cheese." 
Check out this recipe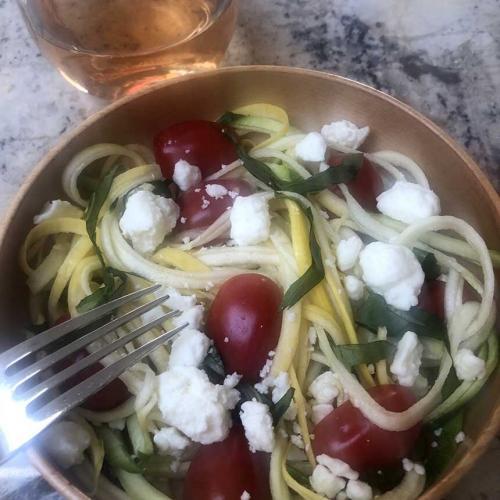 Summer Salad: Barley Salad with Roasted Tomato and Thyme
Tender beads of barley dancing among roasted tomatoes, garlic, onions and thyme then topped with salty black olives,
Check out this recipe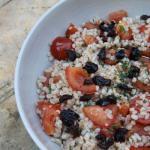 Summer fruit salad with Rosé reduction & mint
Melon, Raspberries and Nectarines are the base for this medley of summer's best, swimming in a Rosé reduction and tossed with fresh mint.
Check out this recipe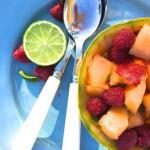 Summer Dessert Perfection Frozen Nougat
This combination makes ice cream sound boring! The frozen nougat with almonds, hazelnuts and pistachio is a great dessert.
Check out this recipe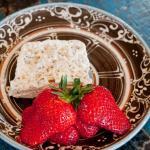 Summer Crab Rolls
Easy to make, these sandwiches are great for a summer dinner, picnic or lunch near a beach.
Check out this recipe