Summer Dessert Perfection in a Frozen Nougat with Nuts
This year, we've introduced a new dessert class around oh so familiar ingredients and recipes of the south of France, most notably of Provence. In this class, you'll prepare five (5) desserts individual portions and a large family-style sweet.
One dessert that we absolutely love is this frozen nougat with almonds, hazelnuts and pistachio. A great dessert that can even be made in advance (even by several months), if well wrapped. Make it as an individual dessert or as a terrine. The perfect union between the classic nougat and ice cream – how could you not love it?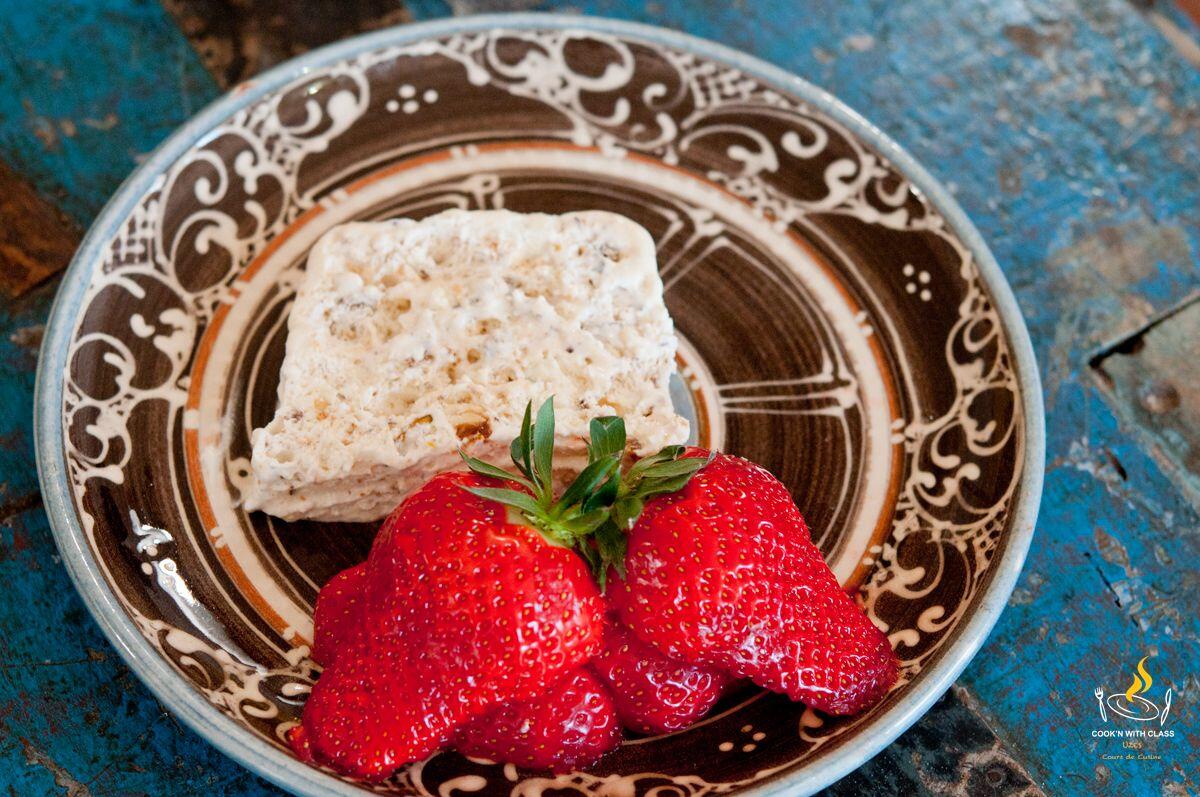 Summer Dessert Perfection Frozen Nougat
This combination makes ice cream sound boring! The frozen nougat with almonds, hazelnuts and pistachio is a great dessert.
Ingredients
60

gr (2oz)

Almonds

sliced

30

gr (1oz)

Hazelnuts

1

tbsp

Pistachios

100

gr (3oz)

Sugar

30

gr (1oz)

Raisins

350

ml

Whipping cream

180

gr (6oz)

Honey lavender

30

gr (1oz)

Glucose

125

gr (4oz)

Egg whites

roughly 5 egg whites
Instructions
Roast the almonds, hazelnut and pistachio in an oven at 150ºc (320ºF) for 5 to 10 minutes.

Set aside the almonds.

Coarsely chop or crush with a mortar, the hazelnut and pistachio .

Make caramel by melting 50gr (1.5 oz) of sugar in a cold dry pot or pan until golden brown.

Remove from heat and add the almonds.

Reserve on a metallic tray and let cool down.

Once cooled, make a powder from the almonds and caramel mixture (use a food processor or a mortar) add the hazelnuts and pistachio mixture.

Whip the cream, reserve in fridge.

Heat up to 120ºC (honey, glucose, and the rest of sugar.

In the mean time, whisk the egg white until firm (use a stand mixer), incorporate into the egg whites, the honey slowly and carefully, and keep whisking until cold.

Fold in the nuts, the raisins and the whipped cream (slowly and gently).

Put all that in a terrine or a mold of your choice, small ramekins would work for individual nougat

Keep in the freezer for at least 2 hours, (overnight is better).

Serve with seasonal fruit or you can even serve with a fruit purée.