Grilled or Roasted Daurade Royale in Fresh Herbs for Dinner
Some people shy away from cooking fish, particularly whole fish, but my recipe below for Grilled or Roasted Daurade Royale is failproof. Dorade Royale is sometimes referred to as Sea Bream. If you can't find Dorade or Sea Bream, Red Snapper or Branzino are good alternatives. Simply ask your local fishmonger for fresh fish and ask them to do the hard work of cleaning and descaling. From there, the preparation and cooking will take only a few minutes. At Laurel, my cooking school in Fontvieille, we often prepare recipes with fresh fish or other readily available ingredients.

Whole Grilled or Roasted Daurade Royale Wrapped in Fresh Herbs
Fresh fish is the key to this recipe. Serve with blistered tomatoes on the vine and panisse for a delicious meal.
Equipment
Parchment Paper

or a silicone baking mat
Ingredients
4

small

Dorade Royale

1 per person, cleaned and descaled (ask the fishmonger to prepare the fish for you)

A

few sprigs of

Fresh Herbs

parsley, thyme, dill (chosen to chef's preference, that's you!)

2

Lemons

thinly sliced

Olive Oil

Salt and Ground Pepper
Instructions
Heat the oven to 205°C / 400°F

Line a rimmed baking sheet with parchment paper or a silicone baking mat.

Stuff each fish with fresh herb stems, and a slice of lemon, thinly sliced garlic is also tasty but optional.

Drizzle both sides of the fish with olive oil and season with salt and freshly ground black pepper

Place one slice of lemon on top of the fish and wrap it with herb stems, to close and seal in the stuffing. Then, using kitchen twine, wrap the fish twice to secure the herbs.

Place the fish on the lined baking sheet and bake for 17-20 minutes, depending on the size of your fish. You can test for doneness by using a fork near the belly to see if the flesh is flaky. Once it's flaky, it's ready!

Remove twine before serving
Additional Seafood Recipes:
Mediterranean Fish with a Vegetable Tian
A tian is the Provencal name for an clay casserole dish (oven friendly). It is also the name used to describe a layered baked dish, which can be savoury or sweet.
Check out this recipe

Pan-Fried Salmon with Pine Nut Salsa
This light but delicious recipe is minimally adapted from the original recipe by Yotam Ottolenghi. It's a wonderful meal that suits any season but would beautifully accompany a glass of white wine on a fantastic summer evening.
Check out this recipe

Pan roasted fish with provençal savoury crumble
This easy recipe from the Jeanny at Mirabeau Wine is easy to make even if you are typically afraid to cook fish.
Check out this recipe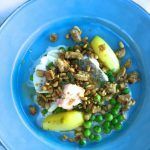 Monkfish Fillets With Tomatoes And Fresh Peas
Monkfish is a delicious fish, sometimes compared to lobster in texture. As long as your fishmonger prepares it properly, it is easy to work with, and the results are yummy.
Check out this recipe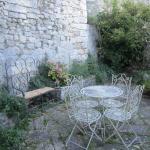 Seared Salmon with Red Wine Shallot Sauce and Wasabi Mashed Potatoes
Easy, delicious and chef quality a fish dish to impress!
Check out this recipe