A Dinner Menu from Provence to Celebrate the Holidays
There's something special about entertaining during the holidays, especially for those who love playing host or hostess. So whether you have brunch, lunch or dinner guests, it's festive to break out the best china, silverware, and crystal to honour your guests and celebrate your friendship—the French refer to creating a beautiful table as l'art de la table.
Provence is magical during Christmas, with entrenched holiday traditions and sparkling decorations. I selected the following dinner menu to celebrate the holiday season, combining some of my favourite flavours and a few decadent treats for the season.

Holiday Dinner Menu
Nothing quite says festive to me more than foie gras. Of course, it's a splurge, but whether you go for the over-the-top "bloc de foie gras" or a truffled mousse de foie gras, your guests will know they are in for a special meal.
Amuse bouche: I've started this holiday dinner with chèvre and mushroom tartlets, which l will serve these nibbles as guests arrive, perhaps with a glass of champagne.
Chèvre and Mushroom Tartlets 
For this recipe, I chose the combination of soft goat cheese, sharp Parmigiano-Reggiano and mushrooms. However, once you have made the dough once you will know how easy it is to make, and you can create your own fillings.
Check out this recipe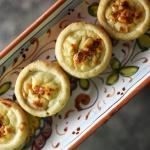 Serve the foie gras at the table with a nice bottle of Sauterne.
Soup course: The French love their chestnuts and use them in various ways, including this velvety Christmas soup.
Chestnut Soup for the Holidays
This dish is easy to make chestnut soup perfect for holiday celebrating. Whether you're wanting a toasty lunch in front of the fire or a great accompaniment to a holiday meal, this soup is sure to give you what you need.
Check out this recipe

Main course: The Provencal duck stew with winter fruit takes a bit of pressure off the host as it is prepared in advance and warmed in a low oven while guests are enjoying the starters, and you don't need to offer an additional side dish.
Provencal Duck Stew with Dried Fruits
This duck stew is a great dish for dinner parties (or long lunches) because it is best prepared ahead of time and reheated. It will allow you to enjoy the meal as much as your friends.
Check out this recipe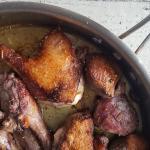 After a rich meal, a lightly dressed salad of bitter greens such as chicory, perhaps with some citrus slices, cleanses the palette and prepares guests for dessert.
Dessert: For the sweet conclusion to this holiday dinner, I suggest a lighter dessert such as poached pears with chocolate sauce. Although, serving the 13 desserts on Christmas Eve is customary.
Poires Belle Helene
A classic French dessert composed of pears poached in a vanilla syrup served with vanilla ice cream then drizzled with a hot chocolate sauce.
Check out this recipe

Provence's 13 Desserts
In Provence, it is customary to serve 13 desserts on Christmas Eve and to leave them out for three (3) days. The odd number of desserts refers to Jesus and the 12 Apostles; each sweet symbolizes something different. According to tradition, everyone must have a taste of each dessert. However, I am not sure how feasible that is. While there are variations, the 13 desserts usually include nuts, dark and light nougat, fresh, dried and candied fruit, a bûche de Noël, pompe a l'huile (a round bread made with olive oil and symbolizing the bread eaten at the Last Supper), fried pastries (oreillettes) and Calissons d'Aix.
Calissons d'Aix
A truly enjoyable treat to make and connect with bakers long ago. Patience will be your reward if you can let them sit overnight to set. And while this is a traditional recipe, it is by no means easy to master. So even if it doesn't look perfect, it will taste just as delicious. Served alongside afternoon tea or at the end of a delicious evening meal, these sweet delicate Calissons will be a welcome addition to your baking repertoire.
Check out this recipe

Tastes of Provence Tours
Join me in 2023 for intimate group gourmet tours of Provence for 8 nights/7 days for "A Taste of Provence" trip. These journeys are a delightful combination of shopping, gastronomic discoveries, and an introduction to the region's cultural traditions.
Dates: May 30 – June 6, or June 9 – 16, 2023
Includes:
Accommodations at a 4-star boutique hotel
Breakfast, lunch and dinner daily
Travel by private, air-conditioned vehicles throughout your trip
Cooking classes, winery tours, tastings as per itinerary
Entrance fees (museums, historic sites, et al.) as per itinerary
NO single supplements or hidden fees!
If you are interested in exploring the region next December, please inquire at info@goutetvoyage.com about "A Taste of Provence for the Holidays." Provence warms the heart every season, and winter is no exception. A Taste of Provence for the Holidays includes the same highlights from the Goût et Voyage regular tours, cultural visits, gourmet meals, cooking classes and wine tasting. As always, guests will stay in a charming boutique hotel. Everything is included and expertly coordinated from arrival at the Avignon TGV station to the return seven (7) days later.
More Holiday Menus
December is a festive time in Provence. At this time of the year, outdoor and indoor market stalls brim with hearty meats, fowl, shellfish, and winter vegetables. I hope you enjoy this Festive Holiday Dinner Menu with my favourite, and slightly decadent, dishes – foie gras, duck confit and chocolate mousse.
Bûche de Noël (Yule Log) is a thin layer of sponge cake rolled with a creamy mocha filling and covered with chocolate frosting. The Yule log is traditionally French but is famous throughout Europe, Canada, and the United States. Use this beautiful cake as the centrepiece for your table. Display it on a gold tray, pine cones, pine branches, and red ribbon.
Any occasion is a great reason to try a new recipe or return to that one that never fails. December festivities are an excuse to pull out the china, the fancy wine glasses and a great special feast. We hope you enjoy this Seafood Holiday Menu. You can print the menu for your guests to take home as a special touch.
All rights reserved. Perfectly Provence articles and other content may not be published, broadcast, rewritten (including translations into other languages) or redistributed without written permission. For usage information, please contact us.
Syndication Information
Affiliate Information
As an Amazon Associate, this website earns from qualifying purchases. Some recipes, posts and pages may have affiliate links. If you purchase via these links, we receive a small commission that does not impact your price. Thank you in advance for supporting our work to maintain Perfectly Provence.