Winter in Provence Events Calendar 2023
Winter Festivals and Events in Provence
Winter in Provence. What are the colder months like in the South of France? Is it a good time to visit?
So many images of the Provence and the Côte d'Azur are summer scenes with ribbons of blooming lavender fields, glasses of rosé with beads of condensation, and beautiful people in straw hats enjoying their holidays. Perhaps wintertime in Provence garners less attention, but it's a great time to enjoy the region during the "quieter" season.
There is fabulous hiking during the winter, as the fire risk is low, there are no bugs, and scorching heat is not an issue. Although you might start walking all bundled up before too long, you will be shedding the layers. Also, it's common to see hardy cyclists on the roads during winter.
Winter is the time of year to visit an olive mill or vineyard when their workload is less intensive. The demand for black truffles peaks at Christmas and New Year's. However, the truffle farmers will tell you the best truffles often appear in January and February. Invite some friends over for a winter dinner party inspired by Provencal flavours. Or light a fire and curl up with a good book for some armchair travel to the South of France.

The Winter Months in Provence
December is always festive in Provence with Christmas markets, elegant decorations and wonderful gastronomic delicacies. Watch for holiday markets with seasonal treats like vin chaud (mulled wine), pain d'épice (gingerbread), black truffles, foie gras, citrus and supplies for the traditional 13 desserts.
January can be cold but sunny in Provence. As a result, the first month of the year is a series of surprising contrasts. On the French Riviera, some diehards are still devoted to their early morning swims, although wrapped in wetsuits. Mornings are crisp from the coast with a dense layer of frost. At higher elevations, skiers head to the Southern Alps, near Nice or Gap, or Mont Ventoux, in the Vaucluse, for some fun on the slopes. Some years, the la Rotonde fountain in Aix-en-Provence even freezes.
February may be a short month, but there is plenty of activity with the start of the carnival season on the coast. The cobalt blue sky and the dazzling sun might even allow for lunch on a sheltered terrace. However, on a day (or days) when the mistral wind blows, find a warm table indoors.
NOTE: The cultural events and festivals listed below are annual (or bi-annual) happenings in December, January and February in Provence and on the Côte d'Azur. However, the actual dates for these events will change from year-to-year. The websites are listed below to find out the current details. Please note this is not a comprehensive list of all the recent events. For activities near your location, check local newspapers, flyers at the grocery stores and tourism websites for festivals.
Book a Holiday Rental in Provence
---
December: Provence and on the Côte d'Azur
From November through early January, Marseille puts on the ritz with santon fairs, markets, light shows, and concerts.
November 16 – December 31: Marché de Noël in Aix-en-Provence. The trees along the Cours Mirabeau in Aix-en-Provence are adorned with strands of little white lights, and small cabins (market stalls) line the street. Alongside the Christmas market are stalls dedicated to selling Santons with beautiful ideas for your family creche. Finally, shop for the 13 Desserts from December 16 – 24 at the fair run by the Bouches-du-Rhône Chamber of Agriculture (Marché des 13 Desserts).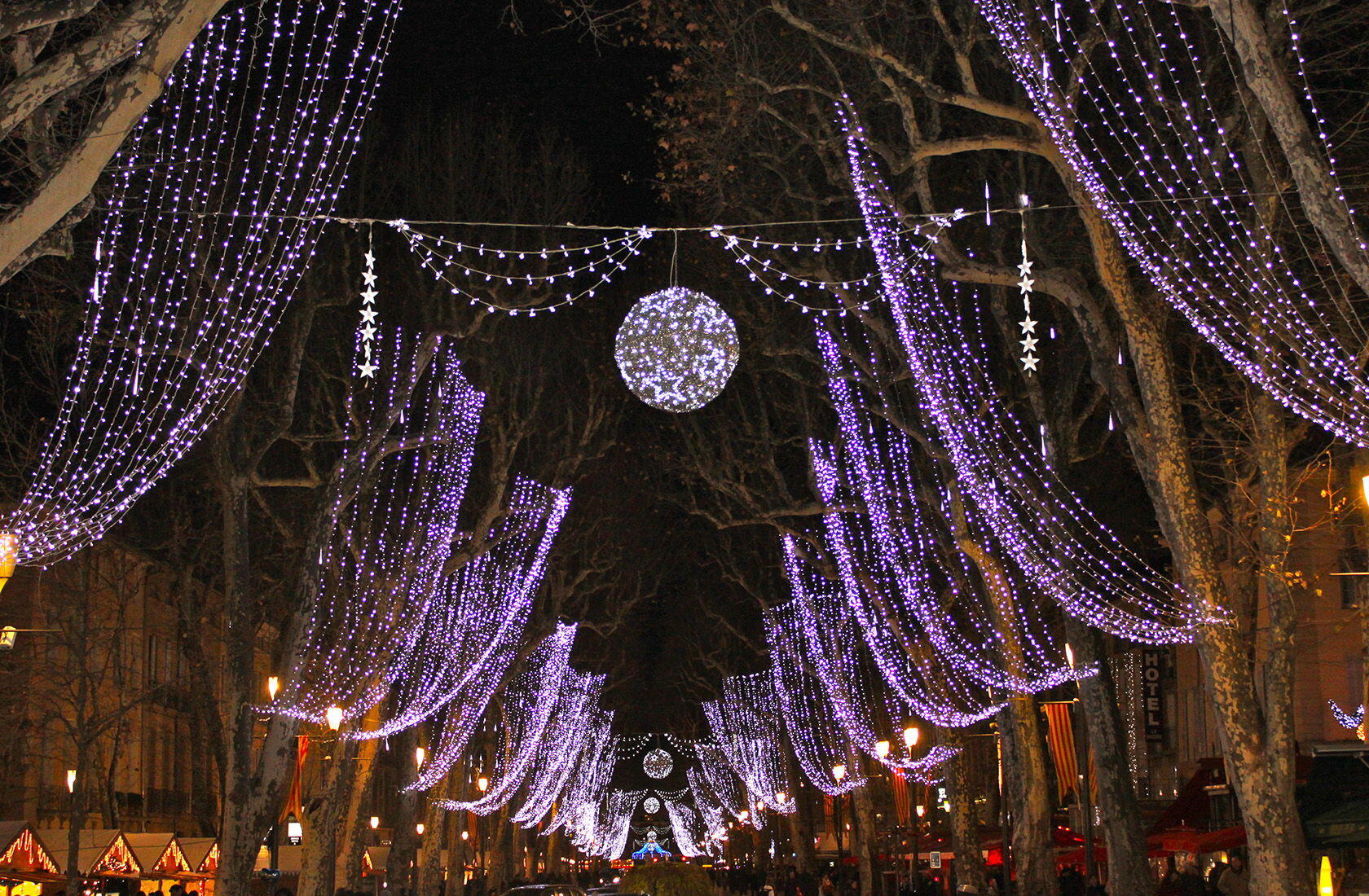 November 25 – December 28: the Avignon Christmas market takes place in Place de l'Horloge.
December 16 – January 22: Head to Mathieu Lustrerie chandelier factory in Gargas for a free exhibit, "LUMIERES sur 60 ans de Porsche 911," and the official inauguration of the workshop extension. The exhibition brings together 40 exceptional chandeliers and 40 exceptional Porsches on the occasion of the 60 years of the mythical Porsche 911. Open daily from 5-9 pm.
December 1 –  January 1: Village de Noël, the Christmas marketplace in Nice, includes some 60 market stalls selling gourmet food and goodies for those on your shopping list. At the same time, you are out and about check-out, the festive light displays in Place Massena and Place Garibaldi. Enjoy the lights and snap a few photos of the palm trees with holiday lights on the Promenade des Anglais.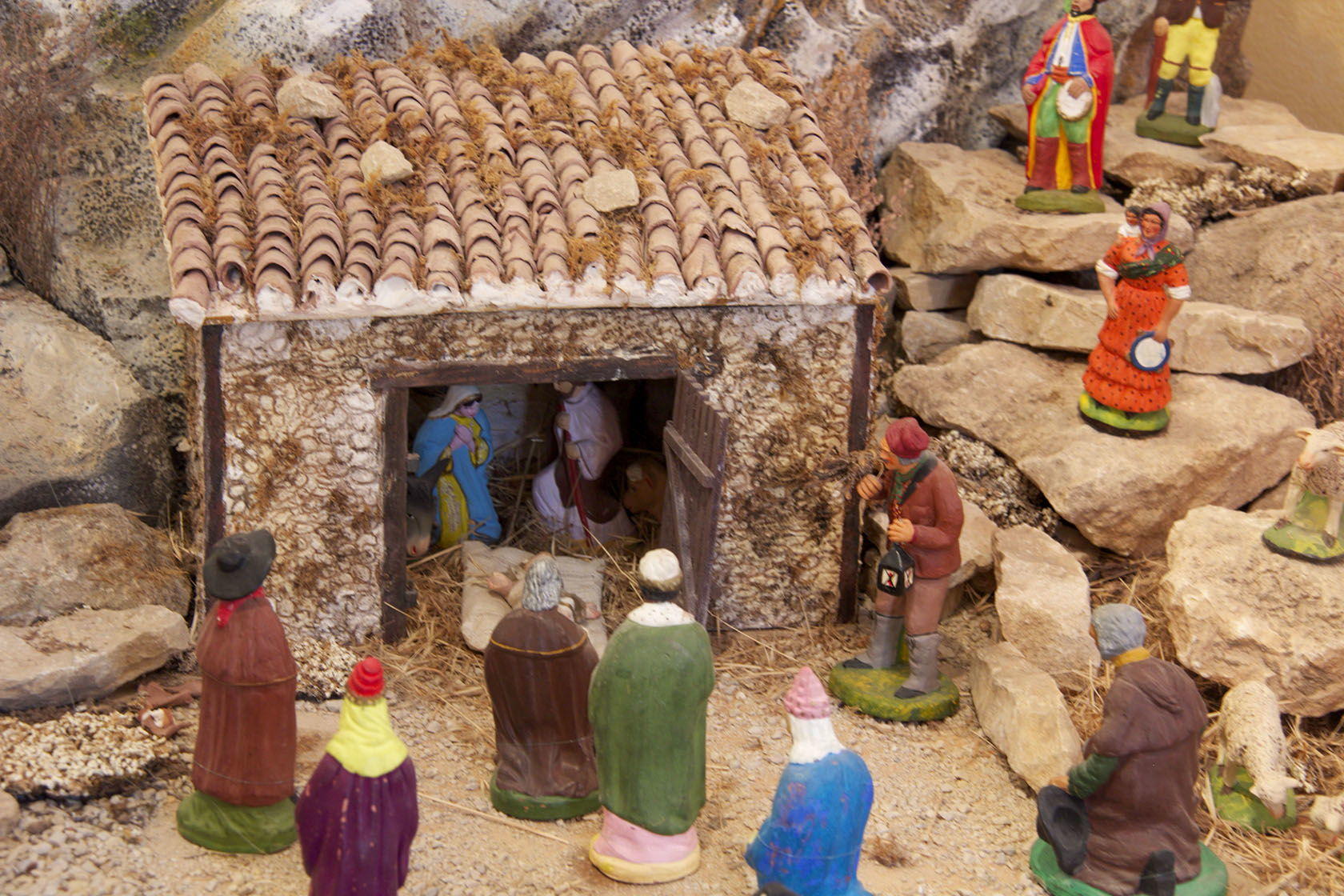 Discover the santons Provence's "little saints." The tradition of setting a nativity scene with these clay figures dates back to the 13th century, thanks to Saint Francis of Assisi, the patron saint of animals, merchants, and santonniers (the makers of santons). Christmas in Provence would not be the same without the santons markets. You can also order the holiday figures online from Remember Provence.
In December: Isle sur la Sorgue lights up to celebrate the festival of lights. This is Christmas magic at its best.
Until the end of December: Carpentras has a santons market – le Marché aux Santons.
Early December: the annual Christmas concert occurs at the Cathédrale Saint-Sauveur in Aix-en-Provence. This concert is a top-rated event. Make sure to buy your tickets early.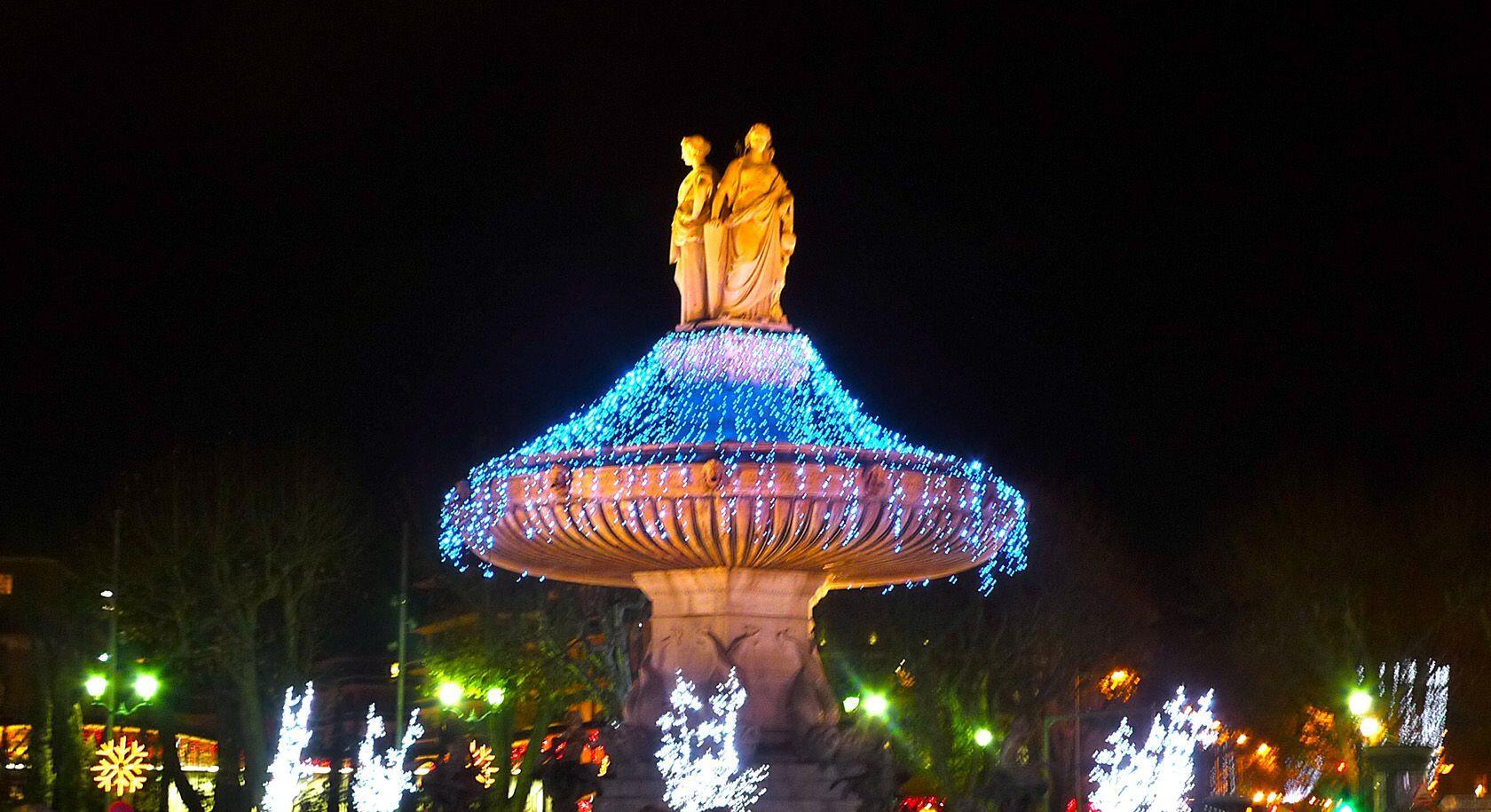 Early December: the same concert takes place in the Luberon village of Lourmarin.
December 20: The Nice Opera performs its Christmas concert at Eglise des Dominicans.
Until January 15: Sound, Light and Art is the last chance to see the Venice, from Canaletto to Monet and Yves Klein show at Carrières de Lumières in Les Baux de Provence, a production by Culturespaces. Here are some tips for your visit to Carrières de Lumières.
December 31: The ball drop in Times Square has nothing on the countdown on the French Riviera. Cannes (Promenade de la Croisette) and Nice (Place Massena) are particularly festive with fireworks displays.
In France, New Year's Eve is La Sainte-Sylvestre, a day for feasting. Most restaurants and hotels offer exclusive menus with wine pairings. Do book in advance!
---
Where to Stay near Aix
Located in the Provencal countryside, outside Aix-en-Provence, is Les Arnauds, a delightful bed and breakfast. The owner, Sheila, welcomes you to relax in a traditional Provencal mas; this 17th-century was her family home. Whether you stay for a night or several days, Les Arnauds is a comfortable 3-bedroom B&B just four (4) kilometres from Aix. Book your stay!
Only 20 minutes from the centre of Aix-en-Provence is Rousset, a small Provencal village. Near Mont Sainte Victoire and the Coteaux d'Aix-en-Provence vineyards, Mas des Trois Pins' studio apartment is available for holiday rentals. French teacher and masseuse Virginie Van Der Wees live in the countryside with her young family. Book Now!
---
January: Provence and on the Côte d'Azur
January 1 at 11:30 am, the brave (or crazy) head to Salis Beach in Antibes for a group dip in the Mediterranean known as le bain du nouvel an.
The Ferris wheel in Nice might soon be "taking a rest", but the Riviera never sleeps!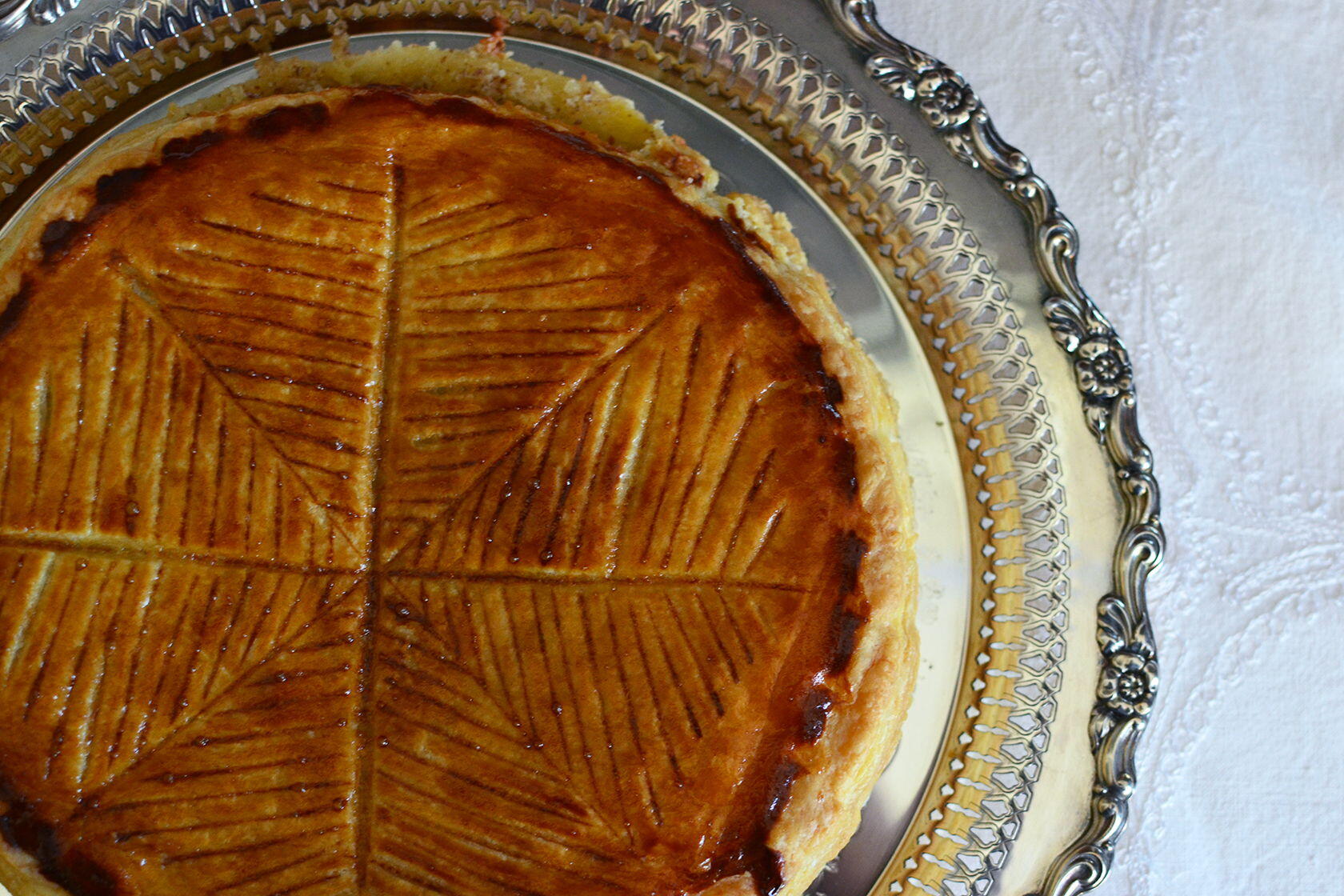 January 6: is the Epiphany, the day to eat Galette des Rois guilt-free.
Galette des Rois
A classic Christmas cake made from puff pastry, filled with frangipane and a small treasure or feve hidden inside.
Check out this recipe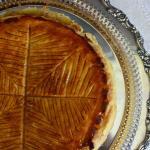 Galette des Rois (Epiphany cake)
Here is what Phoebe has to say: Making your own Galette des Rois is very simple, assuming you can get hold of ready-made puff pastry. In France, we're spoilt with excellent quality puff pastry that comes ready-rolled with its own baking paper, available in every supermarket.  And even better than that, during the festive period, roughly December and January, kits of puff pastry with a crown and figurine are sold too!
Check out this recipe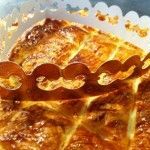 Until March 26: Head to the Hotel Caumont Centre d'Art in Aix-en-Provence to discover intimate works by Nice-born artist Yves Klein.
3rd Sunday in January: starting at 10:30 am, attend the blessing of the truffles – Messe des Truffes, in Richerenches, falls on the Fête de Saint Antoine each year. This one-day festival includes a blessing of truffles in l'Église Saint-Denis. Don't count on snagging a place inside the church. Instead, the village installs a video screen (outside) for the standing-room-only crowd. Following the religious part is a public auction of the truffles offered by the rabissers (truffle farmers), instead of communion, to the church. Once the formal part of the day is over, it's time for a truffle-themed lunch and a glass of local wine.
Discover the truffle markets around the region. Here is a list of where to find truffles in Provence.
January through the end of March: Drive along the 130-kilometre Route du Mimosa from Bormes les Mimosas to the perfume capital of Grasse. The bright yellow Mimosas are not native to the Côte d'Azur. British visitors who wintered on the coast originally planted the bushes to add colour to their gardens. The plants flourished in the climate and now "paint" the coastline shades of yellow in winter. There are festivities, parades, exhibitions and guided walks throughout the season. See the whole program here.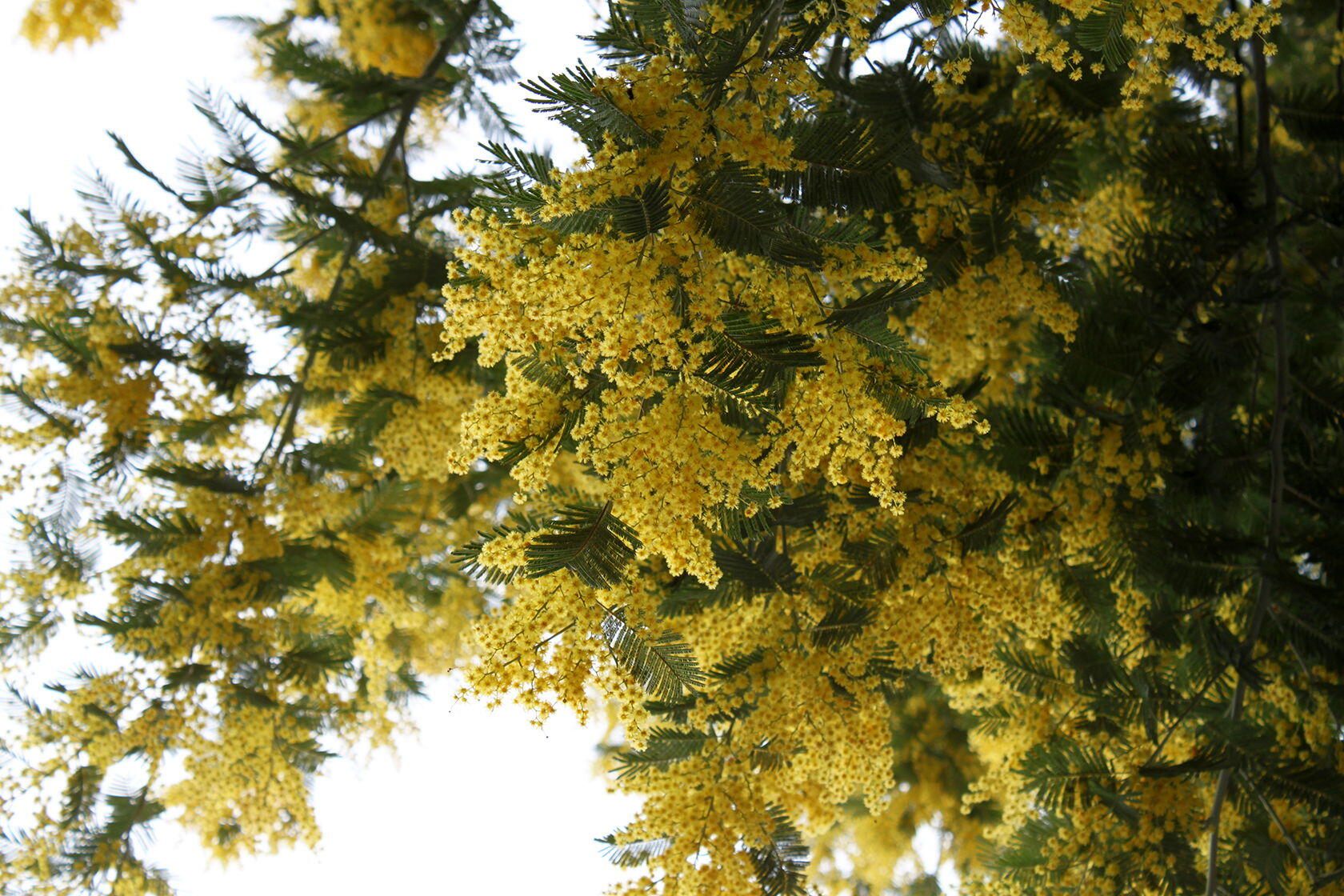 Where to Stay Near the Mimosas
Located on Villefranche's shoreline, the Waterfront Penthouse is so close that you can see fish swimming while you sit on the balcony. This 2-bedroom, 2-bath holiday rental has a panoramic view of the sea, Cap Ferrat and the stunning cliffs of Villefranche. This building is one of the most photographed in Villefranche, appearing on postcards, paintings, and books about the area. Book your stay!
Clos des Vignes, in Old Town Antibes, is a charming two-bedroom rental on the French Riviera. Only steps from tempting boutiques and a selection of restaurants, the house is a peaceful escape. Shop for supplies at the Provencal farmer's market, or spend the day at one of the nearby beaches before heading back to your private terrace with seaside views for cocktails and dinner al fresco. Book Now!
---
February: Provence and the Côte d'Azur
Valentine's Day is February 14th (in case you need reminding)!
February 11 – 26: La Fête du Citron in Menton – Since 1896, there has been a winter parade in Menton. The idea for festivities at this time of the year originated from a group of local hoteliers looking to fill their rooms. However, it was only in 1935 that the first Lemon Festival took place. Read more on the history here. Now, this annual 15-day event attracts over 200,000 spectators.
Discover more about Menton and the event here.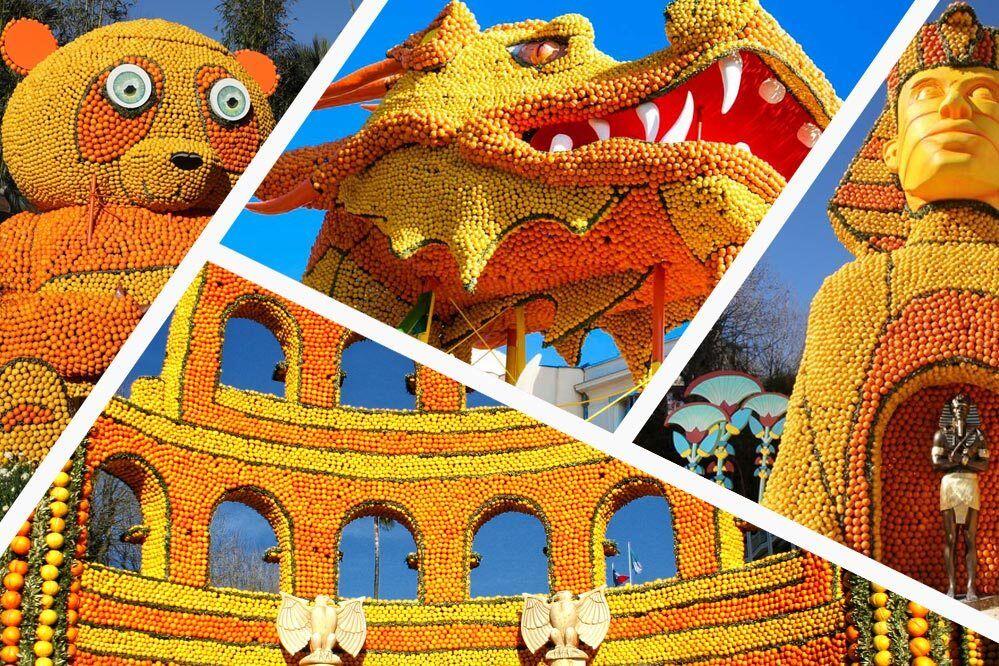 February 10 – 26: The Nice Carnaval theme changes annually. Everyone should plan to visit the Carnaval de Nice at least once. This annual carnival rivals events in Brazil and Venice, Italy, for outrageous floats and frivolity. This year the program is called Roi des Trésors du Monde (King of the World's Treasures). As always, the floats should be a riot of colour. The twin parades Corsi Carnavalesques and Batailles de Fleurs take place Tuesdays, Wednesdays, Saturdays, and Sundays. Many events are free, but you might want seats for some extended programs, so tickets are a must. Here are some local's tips for your next visit to Nice.
Sundays in February – Head to the Côte Bleue town of Carry-le-Rouet for the les Oursinades festival on the seafront, celebrating sea urchins and other local specialities. Considered the "capital" of sea urchins and the festivities have occurred in Carry-le-Rouet since the 1960s.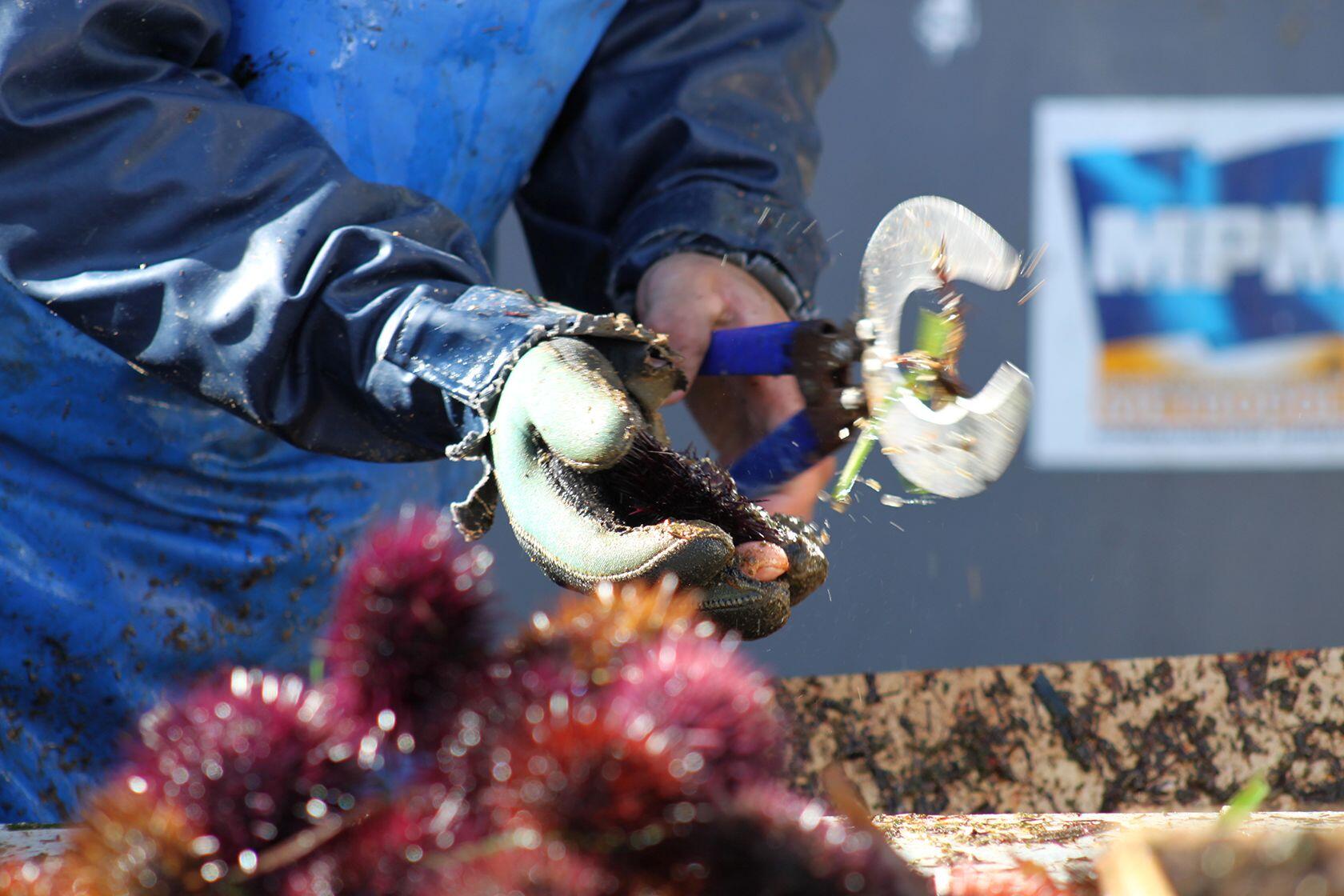 Where to Stay near Nice
Beachfront Bliss is a delightful studio apartment on the Villefranche-sur-Mer waterfront. This south-facing apartment, bathed in sunshine, is all about being on the water with sea views in every direction. Double-glass balcony doors slide into the wall, so the entire apartment floats above the sea. Book Now!
Set in a quiet residential neighbourhood, five (5) bedroom La Calado is a quick walk to AAntibes'Old Town. This beautifully refurbished holiday rental has all you need to stay on the Côte d'Azur. Initially constructed in 1926, the meticulously restored villa maintains its classic elegance. Spread over four floors, the spacious home has plenty of private corners. Book your stay!
All rights reserved. Perfectly Provence articles and other content may not be published, broadcast, rewritten (including translations into other languages) or redistributed without written permission. For usage information, please contact us.
Syndication Information
Affiliate Information
As an Amazon Associate, this website earns from qualifying purchases. Some recipes, posts and pages may have affiliate links. If you purchase via these links, we receive a small commission that does not impact your price. Thank you in advance for supporting our work to maintain Perfectly Provence.