Poached Pears Try French Classic Poires Belle Helene
Poached pears might be one of the easiest French desserts to serve. The preparation time is short and there is quite a variety of combinations you can create. It's a simple dessert to master and can be easily altered to suit your tastes.
To better understand where the dessert "Poris Belle Helene" comes from it is important to know a brief history. Renowned chef Auguste Escoffier invented the dessert in the 1800s naming it after Jacques Offenbach's Operetta La Belle Hélène. Hortense Catherine Schneider, who played the role of Helen of Troy, was one of the great stars of operettas in the 1800s and appeared in many of Offenbach's other operettas. She was a darling of French society and rumoured to be the mistress of King Edward VII. La belle Hélène was so popular that several dishes named in her honor appeared on menus across Paris (tournedos belle Helene, Sole belle Helene, etc.).

Poires Belle Helene
A classic French dessert composed of pears poached in a vanilla syrup served with vanilla ice cream then drizzled with a hot chocolate sauce.
Ingredients
1-

quart

Water

2

cups

Granulated Sugar

2

Vanilla Beans

cut in half lengthwise

3

Cardamom Pods

crushed (optional)

1

Star Anise

optional

1

Cinnamon Stick

optional

4

Pears

peeled and cored through the bottom with a melon baller

1/2

cup

Heavy cream

3

ounces

Bittersweet chocolate chips

4

Scoops of Vanilla Ice cream
Instructions
To Poach the Pears:
Bring water, sugar, and vanilla to a rapid boil in a non-reactive pan. Add the optional spices if you are using them. Add the pears to the syrup and cook over medium-low heat until they are easily pierced with a paring knife. Cool and store the pears in the syrup until ready to serve. The cooking time varies wildly on how ripe or unripe your pears are. Mine generally take about 10 to 20 minutes.
To make the Chocolate Sauce:
Bring cream to a boil and pour over chocolate. Whisk until smooth. Use immediately. If the sauce is too thick add a touch more cream.
To serve Pears Belle Helene:
Put a poached pear on a plate along with a scoop of vanilla ice cream. Pour the hot chocolate sauce over the pears at the table. Enjoy.
Notes
Save the leftover syrup to poach more pears; to make cocktails; to make a sorbet.
Additional Pear Desserts:
Chocolate Tart with Caramelised Pears
Flaky tart pastry crust with a layer of chocolate, sweet pear slices and drizzled chocolate glaze.
Check out this recipe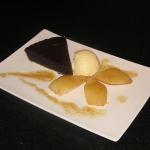 Poached Pears with Berry Purée
This recipe can be prepared with any variety of pear that you like. The best is to select fruit that has a large bottom (better for filling with the "surprise"). Prepare the pears and the filling in advance, a day or two ahead of serving.
Check out this recipe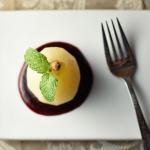 Roasted Pears with Crème Anglaise
Serve one to two pear halves per person, adjust the proportions after deciding the serving size. In this case, I used 1/2 pear per person, but it doesn't hurt to make extra.
Check out this recipe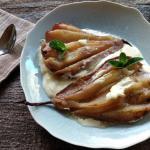 Rosé Poached Pears
This dessert is delicious either served warm or chilled. Once cooked the pears will keep covered in the fridge for three days.
Check out this recipe

All rights reserved. Perfectly Provence articles and other content may not be published, broadcast, rewritten (including translations into other languages) or redistributed without written permission. For usage information, please contact us.
Syndication Information
Affiliate Information
As an Amazon Associate, this website earns from qualifying purchases. Some recipes, posts and pages may have affiliate links. If you purchase via these links, we receive a small commission that does not impact your price. Thank you in advance for supporting our work to maintain Perfectly Provence.