Lemons and Oranges French Citrus Recipes to Try
Citrus and the French Table
Citrus has had a place in French cuisine, in decoration, and noble gardens since at least medieval times.
As both written and iconographical sources have suggested, several species of citrus were consumed, traded and maybe even cultivated in the gardens of the medieval French elite: the citron tree, the lemon tree, the lime tree, the sour orange tree, the sweet orange tree, the mandarin tree and probably the grapefruit tree. ~ OpenEdition Books
Although the concept of an Orangerie sounds delightful, most modern homes do not have space dedicated to growing citrus for consumption or décor. However, France does grow citrus for national consumption with a production of 73,130 tonnes in 2020 and imports the rest. The majority of French citrus grows in Corsica. French chefs covet produce from a private citrus grower with 1,000+ varieties located in Eus in the French Pyrenees. There are also some unique varietals (Green and red caviar lemons, cedrat, Yuzu, Kumquat, and others) grown in a greenhouse in Brittany. Some French chefs make annual trips to "Where the Rare Citrus Grows" ~New York Times Style Magazine.
Menton's Lemon Festival – Fête du Citron has run since 1935. It attracts roughly 240,000 visitors each year, so expect crowds. The event includes parades (day and night), a citrus garden, and fireworks. Between the static displays and parade floats, roughly 145 tons of lemons and oranges are required during the festival. Many people behind the scenes help put everything together by replacing the spoilt fruit.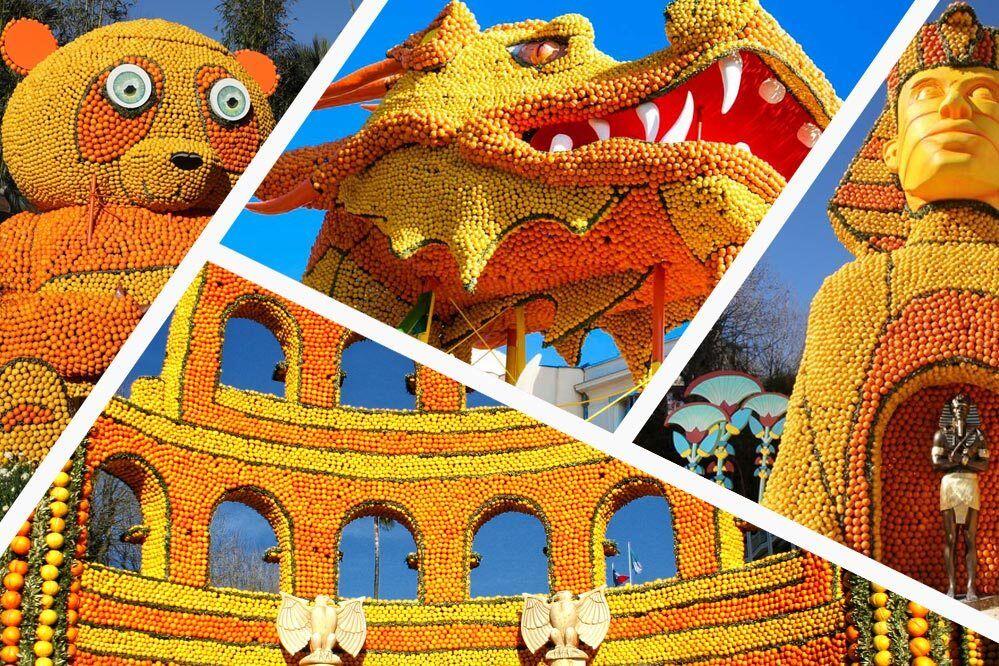 Recipes with Oranges
The perfect dessert to finish off a meal with close friends. The dessert brings out the citrus flavour from the orange pairs well with a glass of rosé.
Blood Orange and Ricotta Dessert
A delicious dessert that goes great with a glass of rosé. Enjoy!
Check out this recipe

A citrus salad is a tasteful way to add oranges to your meal. This recipe includes oranges, fennel, olives and capers.
Orange, Fennel, Olive and Caper Salad
This easy salad brings zing and brightness to the table. The salt of the olives and capers balances the sweetness of the orange. This should really be made no earlier than 30 minutes before eating. If you want to get ahead, you can segment the orange earlier in the day and leave it sitting in the lemon juice.
Check out this recipe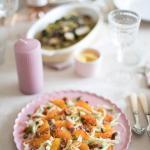 Girl Gone Gallic put together a sweet orange crêpe recipe, a simple dessert great for a dinner party.
Sweet Orange Crêpes Provençal
Do not let the intimidation of cooking crêpes deter you from this trying the very simple recipe. Light and airy yet packed full of zesty orange flavour, it's a recipe to be proud of conquering!
Check out this recipe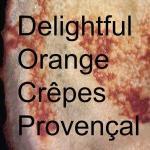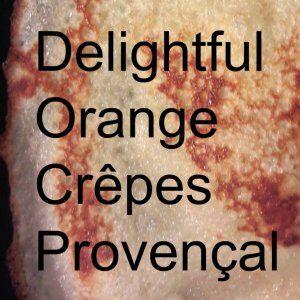 Recipes with Lemons
Lemons add the perfect amount of flavour to make a fabulous dish. This recipe includes scallops with lemon for your next dinner party.
Scallops with Lemon and Caper Butter
These delightful scallops are a perfect appetizer to serve at your next dinner party. The bright citrus complements the creamy butter and vinegary capers for a delicious starter you can share with friends, family, or enjoy on your own!
Check out this recipe

Lemons are a versatile fruit, from lemon water to topping off dinner dishes. Lemon sunshine pie is another way to enjoy this fruit. In addition, you can bring the dessert to the next gathering you attend!
Meyer Lemon Sunshine Pie
This sweet-sour dessert is quick to prepare and is sure to tempt even the non-dessert lover.
Check out this recipe

If you are looking for a new dessert to try, this recipe is perfect! The dessert was brought to us by a British food writer and chef, Nigel Slater.
Lemon-Frosted Pistachio Cake
The recipe for this delicious dessert is from The New York Times and is the creation of British chef Nigel Slater.
Check out this recipe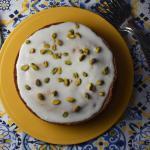 Recipes with Clementines
Madeleines are a fan-favourite dessert that comes in a variety of flavours. Add fresh clementine juice to the light and fluffy sponge cakes in this version.
Clementine Madeleines
A génoise type cake batter flavoured with fresh clementine juice and zest make these light and fluffy sponge cakes even more irresistible.
Check out this recipe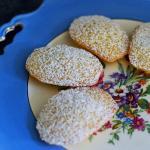 David from Cocoa & Lavender gives us another recipe everyone will enjoy! The sliced clementines roast with chicken and taste amazing.
Chicken with Fennel and Clementines
An easy one-pan dish combining the great flavours of fennel, citrus and roasted chicken. This recipe was inspired by Yotam Ottolenghi, and minimally adapted from his cookbook Jerusalem. 
Check out this recipe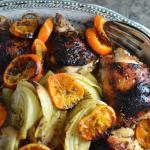 Candied clementines are a dessert that is enjoyed year-round and can be served over ice cream or yogurt!
Candied Clementines (Clementines Confits) with Moroccan spices
This dessert can be made all year! When I am in France, I buy clementines from Corsica. I can find clementines (sometimes known as Cuties in the U.S.) throughout the year in Los Angeles. It's a simple dessert that can be served by itself or cut in julienne strips and served on top of ice cream, yogurt or a pound cake (The French version of a pound cake is Quatre Quart)! Please note that the clementines will be a burnt orange colour once they are candied because of the Moroccan spices.
Check out this recipe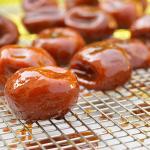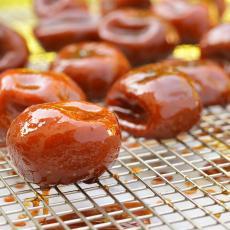 All rights reserved. Perfectly Provence articles and other content may not be published, broadcast, rewritten (including translations into other languages) or redistributed without written permission. For usage information, please contact us.
Syndication Information
Affiliate Information
As an Amazon Associate, this website earns from qualifying purchases. Some recipes, posts and pages may have affiliate links. If you purchase via these links, we receive a small commission that does not impact your price. Thank you in advance for supporting our work to maintain Perfectly Provence.