Calissons d'Aix a Recipe for Sweet Perfection
While Calissons d'Aix are a Provencal holiday treat —they are one of the thirteen traditional desserts served at Epiphany — I tried my first on a beautiful summer's day in Aix-en-Provence. Candy is certainly not the only reason to visit Provence, but for this sweet treat, Aix marks the spot.
Mark and I traipsed around the Provence countryside for two glorious weeks with our hosts Susan, Towny, and Alex, tasting and testing every specialty food and wine you can imagine: Cavaillon melons, fruits confits, épeautre (a grain similar to farro), all manner of pastries, cheeses direct from a goat farm, Rosé wine in its native habitat…
This recipe involves a few steps, but it is worth the effort.
Enjoy!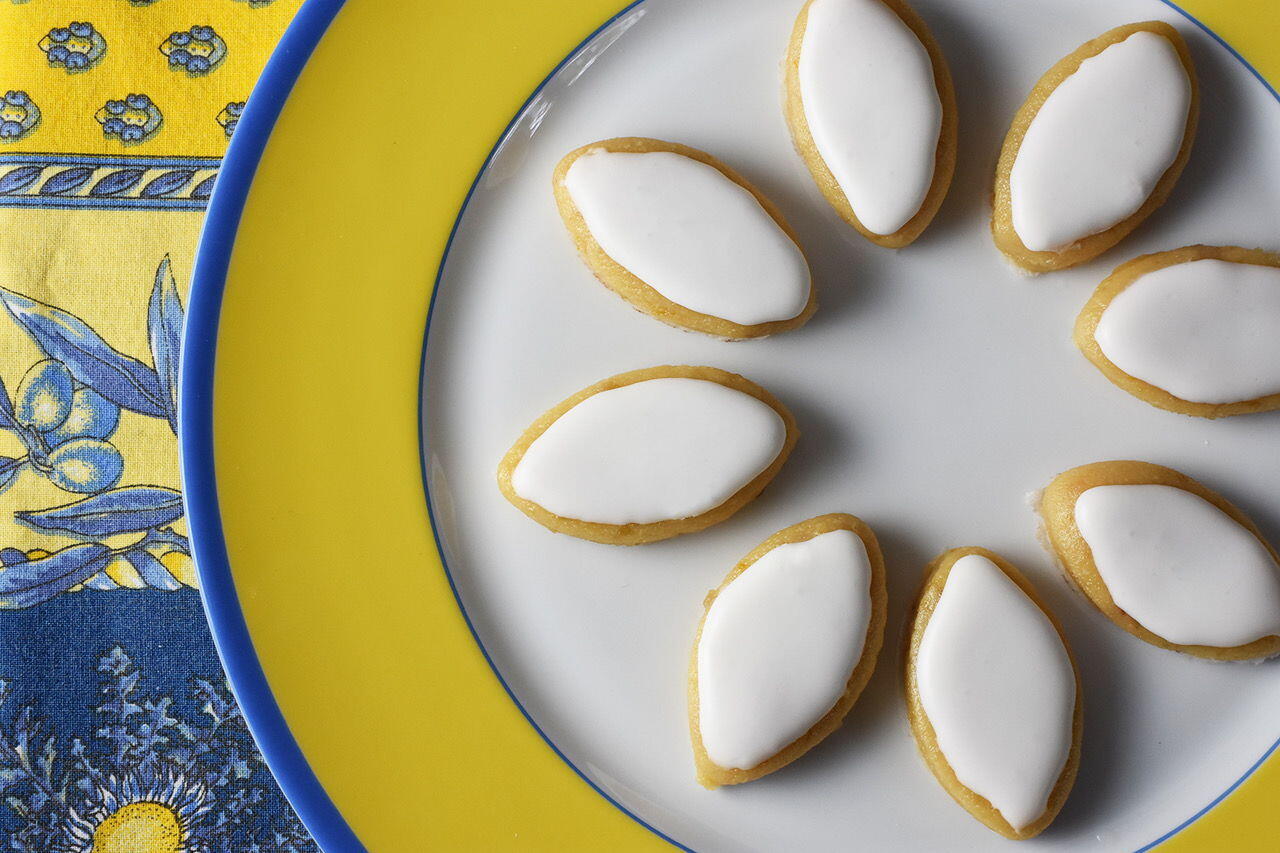 Calissons d'Aix a Sweet Candy
This recipe takes time. It's a fun culinary project with a sweet result. You need to leave enough time (about a week) for the fruit paste to reach the right consistency.
Ingredients
For the Fruit Paste:
250

g

Ground Almonds

250

g

confectioners' sugar

2 - 3

tbsp

orange blossom water

500

g

Melon Confit

cut into small pieces *

50

g

Orange Confit

cut into small pieces
For the Royal Icing:
1

Egg white

1

tsp

Lemon juice

1 1/2

cups

confectioners' sugar
Special Ingredient:
1

10 x15 inch sheet

Wheat starch paper **
Instructions
For the Fruit Paste:
Place the ground almonds, confectioners sugar and orange blossom water into a medium saucepan and cook over low heat for about 7 to 8 minutes until a uniform paste comes together that, when touched, no longer sticks to your fingers.

Break this almond mixture into pieces and add to the bowl of a strong food processor.

Add the melon and orange confit pieces. Pulse a couple of times, then process until everything is fully mixed. You don't want any big lumps of the fruit confit.

Place the wheat starch paper on a rimmed 10-inch x 15-inch baking pan, and set aside.

On a marble or stone countertop, using your hands, form the fruit paste into as flat a rectangle as possible.

Scrape the rectangle onto a piece of cling film, cover with another piece of cling film and roll to a rectangle approximately 10-inches x 15-inches.

Remove the top piece of cling film, and carefully flip the paste into the baking sheet on top of the wheat starch paper.

Remove the other piece of cling film and continue to press into the baking pan to fit the piece of wheat starch paper. If it's sticking too much, use a wet spatula to smooth out the top.

Let the fruit paste sit, uncovered, in a warm, dry place for up to seven days until it reaches a firm and dry (only slightly tacky) consistency. Using a Calisson-shaped cutter, cut as many pieces as possible, and as close together as possible, to avoid wasting any of the fruit paste. It helps to dip the cutter in water from time to time. Also, you need to press hard on the cutter to get through the wheat starch paper. Alternatively, using a wet, sharp knife, cut the Calissons into elongated diamond shapes.

Set cut Calissons on a tray and let dry while you prepare the royal icing.
For the Royal Icing:
In a mixing bowl, beat together the egg white with the lemon juice on medium-high, until well blended. Sift in the confectioners' sugar and beat on low speed until it is well combined and smooth.

Lift the beaters and let some of the icing fall back on itself. If it forms a slight lump on top of the other icing, it is ready. If it is too thin, add more powdered sugar. If it's too thick, add a drop of water at a time until it's the right consistency.

Scrape the royal icing into a pastry bag fitted with a fine round tip.

Start icing by outlining each Calisson, then filling in the middle. It sounds really tedious, but it goes pretty quickly.

Once you have done all the icing, place them on a baking sheet and bake for 10 minutes. This will set the icing.
Notes
* You can substitute dried or glacéed apricots for the candied melon, but the flavour won't be quite the same.
** Wheat starch paper can be replaced with rice paper – whatever you use needs to be edible. Parchment is not a good substitute.
Calissons d'Aix the One and Only
Today, you can find many calisson variations for sale with different flavours and coloured icings. However, the original "Calisson d'Aix" — first created in the 17th century — are produced following strict guidelines. These include:
Location: For the manufacturer to display the official name, they must be located within the Indication géographique protégée (IGP) in one of these seven (7) communes: Aix-en-Provence, Eguilles, Meyreuil, St Marc Jaumegarde, Le Tholonet, Venelles or Vauvenargues.
Ingredients: According to Le Roy René's website, "The calisson Aix must be manufactured from a crushed candied fruit and almonds blanched complemented by sugar syrup. The blanched almonds (minimum 32% of the pulp) carefully mixed candied fruit are crushed. Candied fruits account for 30% minimum of the dough. Melon, fruit mainly used (80% of candied fruit) is cultivated exclusively in Provence."
Size and shape: The Calisson d'Aix is oblong and pointed at both ends. The calisson must have three distinct layers, a slightly granular texture, and no unnatural colouring or preservatives.
Discover Roy René the Almond King of Calissons d'Aix one of the few recognized producers of this traditional candy.
All rights reserved. Perfectly Provence articles and other content may not be published, broadcast, rewritten (including translations into other languages) or redistributed without written permission. For usage information, please contact us.
Syndication Information
Affiliate Information
As an Amazon Associate, this website earns from qualifying purchases. Some recipes, posts and pages may have affiliate links. If you purchase via these links, we receive a small commission that does not impact your price. Thank you in advance for supporting our work to maintain Perfectly Provence.