These Chèvre and Mushroom Tartlets are a Crowd Pleaser
The base for these Chèvre and Mushroom Tartlets is versatile. The original recipe was passed on to me by a friend who loves chocolate desserts. It has become my no-fail, recipe when I am asked to take something sweet to take to a party.
Recently, I decided to experiment with the filling as the crust could not be easier to make. Using the same ingredients for the dough, I created a savoury filling using fresh goat cheese, Parmigiano-Reggiano and mushrooms. Serve these tasty bites with a chilled rosé or white wine, and this might just become your go-to appetizer recipe!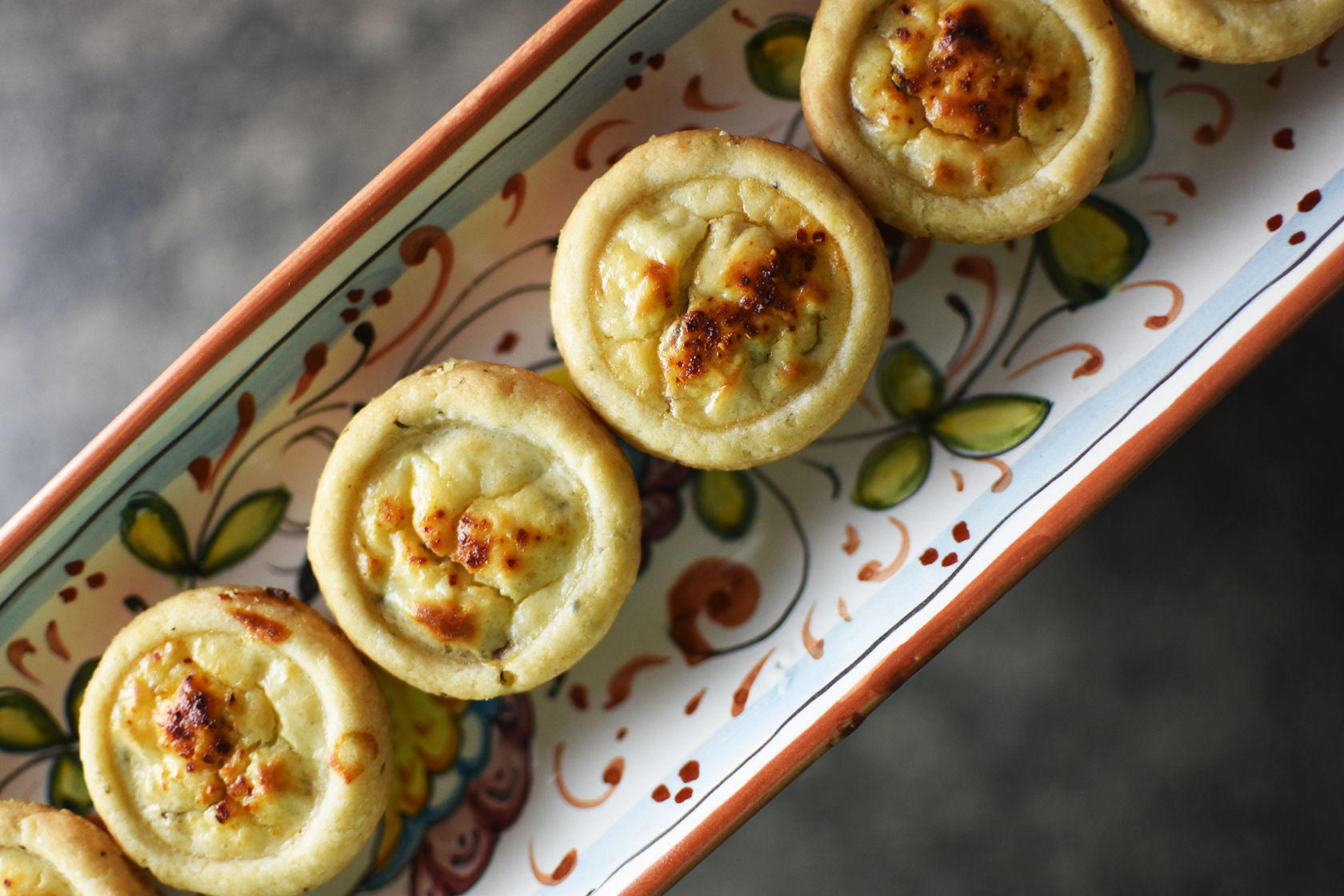 Chèvre and Mushroom Tartlets 
For this recipe, I chose the combination of soft goat cheese, sharp Parmigiano-Reggiano and mushrooms. However, once you have made the dough once you will know how easy it is to make, and you can create your own fillings.
Ingredients
1

cup

Flour

1/2

teaspoon

Salt

2

teaspoons

Fresh rosemary

finely chopped

8

tablespoons

Unsalted Butter

cut into 16 pieces

3

ounces

Cream cheese

cut into 3 pieces

1 1/2

tablespoons

Unsalted Butter

3

ounces

mushrooms

minced

1

small

shallot

minced

1/2

teaspoon

Aleppo pepper

optional

1/2

teaspoon

Salt

1/4

teaspoon

Freshly ground black pepper

1

tablespoon

Milk

1

tablespoon

brandy

4

ounces

fresh Chèvre

goat cheese

1

large

Egg

3/4

ounce

Parmigiano-Reggiano

grated

Piment d'Esplette or paprika
Instructions
To make the dough, place the flour, salt, and rosemary in the bowl of a food processor and pulse several times.

Add the butter and cream cheese and process until the ingredients form a ball of dough.

Divide the dough into 24 even pieces.

Roll each piece into a ball, flatten them slightly, then place them in the cups of a mini muffin tin.

Shape each piece into a mini tart shell, then place the pan in the refrigerator while you make the filling.

Preheat oven to 350°F.

Melt butter over medium heat in a small saucepan.

Add the mushrooms, shallots, and Aleppo pepper, and sauté until the mushrooms have released their liquid and the shallots are softened - about 3-5 minutes.

Add the milk, mix well, then add the chèvre.

Stir the mixture over medium heat until the cheese has melted.

Remove from the heat and add the egg and Parmigiano-Reggiano.

Stir quickly to blend thoroughly.

Using a teaspoon, fill each tart shell 3/4 full (the filling will expand during baking).

Sprinkle the top of each tart with some piment d'Esplette or paprika.

Bake for 28 minutes.

Serve warm.
Notes
Note: to make these in advance, I recommend baking them for 22 minutes, then keeping them refrigerated. About 1/2 hour prior to serving, preheat the oven to 350°F and then bake them for 10-15 minutes, or until golden.