Eggplant, Aubergine Melanzane a'Scarpone Recipe
While this recipe is not typically Provencal, aubergine (eggplant) and tomatoes are plentiful in the region, and we highly recommend trying this vegetarian dish. While we will always love a variety of meats, poultry, and seafood, we add more vegetarian options for our health! Melanzane a'Scarpone is one of our favourite Italian-inspired dishes. Continue reading here for the prep photos from Cocoa & Lavender.

Melanzane a'Scarpone
A delicious vegetarian dish featuring eggplant that serves up to 6 people!
Ingredients
1/4

cup

Extra-Virgin Olive Oil

additional oil for greasing

6

small

Eggplants

halved lengthwise

Sea Salt

Freshly Ground Black Pepper

2

Onions

diced

1/4

cup

Gaeta Olives

pitted and roughly chopped

1

tbsp

Capers

rinsed, drained, and roughly chopped

8

oz

Mozzarella Cheese

cut into 1/2-inch cubes

1/4

cup

Water
Instructions
Preheat oven to 350°F. Grease a baking pan large enough to fit the eggplant halves.

Place the eggplants in the baking pan, skin side down. Season with salt and pepper. Bake for 40-50 minutes. Until soft and creamy. Remove from oven, and leave the oven on!

Allow the eggplants to cool slightly. Then, scoop the flesh into a large bowl using a knife or melon baller. Leave 1/4 inch of flesh on the skin.

Return the eggplant shells to the baking dish, skin-side down.

Heat the olive oil in a large saucepan over medium-low heat. Add onions when the oil begins to simmer. Season with salt, cook and stir for 15 minutes. Until soft and translucent.

Add the olives and capers to the hot oil for 1 minute. Until capers bloom. Then, add the grated tomatoes. Season with salt and cook for a few more minutes . Until sauce reduces slightly.

Add the eggplant flesh from step 3. Stir and cook for about 5 minutes. Allow the flavors to marinate.

Divide the mixture between the eggplant shells using a spoon. Scatter the mozzarella evenly over filling.

Add water to the bottom of the baking dish. Cover the dish with aluminum foil. Bake for about 25 minutes. Until eggplant shells begin to lose their shape. Serve warm or at room temperature.
Notes
The recipe, slightly adjusted, is from Katie Perla's Food of the Italian South.
More Vegetarian Recipes:
Les Petits Farcis a Vegetarian Version
I'm going to share with you my family's favourite one. It's a very simple version, healthy, and vegetarian. Let's get cooking! To make it easier, choose round shaped vegetables. For the pleasure of the eyes, choose different colour vegetables: tomatoes, round zucchini, peppers, white onions.
Check out this recipe

Charred Peach, Asparagus, Mozzarella and Prosciutto Salad
Anna created this recipe to pair with the beautiful Etoile Rosé. A fresh and summery salad that's ideal as a starter or light main course, and takes just 5 minutes to prepare. Omit the prosciutto for a vegetarian option.
Check out this recipe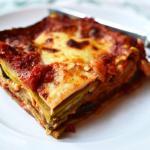 Provencale Vegetable Tian
A vegetable tian is quick to prepare. You can use a selection of fresh vegetables that you have on hand. Enjoy my traditional Provencal version below.
Check out this recipe

Vegetable Napoleons
The bright and robust flavours incorporated in this dish make it an excellent addition to the creamy stuffed chicken breast. They're easy to make but incredibly delicious.
Check out this recipe