Tian Provencal Recipe a Vegetable Tart Flower
How do you make friends when we are all trying to self-isolate and social distance? You start scrolling through Instagram and stumble upon eye-catching feeds like frenchified_wife that then lead to Jane's beautiful blog – On Mange.
Jane has travelled extensively, a passionate cook she loves exercising her creative talents in the kitchen. Enjoy this spring-summer recipe for a Tian Provencal, for the recipe Jane uses a tart crust and arranges the fresh vegetables in a fabulous flower design.
"Food that brings everyone together, be it at home, with family and friends: Great company, great food, it can't get any better." ~ On Mange!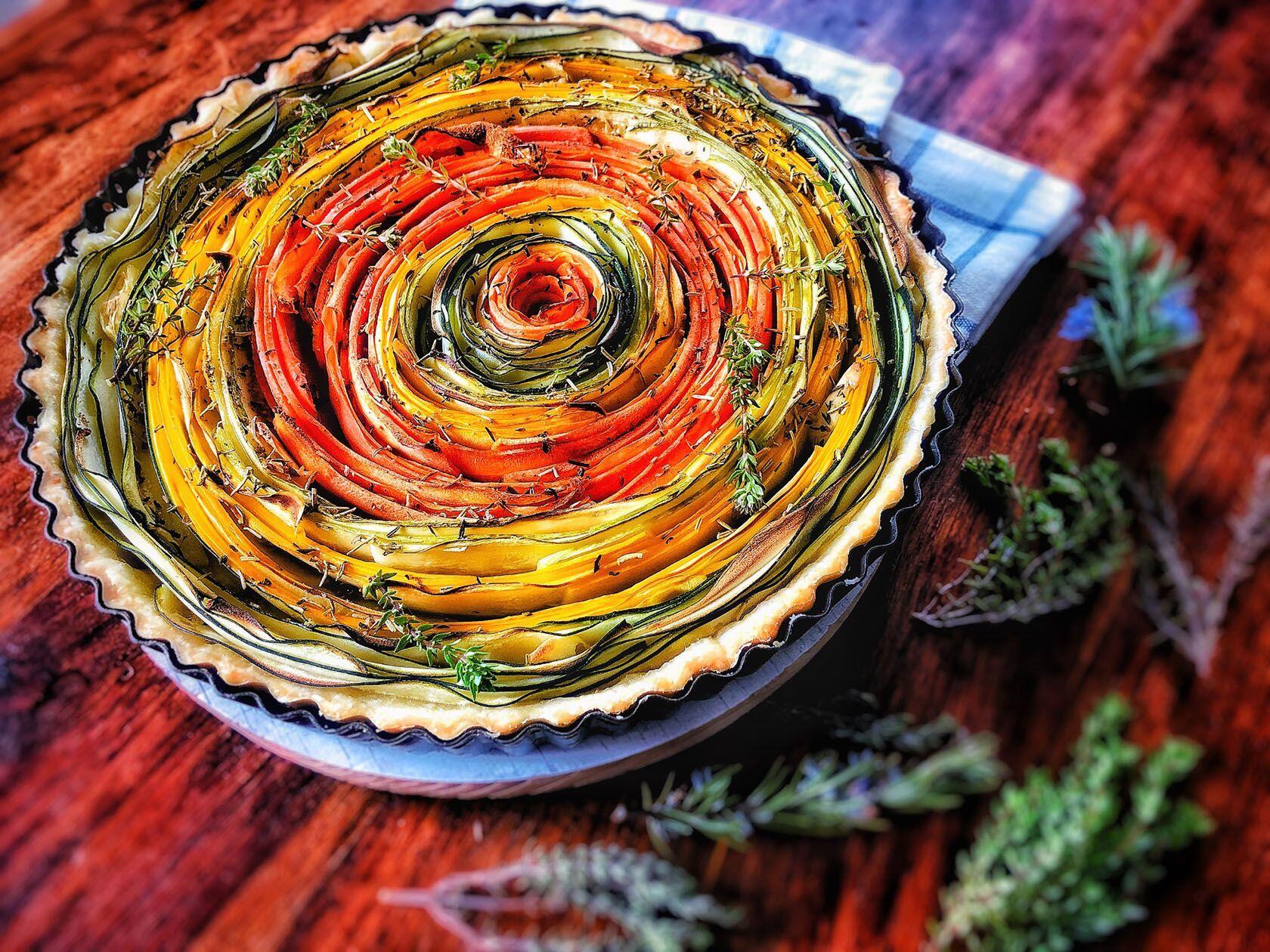 Vegetable Flower Tian Provencal
This tian recipe makes one pie, perfect for a lunch dish with a green salad and some fresh baguette. Tian Provencal tastes like summer and is best enjoyed when warm, either with polenta or potato wedges. This tart version is nothing complicated just a little patience, you'll end up with a flower design.
Ingredients
1

Flaky Pie Pastry**

store-bought or homemade

3

Yellow Squash

3

Zucchini

3

Carrots

3

Garlic Cloves

skin removed, crushed

2

tbsp

Dijon Mustard

4-5

tbsp

Crème fraiche

2-3

tbsp

Herbes de Provence

1/4

cup

Shredded Parmesan Cheese

optional

Salt and Pepper

to taste
Instructions
Preheat oven at 375ºF/ 180ºC.

Place the pastry in a greased pie pan or with parchment paper (I use a pie pan with a 24cm removable base) and prick the pastry with a fork.

Leave it in the fridge to chill while you prepare the veggies.

Wash the carrots and zucchini and cut in lengthwise strips using a peeler or mandolin.

When all the vegetables are ready in strips, remove the pie crust from the fridge.

Spread mustard and crème fraîche over the bottom of the pie, then sprinkle with Provençal herbs. Sprinkle with the cheese (if using).

Roll a few small strips of carrots and place them in the center of the pie pan and continue to wrapping the vegetable strips in a concentrated circle until the tart is full. (you can alternate the colours of the zucchini and carrots with your own liking)

Stuff crushed garlic in between the strips and drizzle olive oil over the top. Season with salt and pepper.

Baked in a preheated oven for 30 minutes. Watch the oven for the last 10 minutes to prevent the top edges of the vegetable from burning. I added another 10 minutes to the baking time to prevent the base from being soggy.

Cool in tart pan for 10 mins, then slice and serve. This pie can be enjoyed at room temperature too.
Notes
**You can make your own pie crust ahead of time. Homemade pie crust might take a longer time to cook.
Other Vegetable-based Recipes:
Baked Ratatouille Tian from Le Pistou Uzès
Pumpkin Tian Recipe – Tian de Courges
A Vegetable Tart Almost to Beautiful to Eat
Eggplant Cakes with a Pesto Sauce