Savoury Leek and Goat Cheese Tart Recipe
French bakers have perfected tarts in both sweet and savoury versions. In this recipe, the combination of leek and goat cheese is a creamy delight. This tart is perfect for a lunch dish with a green salad, or serve bite-sized pieces as an appetizer. We used goat cheese in this recipe, as it is typical of Provence, and leeks are grown most of the year in the South of France.
This tart is also a delicious cold on a picnic or for a late dinner. You can also make them individual. Change the Emmental for Comté or a young cheddar, or change the goat cheese for blue cheese to make it your own.

Leek and Goat Cheese Tart
This light tart recipe is the perfect accompaniment for a crisp glass of Provencal rosé on the patio or by the fire. No matter what the weather is like, this savoury and creamy tart is absolutely delicious. With leeks and goat cheese being easily accessible in most regions year-round, make this tart with a fresh green salad for a dish that is sure to impress. Make sure to allow enough time for your dough to rest before using it.
Ingredients
1

Pie Crust

2

Leeks

1

Shallot

3

oz

Goat Cheese Log

5

oz

Whipping Cream

3

oz

Milk

3

oz

Emmental Cheese

1

Egg

1/2

tsp

Ground Nutmeg

2

oz

Butter

Salt and Pepper
Instructions
Make your dough. Let it rest for 1 hour in the fridge. Butter and flour a rectangular or round tart mold. Your tart will look prettier with ruffled edges. Roll out the dough and shape it into the mold. Reserve in the fridge.

In the meantime, clean your leeks, twice. Cut them in small chunks, clean them again and drain. Peel and mince the shallot.

In a saucepan, melt the butter on medium heat, add the minced shallot, cook 3 minutes and add the leek.

Cook 15 minutes to remove any excess water. Add the cream, cook 4 to 5 minutes, until thick. Reserve on the side to let it cool down.

Turn on your oven at 180ºC (350ºF).

Mix milk, shredded cheese, and the egg. Add to the leeks. Season with salt, pepper, and nutmeg.

Mix well and pour it into your cold pie crust. Cut your cold goat cheese log in 6 wheels or small chunks if you have a bigger piece and spread on top of the leek.

Bake for 30 to 40 minutes. Let rest 10 minutes before serving.

A nice green salad will accompany the tart perfectly.
Other Recipes You Might Enjoy
Tarte Provençal à la Tomate
Obviously the best outcome is a tart baked with your own garden harvested tomatoes. This quick and easy tart makes a fast and fancy meal that everyone will enjoy. The sweetness of the tomatoes pairs well with the Herb de Provence, spicy mustard and flaky pastry crust. For a quick change -p, try using coloured tomatoes in a rainbow pinwheel pattern. It will look and taste as if it took you hours, but that can be your little secret!

Tomato Olive Tarts - Appetizer
There are a few steps to this recipe, but don't be put off. There is nothing complicated, and you will love the result. As a bonus, the little tart shells are a bit like savoury shortbread so you can serve those on their own. And, if you make too much olive tapenade, it will keep for a few days in the fridge.
Check out this recipe

Tomato Tarte Tatin
Allow enough time to prepare the key ingredients (onions and tomatoes) in advance. This savoury tart is a great lunch dish with a green salad or s starter course at dinner time. Serve at room temperature or slightly warm.
Check out this recipe

Tomato Pesto Tart
This recipe calls for the freshest tomatoes and basil. While the tart is baking make the pesto and a salad, and lunch is ready. Enjoy!
Check out this recipe

Chèvre and Mushroom Tartlets 
For this recipe, I chose the combination of soft goat cheese, sharp Parmigiano-Reggiano and mushrooms. However, once you have made the dough once you will know how easy it is to make, and you can create your own fillings.
Check out this recipe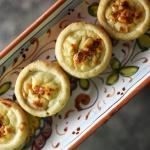 Jacques' Zucchini Tart
This tart is easy to make all you need is a few ingredients for the perfect pairing with a glass of chilled rosé. Easy and very tasty, serve as an appetizer or as a light main with a salad.
Check out this recipe