Perfecting the Tomato Tarte Tatin Recipe
As most of you have figured out, we love good food. So that means, we eat out quite often and gather around our table for home-cooked meals as often as we can. I get ideas for dishes from an extensive collection of cookbooks, several cooking magazines and the Santa Rosa Press Democrat and New York Times Food sections.
The last eighteen months, Shirley and I have embarked on a mission to improve our health through a change in lifestyle, including riding bikes and a fish and a plant-based diet. We are not fanatics by any means, but we do eat less pasta and bread and desserts appear on our table less frequently. I have cut out red meat except for lamb occasionally when we are in the South of France.
Eating healthy does not translate into complete denial! Instead, it's an excuse to try specialty menus such as the vegetarian tasting menu at one of our favourite restaurants, Les Remparts in Venasque. The chef makes a Tomato Tarte Tatin to "die" for and the following recipe is my second attempt to recreate this delicious dish at home. We will let you decide, but this version might be perfection.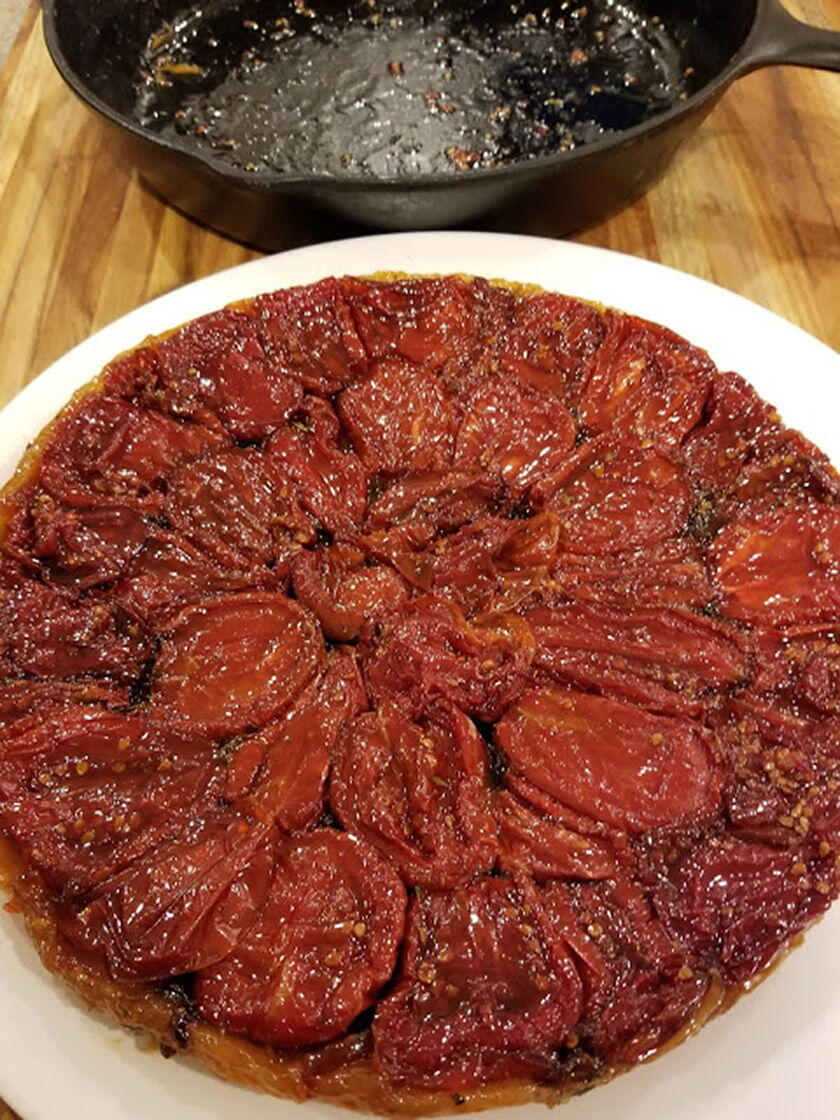 Tomato Tarte Tatin
Allow enough time to prepare the key ingredients (onions and tomatoes) in advance. This savoury tart is a great lunch dish with a green salad or s starter course at dinner time. Serve at room temperature or slightly warm.
Ingredients
3

lbs

Medium-sized Tomatoes

*

3

medium

Red Onions

4

Garlic Cloves

1

tbsp

Thyme leaves

chopped

1/4

cup

Grated parmesan cheese

14

oz

Puff Pastry

**

2

tbsp

Butter

1/2

cup

Crystallized Sugar

4

tbsp

Water

1/3

tsp

Sherry Vinegar
Instructions
Thinly slice 3 medium onions.

Caramelize the onions with 4 sliced garlic cloves in 2 tablespoons of butter and a pinch of crystallized sugar. About 15 - 20 minutes.

Core tomatoes and slice in half. Place cut side down on rimmed baking sheet. Lightly salt and spray lightly with olive oil.

Roast tomatoes in 275 degree Fahrenheit oven for 2 1/2 hours. Cool completely. You can do this overnight.

Preheat oven to 425 degrees Fahrenheit.

Prepare caramel in 12 inch cast iron pan with 1/2 cup crystallized sugar, 4 tablespoons water and 1/4 teaspoon Sherry vinegar.

Arrange roasted tomatoes on top of caramel, face side down. Sprinkle 1 tablespoon of thyme leaves over tomatoes.

Arrange caramelized onions evenly over tomatoes. Sprinkle grated Parmesan cheese over onions.

Roll out the puff pastry sheet, cut a 13 inch round and drape over the cast iron skillet. Tuck edges of pastry into pan. Cut slits on top of pastry.

Bake for 25 - 30 minutes until crust is puffed and golden brown and delicious.

Remove from oven and let cool for 5 minutes.

Place large plate on top of skillet and carefully flip over. Return any tomatoes that are stuck to skillet back to tarte tatin.
Notes
* On a couple of occasions, I used different colour tomatoes.
** You will have extra. Freeze the leftovers for another dish.