Dreams of Provence Virtual Connections during Covid-19
Barely three months ago, many of us had never heard of Coronavirus or Covid-19. Now, we are glued to our newsfeeds and stunned by the rapidly changing environment. The health impact is real and terrifying, and the economic consequences are likely far-reaching. The terms self-isolation, shelter-in-place, lockdown, confinement have moved us all to a place of limited face-to-face interaction with others.
At least in the short-term, travel plans and social gatherings are off the table. However, it is encouraging to see so many small business owners using this time to plan, move their offerings online and to think about a positive future. As Caroline at Shutters and Sunflowers says, these are unprecedented times (click through to her post for some uplifting photos and videos).
Staying Connected
Perhaps this period is a nudge to cook more, to plan your garden, work on your business, or to dream of Provence. The list below is far from comprehensive but may give you a small escape from the current reality. Or, in some cases, it may encourage you to move forward on those "back burner" projects. Feel free to leave a comment or send a note if you think we should add something to this list.
---
Arts – Cultural Escape
Physically standing in front of the canvas painted by one of the world's famous artists is a thrill, but in current circumstances, that is impossible. However, there are hundreds of museums you can visit virtually, thanks to Google Arts and Culture.
Prolific, and incredibly talented Pablo Picasso lived and worked in Provence and on the Côte d'Azur for most of his life. His work spans a long period and encompasses many mediums from canvas to engraving to metal and ceramics. Take a look at Pablo Picasso's work here.
Famous artist, Paul Cézanne, struggled for recognition in his birth city of Aix-en-Provence. He painted in his atelier and plein air in the Provencal countryside, capturing the beautiful Mont Sainte Victoire from many angles. View some of his work here.
Stormy, troubled, and inspiring the work of Vincent Van Gogh captured scenes of Provence as he saw it before him. The Dutch artist spent a brief part of his life in the South of France, leaving behind a vast collection of works from that period. Discover Van Gogh here.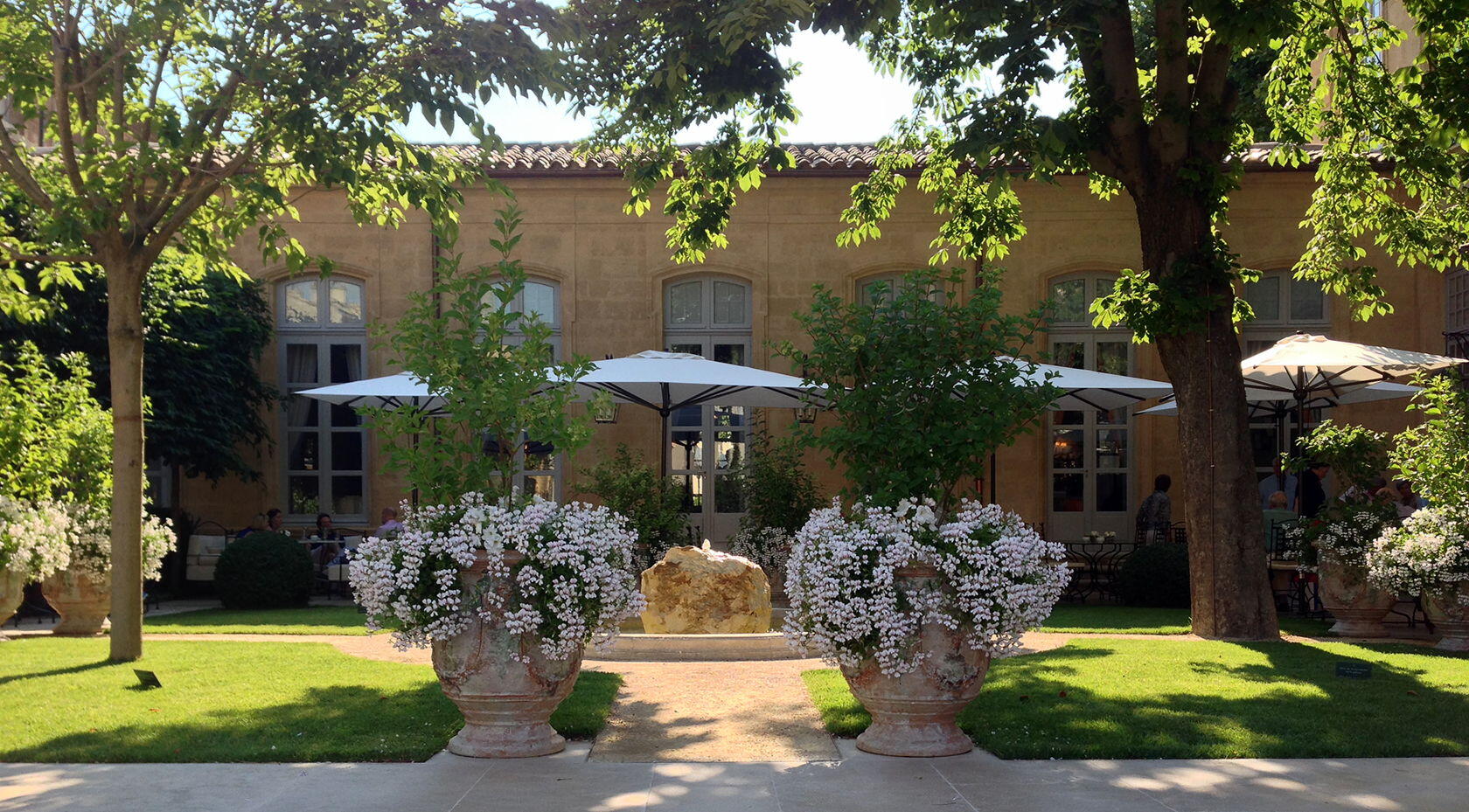 Although you cannot visit the Hôtel de Caumont – Centre d'Art in person at this time, there are plenty of photos online. The backstory of this beautiful building in Aix-en-Provence is fascinating, for the details, please read Step back in time Hotel de Caumont in Aix.
Just outside of Saint Paul de Vence is the Fondation Maeght with a collection of some 13,000 pieces of contemporary art. The Foundation receives 100,000 visitors a year to see the Giacometti courtyard, murals by Marc Chagall, and the sculpture garden with works by Calder, Miro, Arp and others.
Take a virtual visit of MuCEM in Marseille:
---
Books – Literary Escape to Provence
With travel plans on hold and a bit more time on your hands, why not give yourself permission to read and perhaps escape to Provence through an author's words. The following list includes books that we have read and would recommend to anyone who wants a "dose" of Provence. Whether you have visited the region or always dreamed of doing so, this collection includes cookbooks, guidebooks, memoirs, love stories, mysteries and more. Search by book type by clicking the headings below. From there, you will be directed to specific page listings by genre. The books are in alphabetical order (by author's last name). To order a copy, please click on the book cover images or titles. Note: if you purchase a book via these links, we receive a small commission that does not impact the price you pay.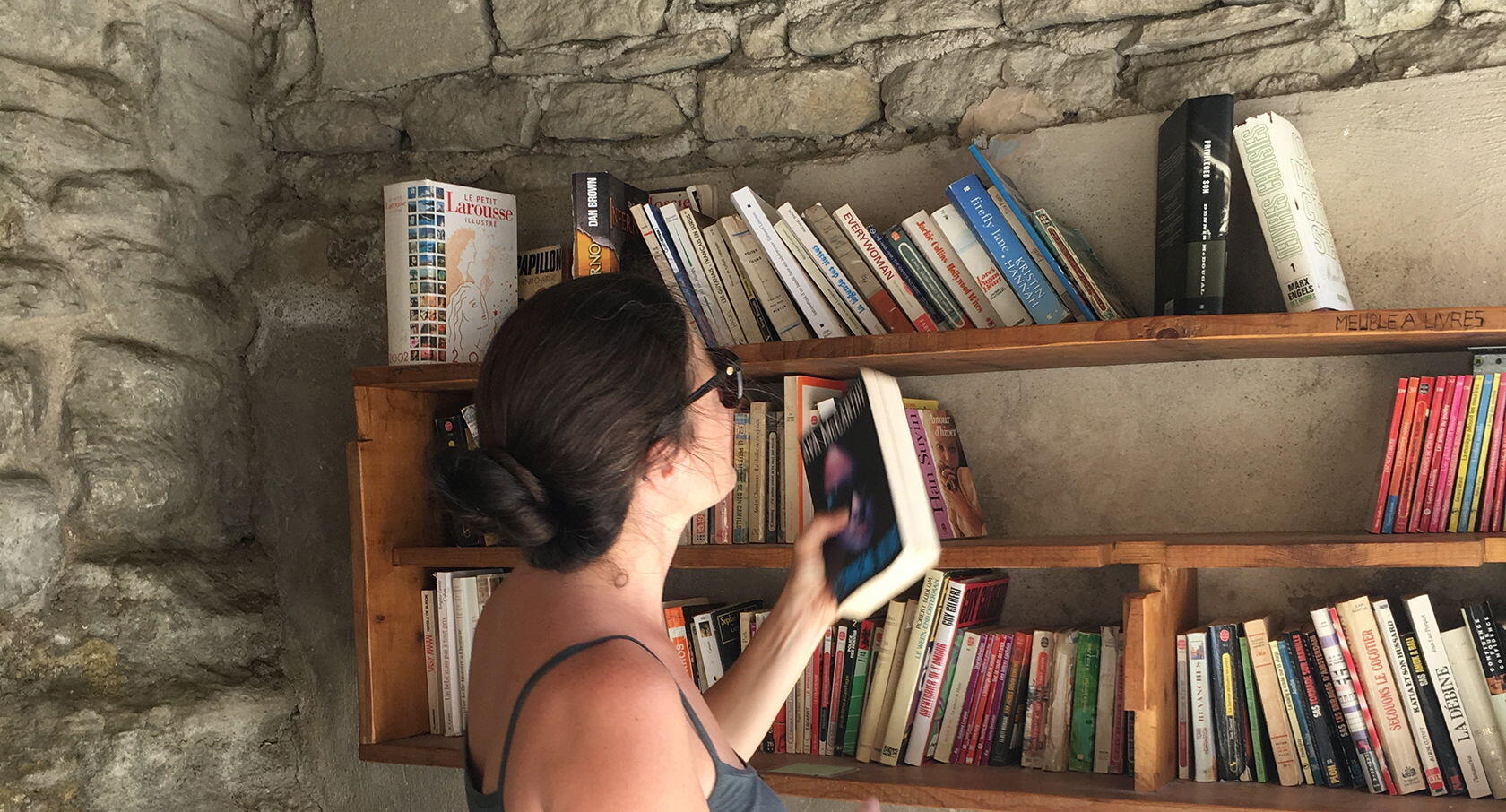 Biographies – Discover people who have lived in Provence, including the artists inspired by the region. These authors have done extensive research on their subjects. If you enjoy reading biographies or historical fiction, then these titles will be of interest. Each book provides insight into life in the South of France. Discover the fascinating characters who chose to live in the region and their impact on Provence.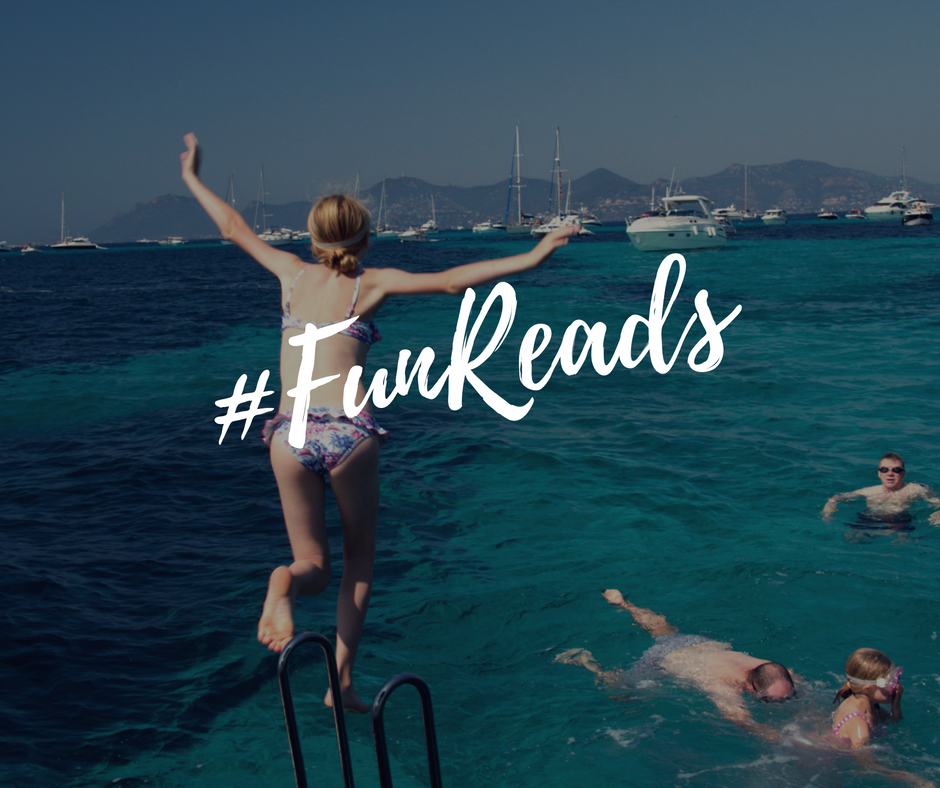 Children's Books: It's easy to get a bit caught up in adult activities focusing on the cultural and historical aspects of Provence. However, there is plenty to interest children in the region. Many museums offer separate kid-friendly audioguides. These books are written for children and deliver a magical first glance at the South of France. Kids get a chance to learn about places, key characters, Roman history and Provencal customs.
Cookbooks and Culinary Guides: These culinary books are far from an exhaustive list, but rather a few of the ones in our collection. Discover these cookbooks, some are culinary guides to the Provencal lifestyle, and resources for navigating the markets.
French Lifestyle Books: Without a doubt, there is a je ne sais quoi style when it comes to French design, home decor and traditions. These books highlight personal approaches to the art of living and unique table setting touches for entertaining.
Love Stories from Provence – Mix a budding romance with a Provencal setting and voila – a love story. The following list of books only begins to scratch the surface of the popular women's fiction genre. However, these are authors we recommend as they invite you into the lifestyle in the South of France with their prose. These books may be fiction, but these authors have "done their homework" with regards to historical facts, understanding local traditions and immersing themselves in the culture.
Memoirs from Provence: These memoirs are inspired by those who have chosen to settle in Provence for a period. What is appealing about these books is that the authors have all visited more or less the same geography, yet each story is different. Some are humour-filled tales of expats trying to fit in, and others are reflections on the attraction of cultural differences.
Mystery Novels: Provence may not spring to mind as a setting for a mystery, but these authors think so. If you enjoy a who done it, then this collection of murders, thefts, drug busts and generally bad actors is for you. Settings are Provencal vineyards, art galleries and even on the chic the French Riviera.
Travel Guides and Photo Books: Not only is Provence, Alpes, Côte d'Azur (PACA) a mouthful; it is also immense geography and hard to tackle in a short vacation or even an extended stay. These books are not guidebooks in the traditional sense, but rather a way to discover the best of the region based on these personal experiences.
---
Cook – Enjoy the Tastes of Provence
The lockdown, shelter-in-place orders have forced many to take stock of their pantry shelves and dust off some old cookbooks. If you love cooking, use the opportunity to attempt those recipes that have been on your list. For those of you who are not cooks, enjoy the culinary results!
Despite the daily barrage of bad news at this time, spring is on its way to the northern hemisphere. Here are a few of our spring menus to celebrate the season of renewal and hope: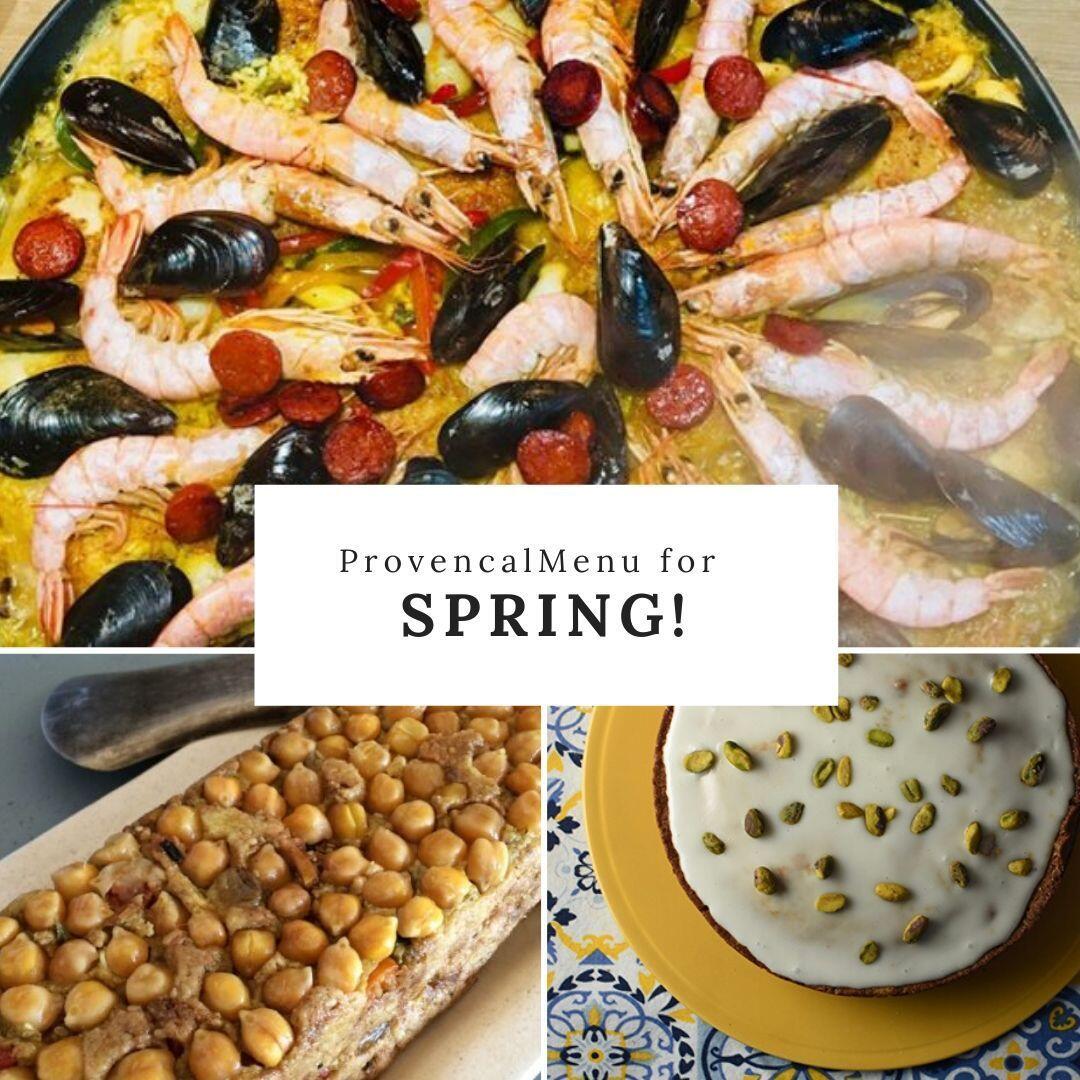 Discover how the spice roads converged in Provence and influence the food that we find on restaurant menus and in the region's culinary traditions. David's Cocoa & Lavender spring menu showcases the spices and recipes from the trade route. Pepper and curry flavours from India, Spain's iconic paella, and aromas from North Africa and the Middle East. Discover this tasty spring menu here.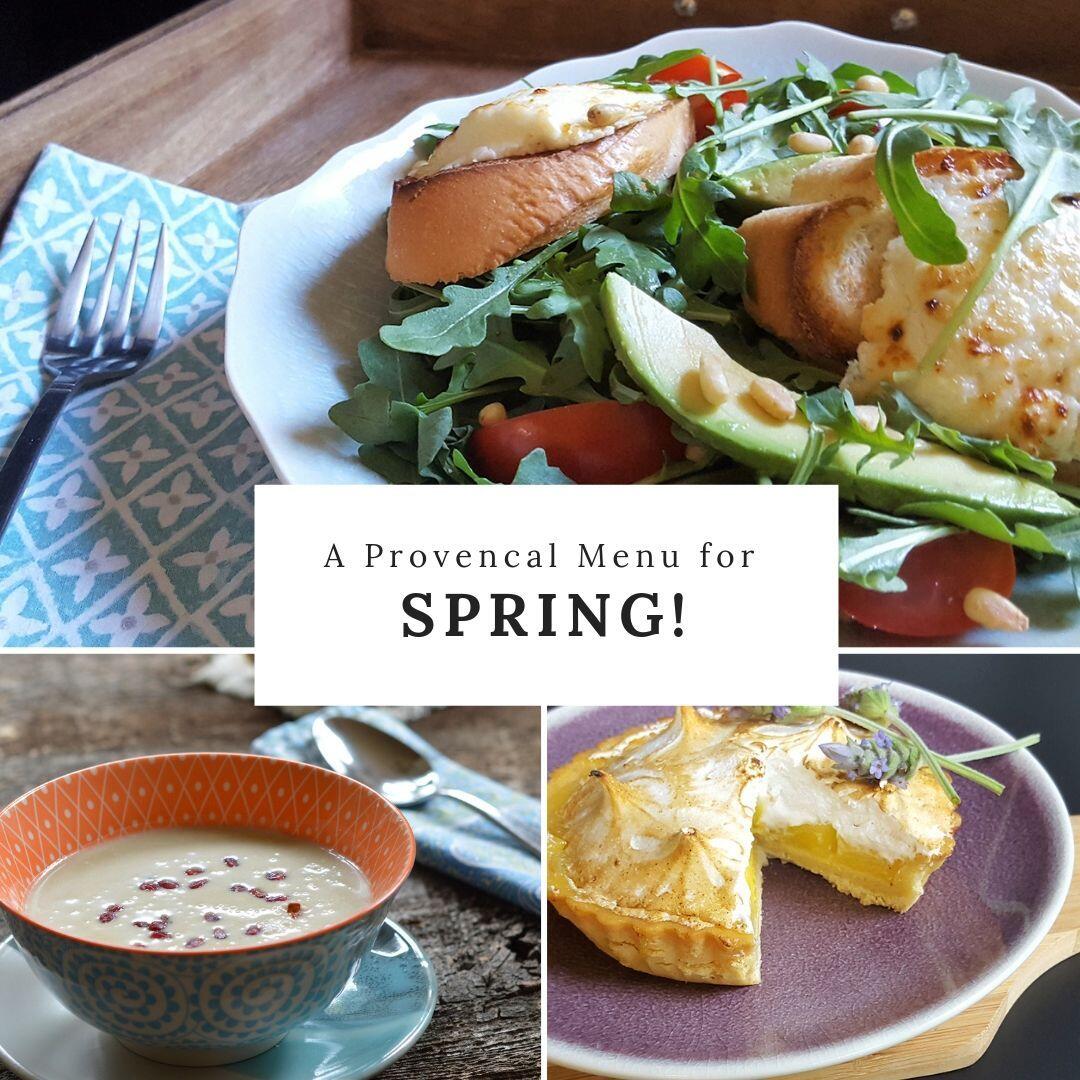 "As we transition into spring in Provence, I like to add both ginger and lemon to my recipes for a zingy spice and natural acidity that will add brightness to our dishes. As I depart from the heavier winter soups and daubes, I enjoy making lighter, brighter dishes to welcome the warmer weather. In spring, we will see the addition of fresh shrimp to our meals and the influence of Mediterranean cuisine." ~ Tasha Anne Powell of Pitcher & Powell. Enjoy Tasha's spring menu.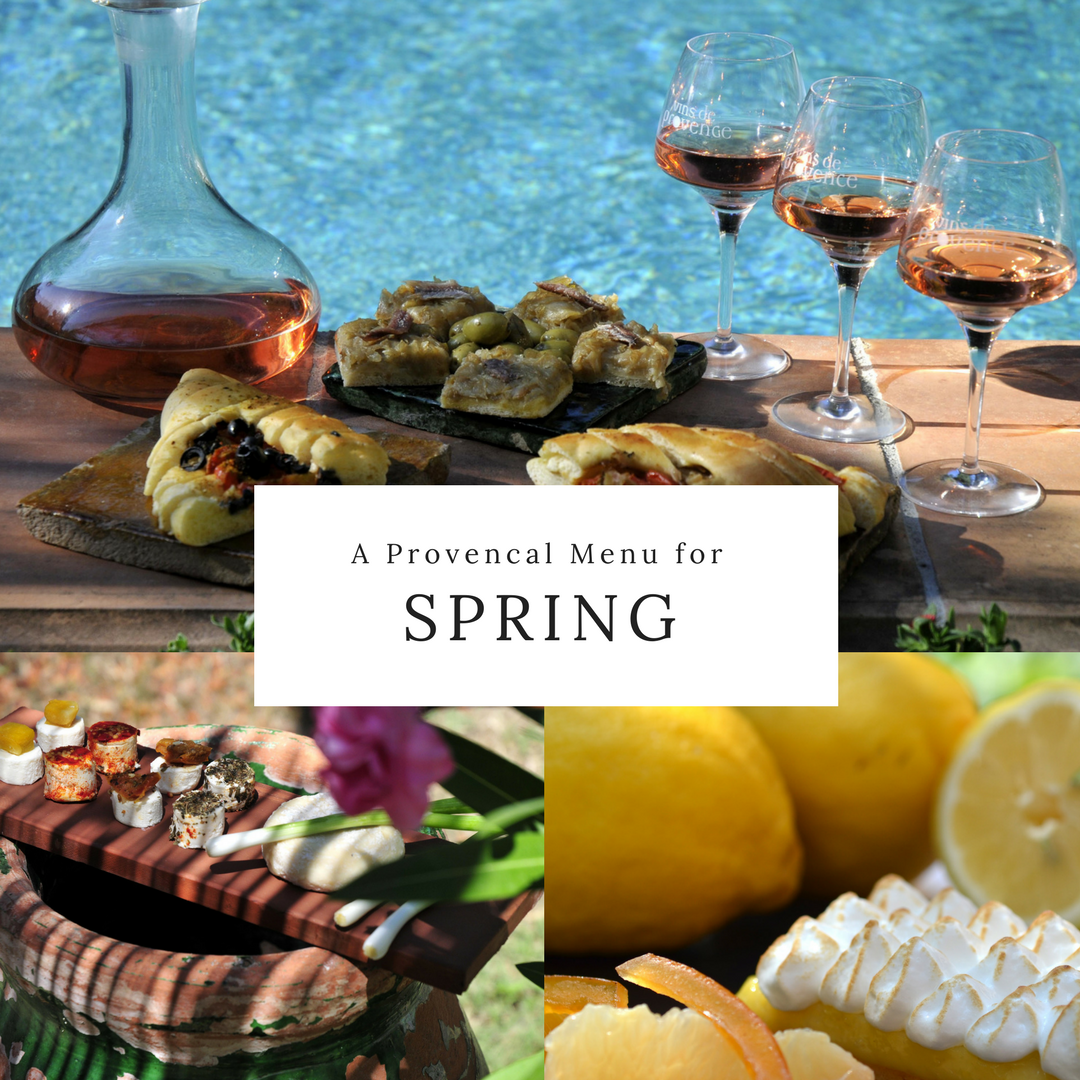 Viktorija Todorovska loves nothing better than exploring the foods, wines, and trails of this sunny region, savouring life. After the cold days of winter, spring arrives with a light touch. At this time of year, green vegetables start to grace the markets, and richer foods give way to zestier dishes. Vibrant colours and flavours excite the palate. The first asparagus spears make beautiful salads, fresh chevre and local bread turn simple salads into delicious meals, and creamy light desserts complete the experience. Her spring menu brings the seasonal flavours together with a series of small plates perfect for a springtime cocktail party with friends.
Take a look at all the seasonal menus here. If you would like a PDF copy of an of the seasonal menus, please contact us
Nutritional Advice Online
Based in the beautiful Cévenne mountains, just north of Montpellier, Jan Steele (aka "La Goose") is a Nutritional Therapy Consultant and cooking instructor, as well as an allergy-friendly vacation host. Broadly speaking, she uses food to help people to feel better in their bodies.  Jan specializes in gluten-free and Paleo diets.  She works one-on-one (via the internet) with people managing an autoimmune disease (like Celiac Disease, Hashimoto's, Rheumatoid Arthritis, PCOS, etc), coaching them to adopt the Autoimmune Protocol — a diet and lifestyle that aims to minimize bodily inflammation and allow maximal healing. Enjoy Jan's recipe for carrot cake for anyone who enjoys a tasty, but nonetheless nutritious dessert.
---
Holiday – Plan a Provencal Vacation
Culture and Culinary Travel with Goût et Voyage. Martine Bertin-Peterson, the founder of the boutique travel company Gout et Voyage, is always looking to the future, planning new trips, reviewing itineraries and staying in touch with her contacts in Provence. Although the 2020 (spring/summer) trips are cancelled, Martine is looking forward to Christmas shopping and the Provencal holiday traditions. Book your spot on this small-group tour – A Taste of Provence for the Holidays (December 6 -13, 2020). Read more about Martine's Thoughts of Touring Provence During self-isolation.
Emily Durand is a Franco-American, fully bilingual and a highly accomplished guide. She is also the founder of Your Private Provence. During the current lockdown, she is spending her time developing new itineraries for Christmastime, perhaps another wine and truffle tour and planning for 2021. Read more about Emily and her company here.
Marti Schmidt is an artist who, like many of us, is inspired by Provence. She feels a strong personal connection between art and travel. In her words, "I have always looked at my travels and lifetime of memories as the basis for artistic expression. Travel is similar to the process of creating a work of art with layers of imagery and experiences." Although spring (2020) Provence from an artists' point of view tours are cancelled,  Marti is planning dates this fall and into 2021.
Pitcher & Powell may have cancelled their spring 2020 trips. However, Tasha and Barbara are looking forward to culinary travel adventures in the fall. The tours are tentatively re-scheduled as follows; Provence (September 11-18), Marrakesh, Morocco (October 1- 6), Parry Sound in Canada (t.b.c. for the end of September). Look for periodic updates on Pitcher & Powell along with tempting photos, videos and recipes, allowing you to travel virtually. Learn more about their culinary adventure in Marrakesh.
---
Language – Improve your French
Admittedly learning another language is hard. However, with so many available online resources now, the perfect time to improve your French. With online learning, the necessity for a traditional classroom setting is now an option – not a requirement. An internet connection and a mobile device are pretty much the only requirements to get started on a learning journey. Suddenly the potential to master a new language is now accessible to a vastly wider global audience.
Food for Thought:
What are your goals? Do you want to be able to order off a menu and be able to say a few phrases on your next holiday? Or are you hoping to immerse yourself in the local culture by being fully conversant?
What kind of learner are you? Do you need the formal structure of a classroom setting or are you better in a one-on-one situation?
How are you going to practice? Options might include following a program, hiring a coach or joining a group.
Language Lesson Options:
One-on-One: Language coach Marina Depoorter lives in Provence, in the heart of the Luberon. Her language school Franci Discendum offers a mix of options and fun ways to learn the French language in person and online. Marina provides homework, and regular Skype calls to move your learning journey forward.
"The thing that I like best though is watching and hearing about my students' progress. I smile when they naturally use a verb or a phrase that has previously been a struggle." ~ Marina Depooter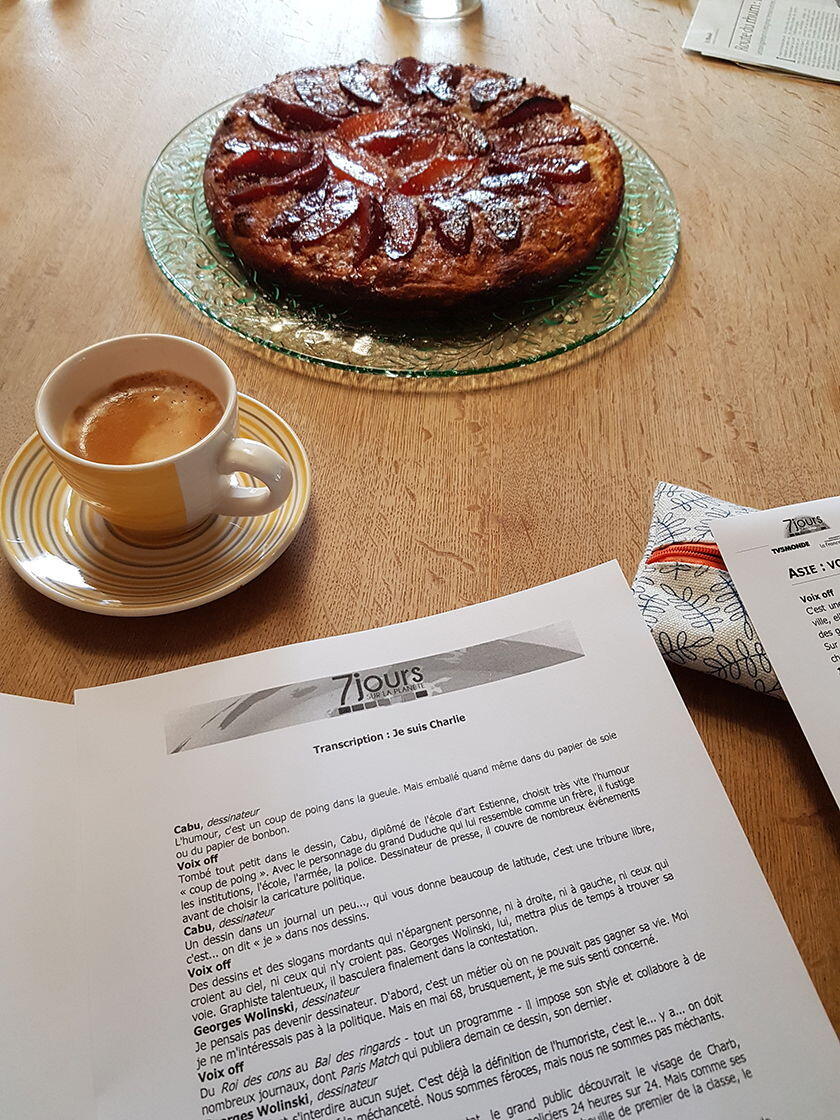 Self-paced study: Frantastique offers self-paced lessons with a sense of humour. You begin their program with a short language skills assessment. Based on your results, the system will recommend a stream of study to suit your comprehension level. The Frantastique teaching methodology is 100% online. You choose the number of days per week that you would like to receive their email lessons. The email contains a link to a short exercise, which typically takes about 10-minutes to complete. The format changes regularly often including video, audio clips, images, text and short essays. After each exercise, you receive immediate feedback, including a score and areas for improvement. You receive a certificate after completing the entire course. Click here for a reader's discount on Frantastique French lessons.
Remote Motivation: Provence Immersion is the name of a small language school run by founders Marjorie and Valentine. These two French-nationals are passionate about teaching French, cultural exchanges, and of course, Provence. The ladies bring together their collective experience teaching the language to a program of specialized coaching. During this shut-in period, they are offering individual Skype lessons. Alternatively, join online group programs with a focus on French grammar, pronunciation and vocabulary. There are also virtual conversation groups to promote oral communication skills.
---
Personal Motivation and Business Goals
Coaching: Based in Provence, Rebecca Ronane is the founder of a women's group called Network Provence (read more). The group usually meets in person, currently, meetings take place via Zoom. Rebecca has created a new online club – Forward after Fifty Inner Circle – for women who advance with attitude. It's a dedicated space to focus on wisdom and everything that affects this age group. Included is a monthly two-hour group coaching on different confidence-boosting subjects, Q & A sessions with women who've made a difference to the Forward after Fifty sphere. There is also a private Facebook group. The club provides the opportunity to dig deep into what matter's for going forward after fifty. For details, please follow this link.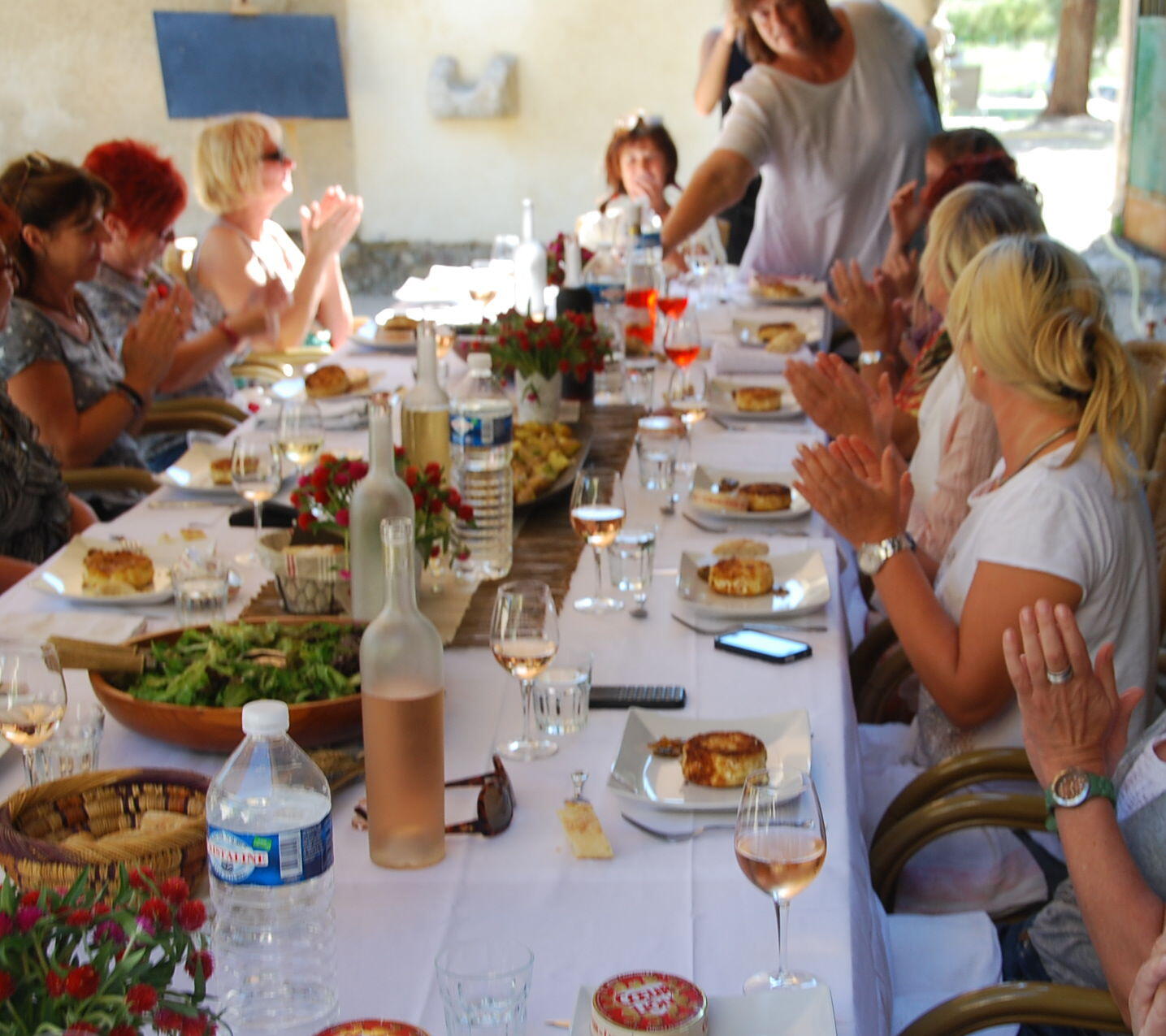 Marketing: For over 14 years, Ameena Gorton has worked with international companies and small business owners to hone their marketing approaches. Ameena leverages her experience to help clients who are launching something new or struggling to refresh messaging. This lady does her research to understand your business and bottlenecks quickly. Book a "Spark Session" (1-5 calls) with Ameena and jump-start your business focus. Here is a recent blog post that she wrote: How do I promote my business during the Coronavirus pandemic?
Need help with Technology? Based Apt, IT Engineer Chris Mallon is ready to help with your technology challenges, and computer issues remotely. If anyone needs help with their PC or home technology set up in general, then they can email Chris directly chris.mallon@yahoo.co.uk, and he'll do his very best to help them out.