Re-Energize Provence
The following guest post is by American-expat Emily Durand who runs a company called Your Private Provence a bi-lingual guide and travel planner. The following is her post on why Provence is the place to go to get re-energized.
XXXXXXXX
An outdoor café, a pastis, the sun on my face and a few olives to munch on – these moments in my new life as an expat in France quickly became my favourite pastime. Even to this day, twenty years later, I cherish those moments when I sit down at an outdoor café to watch the world around me.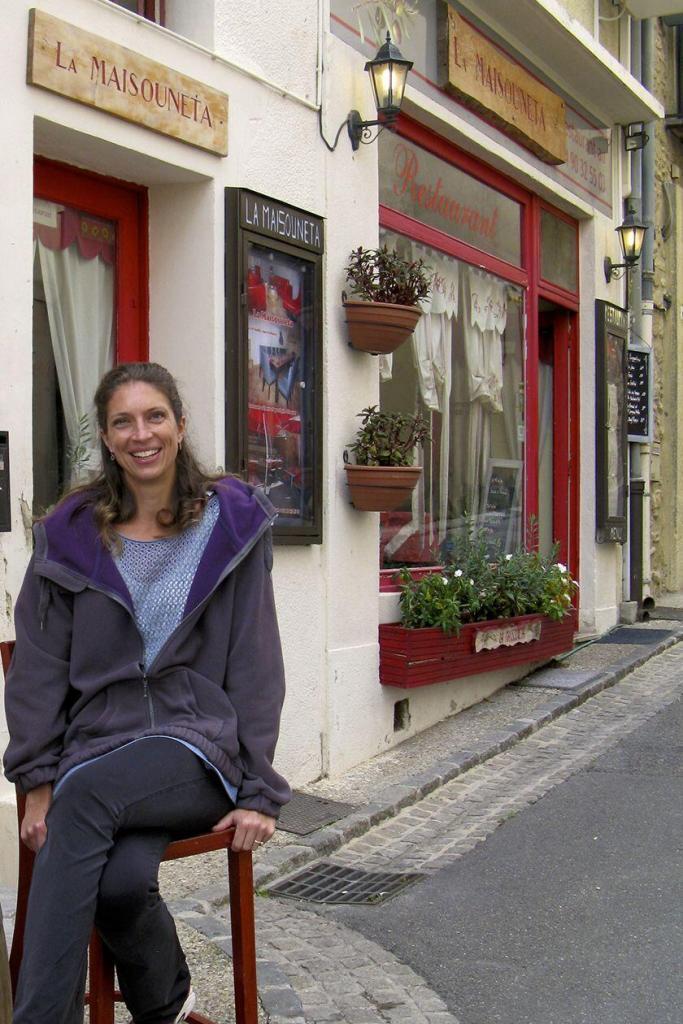 Provence is the never-never land that speaks to the soul. Whether it be the café  sitting and sipping or the mystical walks in the countryside, there's a voice out there that says, « enjoy life ». Cezanne, Van Gogh, Peter Mayle and Emily (that's me who is not famous) have all been touched by the light of Provence and feel compelled to share the beauty.
No, life is not perfect in Provence and I have to admit that during my twenty years as an expat there was a time when I couldn't see beyond the impracticality of « French » life. But there was one thing that spoke louder than those daily challenges – the richness and diversity of the land. My runs through the Luberon and to the peaks of Alpilles and my bike rides through the vineyards and orchards never ceased to give me new perspectives. Fresh air and extraordinary light – how blessed I was to live in the midst of such wonder.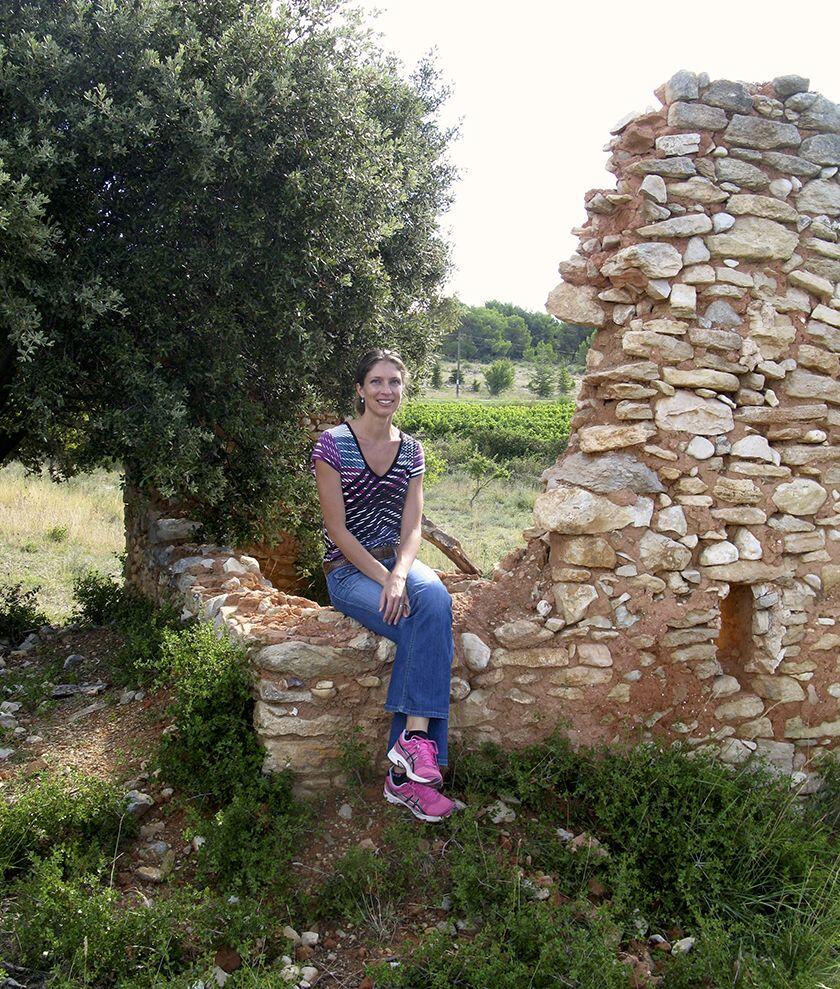 This is where my journey of awakening began. If Provence could offer me a way to retreat back to the simple pleasures of life, then it could surely do the same for others. Your Private Provence was founded in 2013. A small travel company offering tours in Provence that focus on my favourite element in life; re-energizing.
Re-energizing is what Provence does best and naturally. From the kitchen (cooking inspirations so simple yet touched with decadence) to sculpting calf muscles (inevitably, walking up hilltops will re-energize your legs) to the reminiscing of life.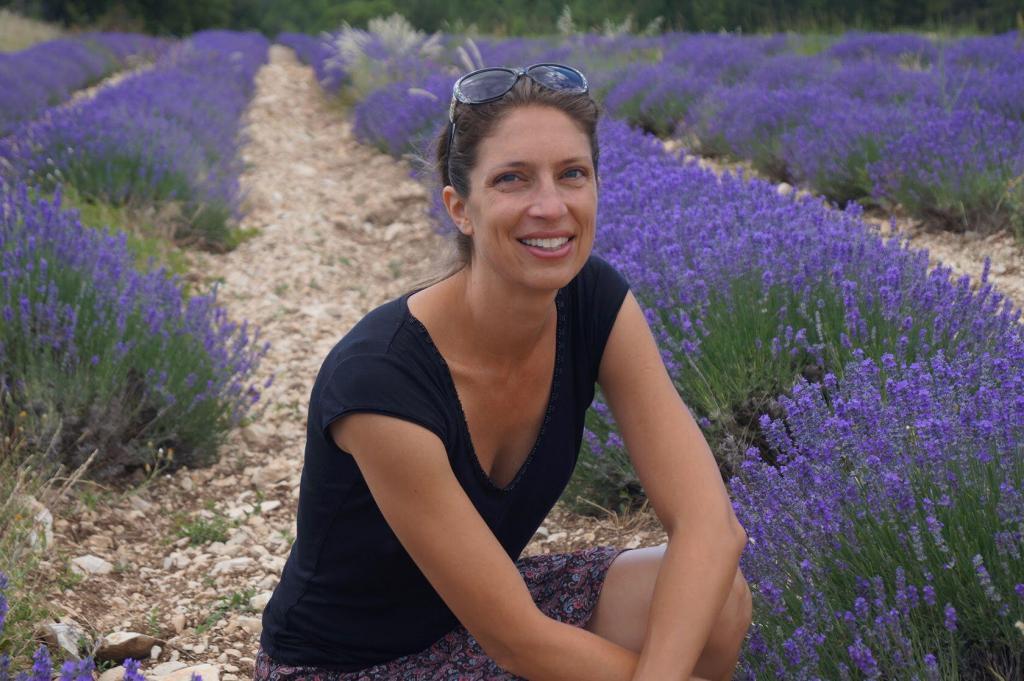 September 2016, 4th – 10th, Your Private Provence is hosting a Wellness Retreat. This small group retreat (8 max) is located near Mt. Ventoux in an elegantly restored 12th-century benedictine priory. Through an appreciation of simple pleasures (gourmet meals and wine tastings), yoga classes, spa moments, exploratory walks and individual coaching with Jude and Julia (accredited coaches from England) the 6 nights/7 day retreat is designed to give you the luxury of reconnecting with yourself and the marvellous world around you.
Here's a taste of a few of my favourite re-energizing spots but, by all means, not a complete list – I always seem to add a spot or two every year as I explore new hideaways. Perhaps you have one too – from Provence or in your neck of the woods. I'd love to see what energizes you!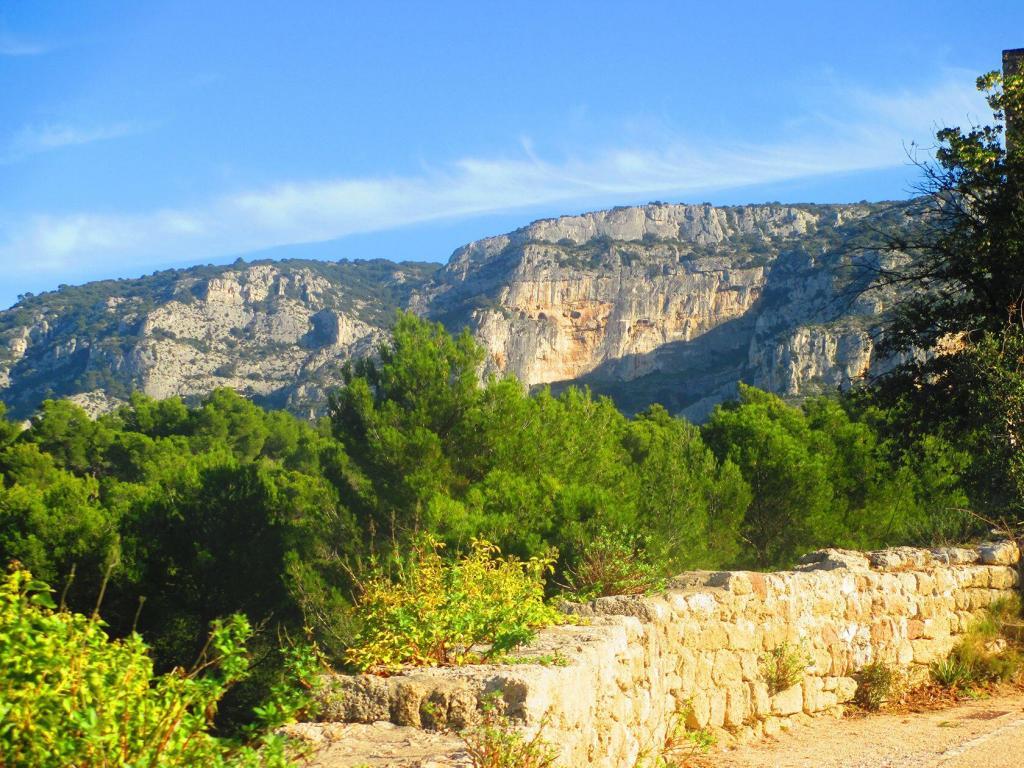 The tiny village of Taillades at the base of the Luberon is my escape when I don't have much time and need a quiet sunshine moment. It's one of the less touristy villages of Provence and offers a great view of the Luberon as well as a convenient starting point for hiking the many Luberon trails. During summer there are concerts in the old quarry at the base of the medieval tower.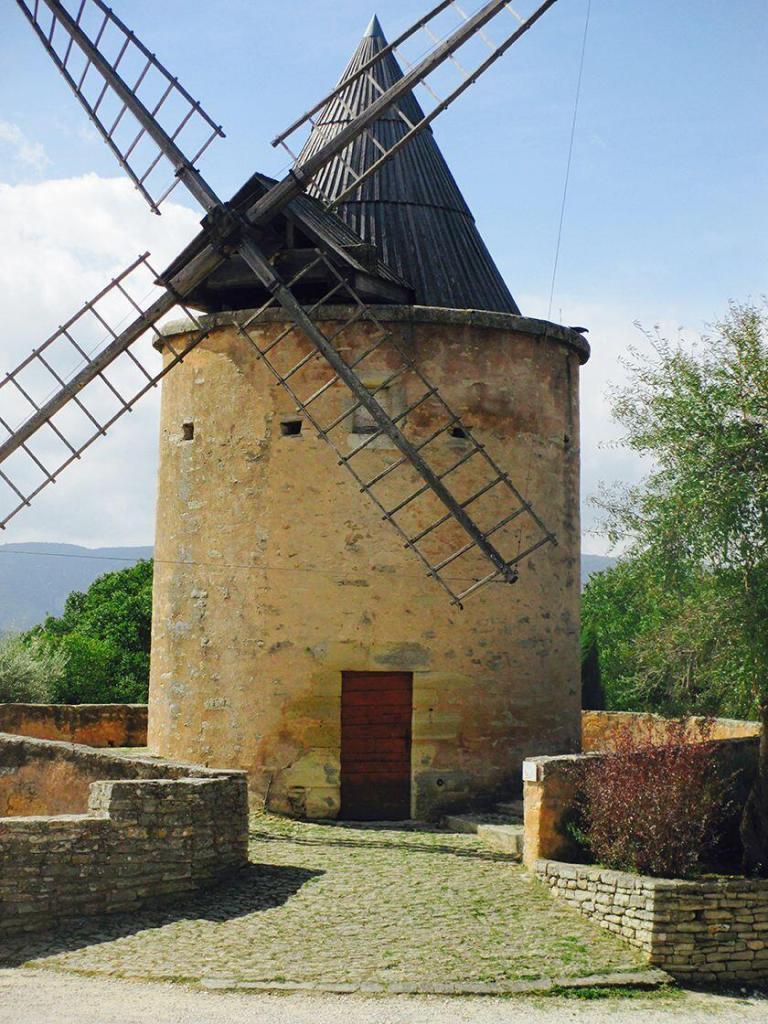 One might not first think of windmills when they think of Provence but they were numerous during the 18th century. The most famous one is the Moulin de Saint-Pierre in Fontveille used as a source of inspiration for French poet and writer Alphonose Daudet (Lettres de Mon Moulin). The moulin I often go to is in the authentic Luberon village, Goult. The Moulin de Jerusalem (possibly named after the Goultois lords who went on the Crusades) stands with glory overlooking the Calavon Valley and Luberon Mountain chain. I also have my favourite picnic spot a short jaunt from the windmill (but you'll never find it if you don't follow me).

I took this picture just last October when the fall temperatures spiked and I had the itch to get out of the house. The café at Le Petit Café in Opedde-le-Vieux is so quaint, so Provencal and so spirit-lifting with the vibrant colours dancing all around. You sit here and feel as though it was painted just for you.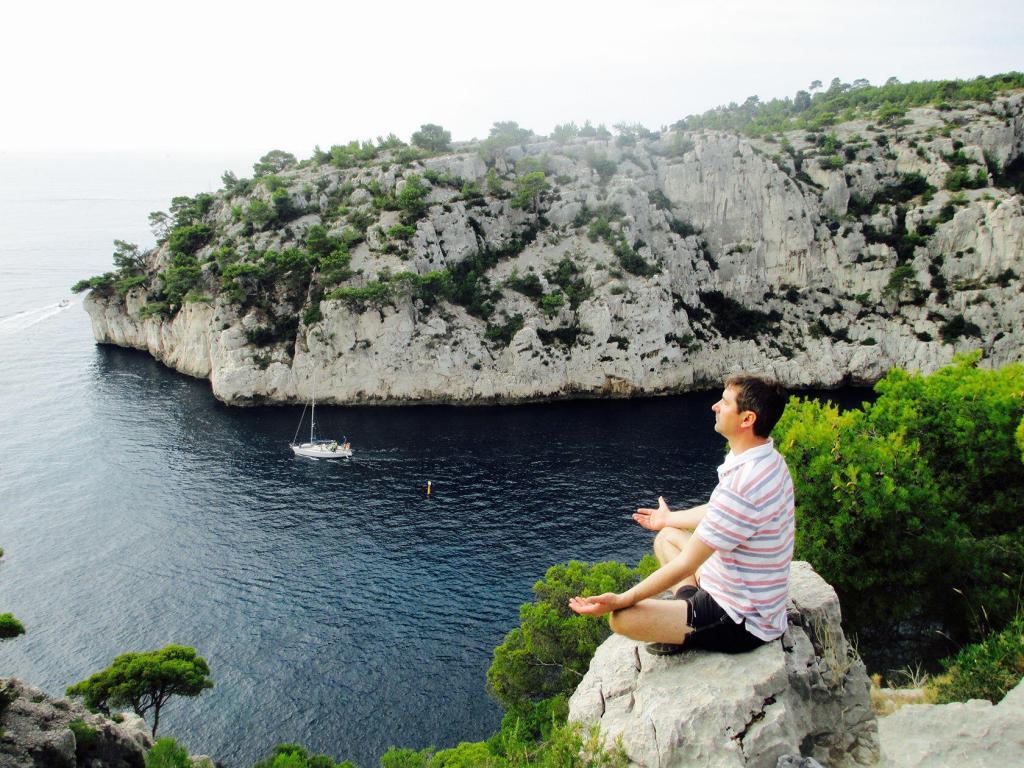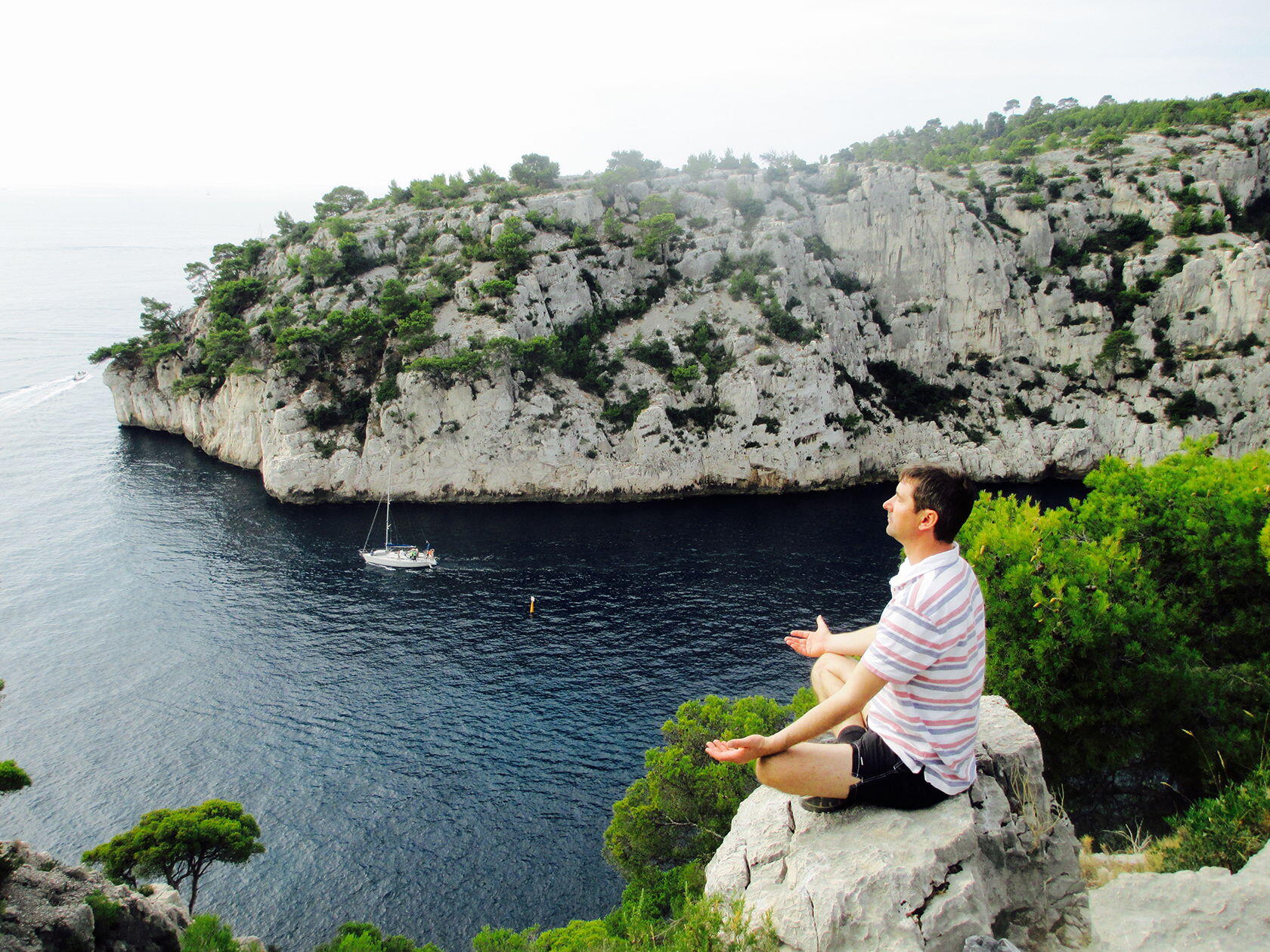 From time to time I escape to the seaside. Cassis is only an hour's drive from my house in Cavaillon. The Calanques are limestone « fingers » that jet out into the Mediterranean. From Cassis, you can easily hike to the first two (Port Miou and Port Pin) or even to the third one (En-Vau) if you are prepared for a rather steep climb upon return. The blue and turquoise waters contrasted with the white limestone are, to say the least, a highlight to your day.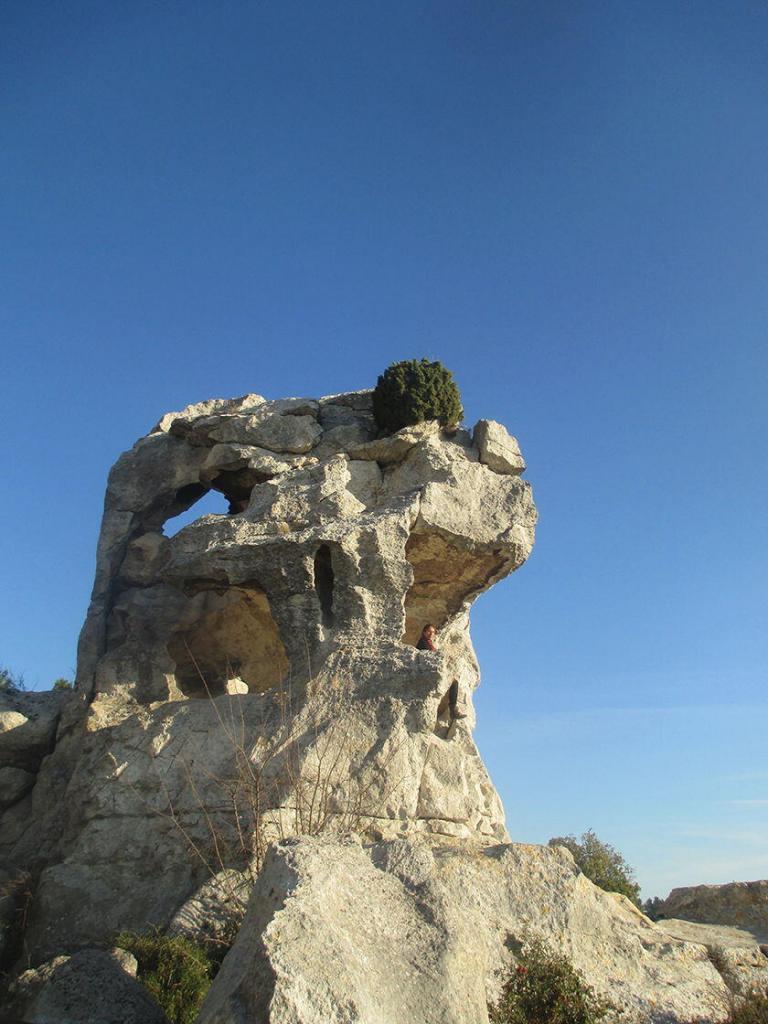 Speaking of limestone, it's everywhere in Provence. Here's a place that strikes imagination and opens up the senses. And if you could see what I could see (yes, that's me in there) – a perfect view of one of France's most beautiful villages, Les Baux-de-Provence. Just up the road from Carrières de Lumières (an old quarry turned into a stunning sound and light show brining to life the work of artists from Provence and beyond) is a look-out point for the lucky few who actually know about it. It's the perfect spot for soaking up the sun-rays and some journal writing. It would also be ideal for a sunset moment (it's on my list of to-do's).
And you? Where's your heaven on earth?
If you would like to connect with Emily here is a contact form.
Image Credits: All photos provided by and published with the permission of Emily Durand
All rights reserved. Perfectly Provence articles and other content may not be published, broadcast, rewritten (including translations into other languages) or redistributed without written permission. For usage information, please contact us.
Syndication Information
Affiliate Information
As an Amazon Associate, this website earns from qualifying purchases. Some recipes, posts and pages may have affiliate links. If you purchase via these links, we receive a small commission that does not impact your price. Thank you in advance for supporting our work to maintain Perfectly Provence.