Picnic Fare Roast Chicken Recipe from Alice
Apparently, when Alice B. Toklas went on a picnic, she did not fool around. I say "apparently" because I can find no evidence that today's recipe was either taken on a picnic by Toklas or is actually her recipe.
I have an uncredited magazine clipping — most likely from the '90s or early '00s — called "Alice B. Toklas Roast Chicken." It mentions her taking the chicken on a picnic. Unfortunately, this recipe does not appear in The Alice B. Toklas Cookbook, written by Toklas and published by Harper & Brothers/Doubleday in 1954.
Continue reading here for a literary, culinary journey by: Cocoa & Lavender. David paired the recipe with a delightful (and practical for a picnic) rosé in a can by Château Léoube. Here are the essentials, if you are looking for inspiration for a Provencal picnic.

Roast Chicken for a Picnic
A delicious roast chicken best served with a glass (or can) of wine at your evening picnic!
Ingredients
4

Chicken Thighs with skin and bone

trim fat and excess skin as necessary

Salt and Freshly Ground Black Pepper

2

tbsp

Unsalted Butter

1

Orange for the zest

finely grated

3/4

cup

Strained Freshly Squeezed Orange Juice

from two Oranges

3/4

cup

Tawny Port

1/4

cup

Soy Sauce

3/4

cup

Cream

4

small

French Boules

about 6 inches in diameter or 1 large boule for table service
Instructions
Preheat oven to 350°F (175°C).

Heat butter over medium-high heat in a 10-inch ovenproof skillet. Season the chicken lightly with salt and generously with freshly ground black pepper. Brown chicken pieces on both sides, starting skin side down — about 5-7 minutes total.

Whisk together the orange zest, orange juice, port, and soy sauce in a 2-cup measure and pour over the chicken; it will spatter, so be careful. Place the skillet in the oven and bake for 35 minutes.

Remove the skillet from the oven and return to the stovetop. Place chicken pieces on a plate and set aside. Add cream and set heat to medium-high. Reduce cream for about 10 minutes and then add back the chicken pieces, turning to coat, ending with skin side up. Cook another 2-3 minutes to heat the chicken through.
Taking on a Picnic
While the sauce is reducing, cut the tops off the four (4) boules and hollow out the bottom half of the bread, saving the interior for another use (breadcrumbs, gazpacho, stuffing, etc.). Make sure the cavity is just large enough to hold a piece of chicken.

After the chicken is warmed through, place one piece in each boule and divide the sauce among the four chicken pieces. Replace the tops of the boules, wrap each separately in a tea towel, and pack them (right side up) in your picnic basket. When serving, provide plenty of napkins because, as finger food, it is quite messy!
Serving at the Table
You will only need four (4) slices cut from 1 boule. Toast the slices and divide among the four (4) warmed plates, topping each slice with a piece of chicken and plenty of sauce.
Picnic Ideas:
Panzanella Salad
This salad is perfectly suited for summer meals. Serve as a side or as a main with some grilled meat or fish, and of course some rosé.
Check out this recipe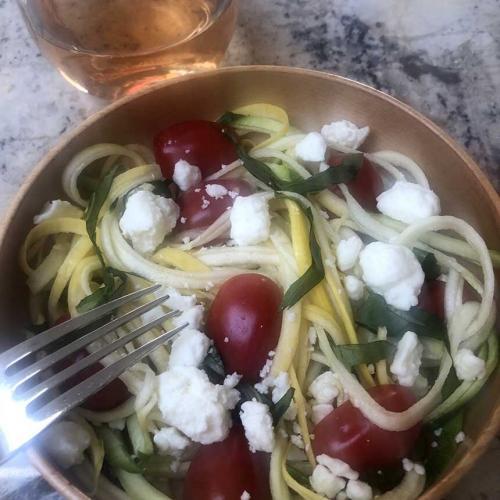 White Bean and Tuna Salad
This is a perfect summer salad. It is easy to make, does not have many ingredients and there is no cooking. Enjoy!
Check out this recipe

Other Chicken Recipes:
Chicken Piccata "Marccata"
If you're looking to elevate chicken breast, this recipe is absolutely exquisite. Pair it with a creamy mushroom risotto, fresh baby greens, and a dry white wine for a well-rounded meal perfect to share with a loved one.
Check out this recipe

Chicken with Truffles and Mushrooms
Truffles are a unique, rich component that can elevate any dish. This recipe is a surefire way to impress with a meal that tastes like it's straight out of a 5-star kitchen.
Check out this recipe

Roasted Chicken with Colatura di Alici
This incredible roasted chicken recipe pairs exquisitely with a chilled glass of wine and fresh greens. With a Mediterranean flair, this dish is sure to impress!
Check out this recipe

Stuffed Chicken Breasts with Red Bell Pepper Sauce
If you're looking for a dinner idea that's bound to impress, these stuffed chicken breasts are juicy and full of flavour! Not to mention, they're totally easy to make with a little love and patience!
Check out this recipe

---
As an Amazon Associate, this website earns from qualifying purchases. Note: if you purchase a book via these links we receive a small commission that does not impact your price.
All rights reserved. Perfectly Provence articles and other content may not be published, broadcast, rewritten (including translations into other languages) or redistributed without written permission. For usage information, please contact us.
Syndication Information
Affiliate Information
As an Amazon Associate, this website earns from qualifying purchases. Some recipes, posts and pages may have affiliate links. If you purchase via these links, we receive a small commission that does not impact your price. Thank you in advance for supporting our work to maintain Perfectly Provence.