Goat Cheese Stuffed Chicken and a Zoom Dinner
Not to dwell on the realities of 2020, but we had to get creative about seeing friends, if only virtually. For an international Zoom dinner, one of the guests made a wish for chicken breasts stuffed with herbed goat cheese and vegetable Napoleons on the side. That was a wish I could control. And I did. I created the recipe, and we all made the dish in our kitchens. Each presentation looked slightly different. I had a Bois de la Gard Côtes-du-Rhône, which was perfect. You can read about it in the Provence WineZine. Once we settled down to our dinners, the conversation turned to everything we can do to better our world. The dinner table seems to be a good place to start making changes rather than resolutions.
The hardest part of our Zoom dinner was finding a suitable date for three households and three time zones. Success an evening with booked on our calendars for late September, we needed a menu that each group could cook in their kitchens at the same time. The menu:

Stuffed Chicken Breasts with Red Bell Pepper Sauce
If you're looking for a dinner idea that's bound to impress, these stuffed chicken breasts are juicy and full of flavour! Not to mention, they're totally easy to make with a little love and patience!
Ingredients
3

Large Red Bell Peppers

1

Large Shallot

1

tsp

Balsamic Vinegar

3

oz

Softened Goat Cheese

2

tbsp

Chopped Fresh Herbs*

2

Chicken Breasts

about 6-8 ounces each

2

tbsp

Flour

1

tbsp

Piment d'Esplette

1

Egg

½

cup

Panko

plus extra if needed
Instructions
Preheat the oven to 350°F (180°C).

Place bell peppers and shallot on a foil-lined large baking sheet. Roast for 1 hour. Remove from the oven and use foil to wrap up the vegetables for 5-10 minutes.

Peel off the peppers' outer skin (it will not be blackened), cut open the peppers, and remove the ribs and seeds. Place flesh into a tall glass or beaker.

Peel the shallot and add it to the peppers with the balsamic vinegar; season with salt and pepper. Using an immersion blender, purée until very smooth. Set sauce aside. (Note: this method of roasting the peppers makes a lighter sauce, which works especially well for this dish.)

Mix the softened cheese with the herbs.

Cut a pocket into each chicken breast, going as close to the three sides as possible. Place about 1½ ounces of herbed goat cheese in each cavity, spreading it evenly.

Place flour, piment d'Esplette, plus a good pinch of salt and grinding of pepper on a large plate and mix well. Crack the egg into a shallow bowl and whisk well with a fork.

Place the panko crumbs on another large plate. Coat the chicken with flour, then dip in the egg, and finally coat with the breadcrumbs. Place coated breasts on a plate, cover, and refrigerate while vegetable Napoleons are cooking (recipe follows).

When the Napoleons have been roasting for 15 minutes, heat a skillet over medium-high heat.

Add sufficient butter and olive oil to coat the pan. When very hot, add chicken breasts, skinned side down. Sear for 3-4 minutes until golden brown.

Flip and sear the other side for another 3-4 minutes. Place skillet in the oven next to the napoleons and roast for 6-8 minutes to finish cooking the chicken and the napoleons.

Serve with red pepper sauce and vegetable napoleons; sprinkle the vegetables with flaked sea salt.
Notes
* Fresh herbs should be soft herbs: any mix of marjoram, oregano, chives, thyme, basil, tarragon, mint, tender tips of myrtle

Vegetable Napoleons
The bright and robust flavours incorporated in this dish make it an excellent addition to the creamy stuffed chicken breast. They're easy to make but incredibly delicious.
Ingredients
2

Roma Tomatoes

1

Japanese Eggplant

1

small

Zucchini

1

small

Yellow Squash

Extra Virgin Olive Oil

Balsamic Vinegar

Salt and Freshly Ground Pepper

6

3-inch

Sprigs Rosemary

bottom leaves removed

Flaked Sea Salt

such as Maldon, for finishing
Instructions
Preheat oven to 350°F (180°C) and lightly oil a small baking sheet or line with parchment.

Using a mandoline, cut 12 slices from each vegetable – about 1/8-inch thick.*

Place them all in a large bowl and drizzle them liberally with olive oil and a couple of teaspoons balsamic vinegar. Season well with salt and pepper and toss well to coat.

Make 6 stacks of vegetables, each stack having two of each vegetable. I found that the tomato should be placed on top of the eggplant slices (the tomato's moisture helps cook the eggplant).

Skewer each stack with a toothpick to keep the layers from shifting. Place the stacks on the prepared baking sheet and roast for 30 minutes.

Once they come out of the oven, remove the toothpicks, replace them with the small sprigs of rosemary, and sprinkle with flaked sea salt.
Notes
* Note: when shopping for your vegetables, try to pick ones with similar diameters for the best results.
Other Chicken Recipes
Roasted Chicken with Shallots and Grapes
This recipe was adapted from The New York Times. Like all sheet pan recipes, it is quite simple and quick to prepare. The dish will feed 6-8 people, depending on the sides that you choose to serve.
Check out this recipe

Mushroom and Provençal Herb stuffed Chicken Breast with Polenta and Potato purée
Impressive and not complicated the best kind of main course.
Check out this recipe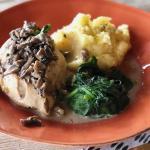 Chicken Tagine with Green Olives and Preserved Lemon
Adapted from a recipe by Tyler Florence.
Check out this recipe

Chicken, Leek and Ham Pie
Tender chicken and ham chunks with leeks in a creamy sauce topped with flaky puff pastry.
Check out this recipe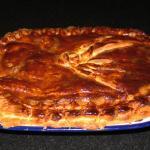 Chicken Roasted with Saffron, Rosemary, and Lemon
Really, nothing could be easier to make than a roast chicken. There is very little preparation required, and plenty of time to make your sides while the chicken is roasting. Plus, the bonus is your kitchen will smell delicious.
Check out this recipe