Seared Duck Breast with Clementine-Pomegranate Beurre Blanc
Seared duck breast is quick and easy to cook. The meat is seared on high-temperature for about 5 minutes a side, then allowed to rest. However, the trick with duck is to create just the right sauce – fruity, savoury, wine or port. The inspiration for this recipe comes from Christmas flavours (citrus and pomegranate) and colours, and I served it for good friends during the holidays.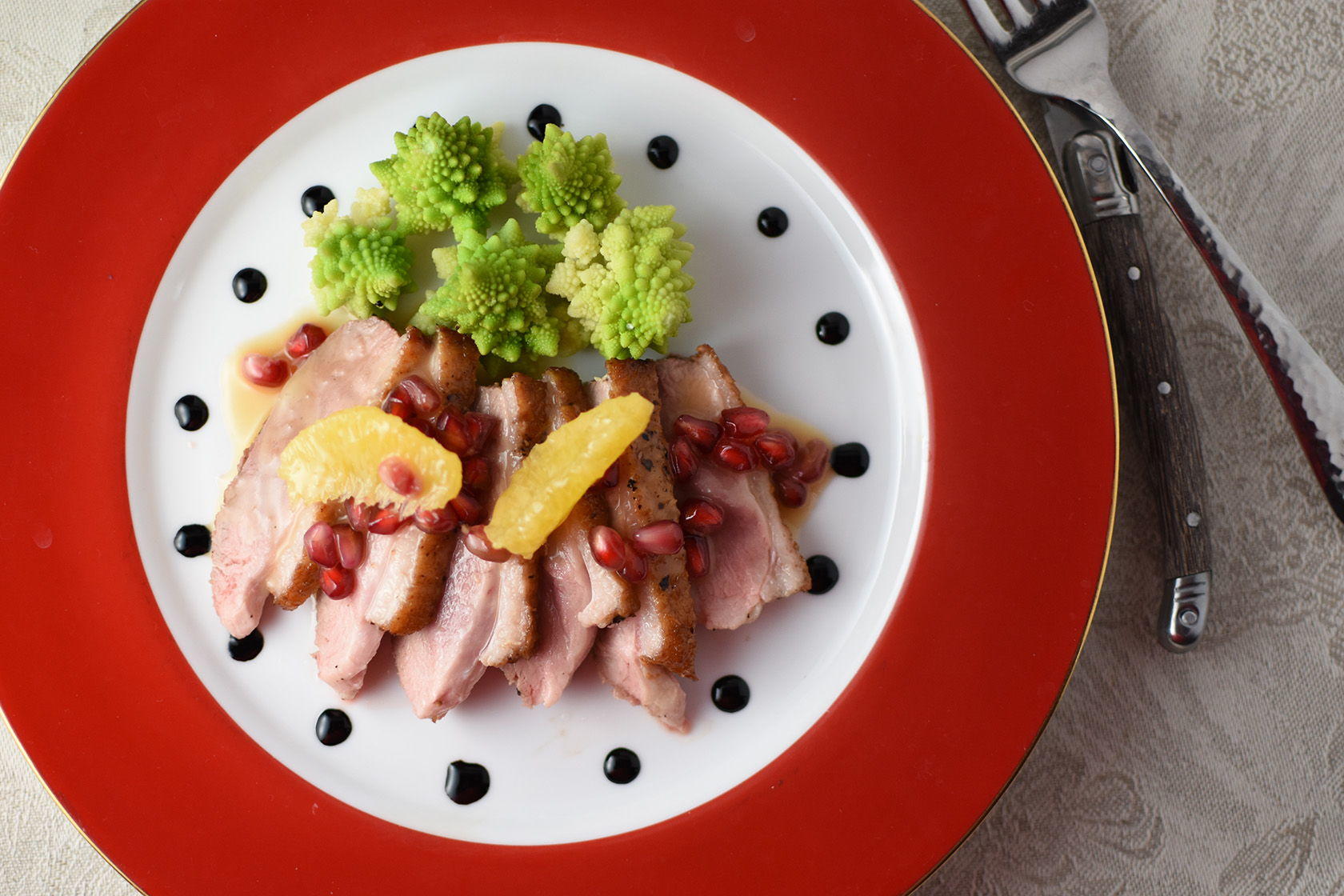 Duck with Clementine-Pomegranate Beurre Blanc
Easy and festive main dish that is ready in under 40-minutes
Ingredients
1/2

cup

clementine juice

(2-4 clementines) or orange juice

1

Lemon

for juice

1

cup

White Wine

1

large

shallot

minced

6

tablespoons

Unsalted Butter

chilled

2 12-

ounce

Duck Breasts

Salt and Pepper

1

orange

Suprèmes

segments without membrane

2/3

cup

Pomegranate Seeds

Crema di baslamico

for plate decoration
Instructions
Place clementine juice, lemon juice, wine, and shallot in a small saucepan and bring to a boil.

Reduce heat, but keep sauce boiling till reduced to a syrup - about 2-3 tablespoons.

Strain the syrup through a sieve into a clean saucepan.

Over low heat, whisk in 4 tablespoons chilled butter, 1 tablespoon at a time, to emulsify.

Season with a little salt and set aside.

Preheat oven to 350°F (180°C).

Heat a skillet on the stove top over medium-high heat. When hot, pat the duck breast dry, season on both sides with salt and pepper, and place it in the skillet, skin side down.

Don't be startled if it pops and "dances" a bit in the skillet - that is just excess moisture!

Cook for 4-5 minutes, until skin is nicely browned.

Turn the duck breast skin-side up, sear on the stove top for 30 seconds and then place in the preheated oven for 5 minutes (for medium rare).

Remove the duck from the oven and cover to rest.

While the duck is resting, return the sauce to the heat and, when it begins to simmer, add the final 2 tablespoons butter, one at a time, whisking until creamy.

Add the orange segments and pomegranate seeds.

Slice the duck and fan five slices on each of four plates.

Spoon sauce over top, dividing the orange segments evenly.

Place dots of crema di balsamico around the edges - both for decoration, and for flavour!