Panzanella a Summer Salad Recipe
It is the height of tomato season, and I cannot get enough of their bright red deliciousness. I will sometimes buy a couple of pounds from one vendor at the farmers market, then see more at another stall and buy them, too. Yes, I have even bought from three different vendors in a single day. So, maybe I have a problem…Continue reading here for the original blog post by: Cocoa & Lavender.
The Panzanella recipe follows below. This summer salad has its origins in Italy but could just as easily have been invented in Provence. All you need is some fresh tomatoes, cucumber, basil and stale bread. Enjoy this summer creation.
There are so many ways to use fresh tomatoes. I love making a Tomato Soup with Fennel and Pastis — there is nothing like it with a simple grilled cheese sandwich. Then there is my Tomato Saffron Cream Sauce for pasta — it is "lick your plate" good. And if you are in a Côte d'Azur mood, there is always the Tarte aux Tomates, perfect for lunch anytime (see recipe below).
Tarte aux Tomates
This tomato tart is very easy to make and a popular lunch option or tasty starter.
Check out this recipe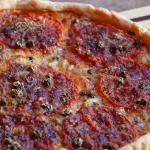 ---

Panzanella Salad
This salad is perfectly suited for summer meals. Serve as a side or as a main with some grilled meat or fish, and of course some rosé.
Ingredients
1 1/2

lbs

Ripe Tomatoes

cut into 1-inch pieces

1

tsp

Kosher Salt

6-8

oz

Rustic Sourdough Bread

cut into 1-inch cubes

5

tbsp

Extra-Virgin Olive Oil

divided

1

Cucumber

peeled, seeded and cubed

1

tbsp

Red Wine vinegar

Freshly Ground Black Pepper

large handful of

Basil Leaves

torn (leaving a few whole for garnish)
Instructions
Place tomatoes in a colander set over a bowl to save the juices, and season with the salt. Toss to coat. Set aside at room temperature to drain, tossing occasionally while you toast the bread.

Preheat oven to 350°F. In a large bowl, toss bread cubes with 1 tablespoon of olive oil. Transfer to a rimmed baking sheet and bake for 15 minutes. Remove from oven and let cool.

Remove colander with tomatoes from the bowl with tomato juice. Add the vinegar to the tomato juices, and whisk in the remaining 4 tablespoons olive oil. Season dressing to taste with pepper (the tomatoes and their juice are already salty, so I don't recommend adding additional salt).

Combine toasted and cooled bread cubes, tomatoes, cucumber, and torn basil leaves in a large bowl - drizzle dressing over the top. Toss everything to coat and taste for seasoning. Let stand 30 minutes at room temperature before serving, tossing a couple of times in the interim to distribute the dressing.
Notes
Allow enough time (roughly 30 minutes) for the ingredients to "get to know each other" and for the bread to soften a little bit.
Summer Salad Recipes
Charred Peach, Asparagus, Mozzarella and Prosciutto Salad
Anna created this recipe to pair with the beautiful Etoile Rosé. A fresh and summery salad that's ideal as a starter or light main course, and takes just 5 minutes to prepare. Omit the prosciutto for a vegetarian option.
Check out this recipe

Lobster Salad with a Blood Orange Dressing
Quick to prepare this seafood salad is a tangy summer dish.
Check out this recipe

Tuna, Fennel, and Potato Salad
This is an easy salad to make. We served it at room temperature on a hot summer day, but it is lovely when it is still warm in cooler temperatures.
Check out this recipe

Warm Goat Cheese Salad with Honey Mustard Dressing
This salad is quick to prepare. Use fresh, local ingredients, where possible. Enjoy for lunch or divide into smaller portions and serve as a starter course.
Check out this recipe

Salade Niçoise
My version of this meal-sized salad from Nice for the purists and the rest of us.
Check out this recipe

Orange, Fennel, Olive and Caper Salad
This easy salad brings zing and brightness to the table. The salt of the olives and capers balances the sweetness of the orange. This should really be made no earlier than 30 minutes before eating. If you want to get ahead, you can segment the orange earlier in the day and leave it sitting in the lemon juice.
Check out this recipe