Fancy an Ice Cream in Provence? Our Top Picks
Ice cream is exquisite. What a pity it isn't illegal. ~ Voltaire*
Susan Gish writes for Aixcentric: Sam and I had a really tough assignment over the summer doing the research for this article (she said sarcastically). But someone has to do it, so instead of worrying about getting rid of those post confinement calories, we only ate a salad the days we indulged in double scoops of ice cream. (Ha – don't you believe that!). Susan and Sam tested (and re-tested) ice cream from several vendors to arrive at their list of favourites. The following list continues to evolve.
Ice Cream in Aix-en-Provence
Glacier i'Pinguini Aix
"La Glaces des Amis" (The ice cream of friends)
Voted #1 by Susan and Sam
24 place Saint-Honoré
13100 Aix-En-Provence
Hours: Monday – Saturday 11h to 19h
Léonard Parli (established in 1874)
15 Rue Gaston de Saporta
13100 Aix-en-Provence
Candied fruit (fruit confits), calisson d'Aix and ice cream
Hours: Open daily.
Philippe Faur
57 Cours Mirabeau
13100 Aix-en-Provence
Note: they close at the end of October for the season.
Pâtisserie Philippe Segond
67 Cours Mirabeau
13100 Aix-en-Provence
In 1991, Philippe Segond received the designation of – Meilleur Ouvrier de France. The boutique makes sweet treats (pastries, chocolates and ice cream) into an artform
Weibel – Pâtisserie & Salon de thé
2 Rue Chabrier, 13100 Aix-en-Provence, France
Established in 1954, this boutique near Place Richelme is typically lined up out the door with customers buying their sweet and savoury pastries.
La Maison Béchard (website)
12 Cours Mirabeau
13100 Aix-en-Provence
On Sunday mornings (and every other day) there is a line-up of loyal customers at this pâtisserie that was established over 100 years ago.
Amorino – Gelato al Naturale
These gelato boutiques are spread around the world from Aix to the United States.
Giovanni Gelateria
47 Cours Mirabeau
13100 Aix-en-Provence
Scoops Worth the Drive
L'Art Glacier
767 Chemin des Hautes Terres
84240 Ansouis
They have 50 flavours of ice cream and sorbet.
Ice cream is one of many reasons to visit lovely Ansouis in the Luberon.

Casalini
10 Quai des Baux
13260 Cassis
Also located in Apt, Fuveau, Goudargues and on the road with L'Estafgelato (the VW van).
Labo-Glacier i'Pinguini
This is their laboratory where teh flavours are created and perfected!
2390 route des Milles
13510 Éguilles
Hours: Monday – Friday 10h to 12h – 14h to 18h
Glacier le Quillé
56 flavours of ice cream and sorbet
Place Du Château
13140 Miramas
Or check-out the location in La Roque d'Antheron at 3, cours Foch 13640

Scaramouche Artisan Glacier
3 route des Alpes
04700 La Brillanne
Make Your Own – Ice Cream Recipes
Apricot and Lavender Ice Cream
Don't shy away from making ice cream. This recipe takes advantage of ripe stonefruit (apricot, peach), and needs little sugar. The lavender flavouring gives it that hint of Provence.
Check out this recipe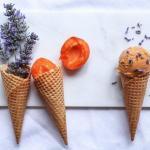 Absinthe Ice Cream
Based on the recipe by my friend Jill Colonna, the sweet combination of cream, sugar, and Absinthe will pretty much guarantee there are no leftovers.
Check out this recipe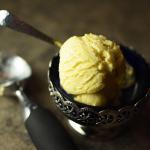 Lemony Sweet Verbena Ice Cream
It's not hard to make ice cream, and even easier with an ice cream maker. This version made with fresh verbena is a lovely tangy summer treat.
Check out this recipe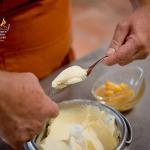 Apple Beignet with Caramel Ice Cream
This recipe is simple to make. Prepare the batter in advance, and have your vegetable oil ready to go. When you are ready to make the beignets it is only a few minutes to deep-fry the apples.
Check out this recipe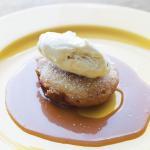 ---
Note:*Wikiquote says: "I have seen this quote attributed to Voltaire on several websites: the sentence does not exist in French (no reported written sources). It seems to be an English pseudo-quote, spreading from a fake/joke into the internet"
All rights reserved. Perfectly Provence articles and other content may not be published, broadcast, rewritten (including translations into other languages) or redistributed without written permission. For usage information, please contact us.
Syndication Information
Affiliate Information
As an Amazon Associate, this website earns from qualifying purchases. Some recipes, posts and pages may have affiliate links. If you purchase via these links, we receive a small commission that does not impact your price. Thank you in advance for supporting our work to maintain Perfectly Provence.