Aix Walking Tours Fun Way to Discover Provencal History
The Seaward family settled in Provence after touring the world for 15 months. In July 2019, Richard Seaward launched – Aix Walking Tours – inspired by some of the city walks that they enjoyed during their global journey. After a fast-paced career, Richard chose to slow-it-down and focus on small-group walking tours in his new hometown. A lover of history, he says you can't avoid it in Aix-en-Provence, where the old centre has barely changed in 200 years.
"To find out about a city we found the best way is walking with someone who lives there. I liked small group tours, not trailing around after somebody holding up an umbrella and being able to ask questions. I had done so many of these walks that I thought I had a pretty good idea of what makes a good one."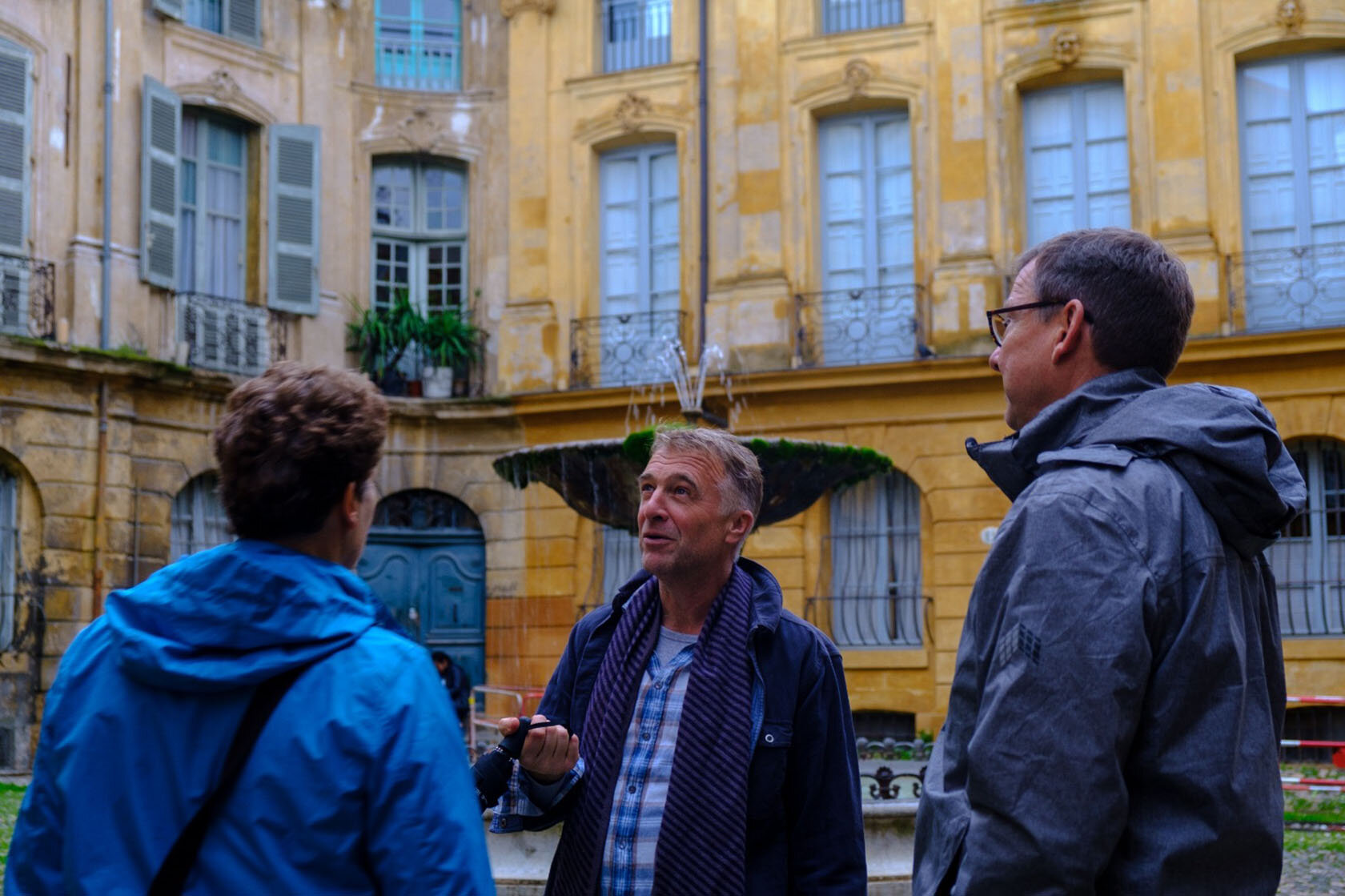 Why Aix-en-Provence?
Previously based in New York and Hong Kong for Richard's work, the family ruled out a return to the United Kingdom. Reliable weather and a slower pace of life drew them to the South of France and to cosmopolitan Aix-en-Provence in May of 2018. They chose to live in the heart of the old town a few metres from the Place des Prêcheurs. Their apartment is so quiet they hear the birds singing in the morning, despite being in the middle of the city.
"We'd been to the South of France on holiday, loved the sunshine, the food and the wine. We thought it was a very civilized place, and the South of France has the French version of a cosmopolitan society and education that we wanted for our children."

What do locals love most about Aix-en-Provence?
First up, the food and wine. The French take food seriously, and many people still shop every day. There is a seasonality to their shopping which we may have lost thanks to supermarkets with transported food. So, there is enormous pleasure in enjoying the local produce as it comes into season through the year. This area of France is the center of the French rosé wine industry, established by King René (René of Anjou) in the 15th-century. Just one of the reasons he has earned the epitaph "the Good." One of Aix's favourite sons, his statue is on the Cours Mirabeau.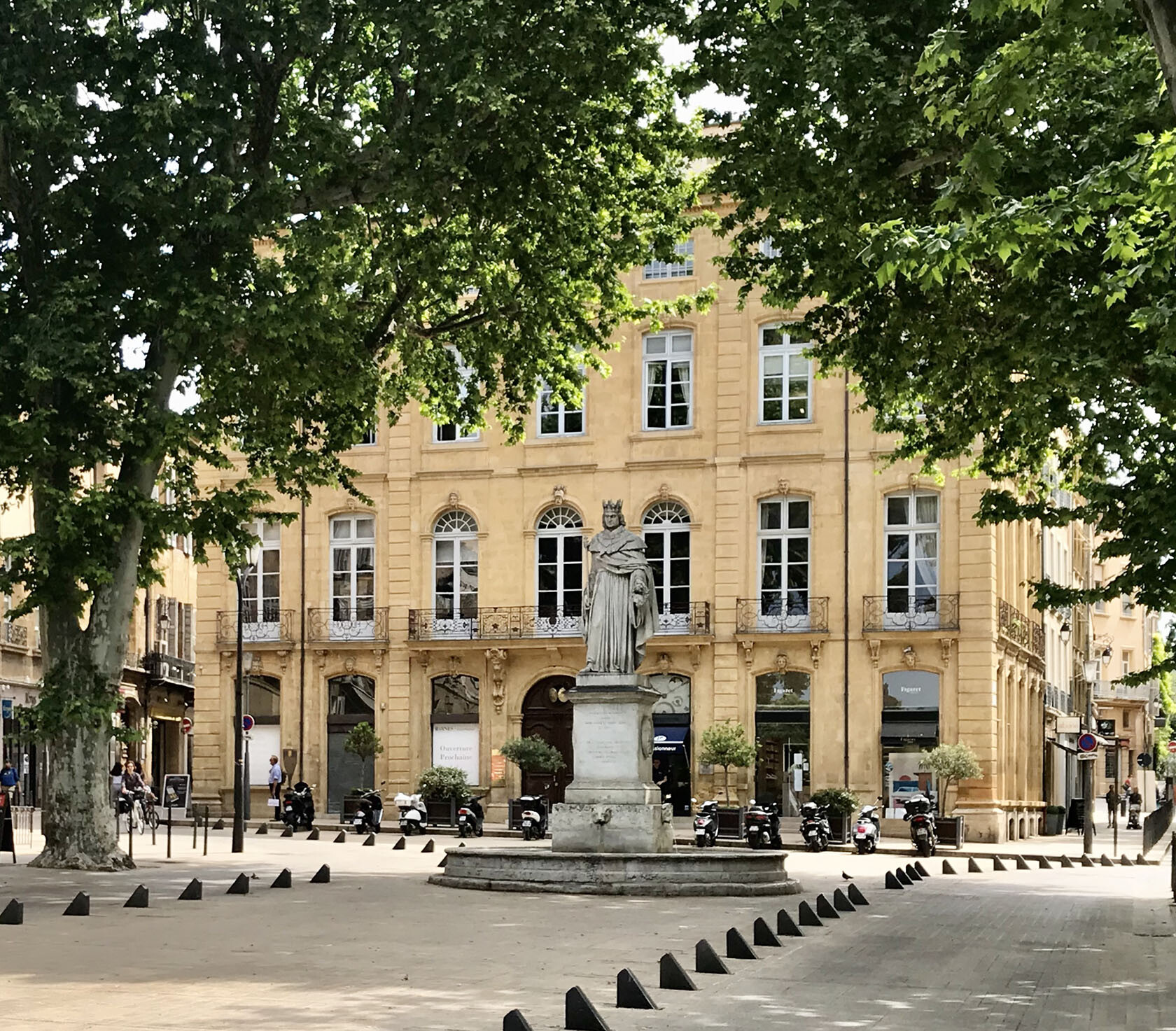 The Aix-en-Provence area is blessed, we have the French Riviera, the lavender fields, the Luberon, the Gorges du Verdon and only a two (2) hour drive away we have great skiing in the Alps. For those who are working, they can live here surrounded by space and nature and still be in Paris via TGV in less than three (3) hours.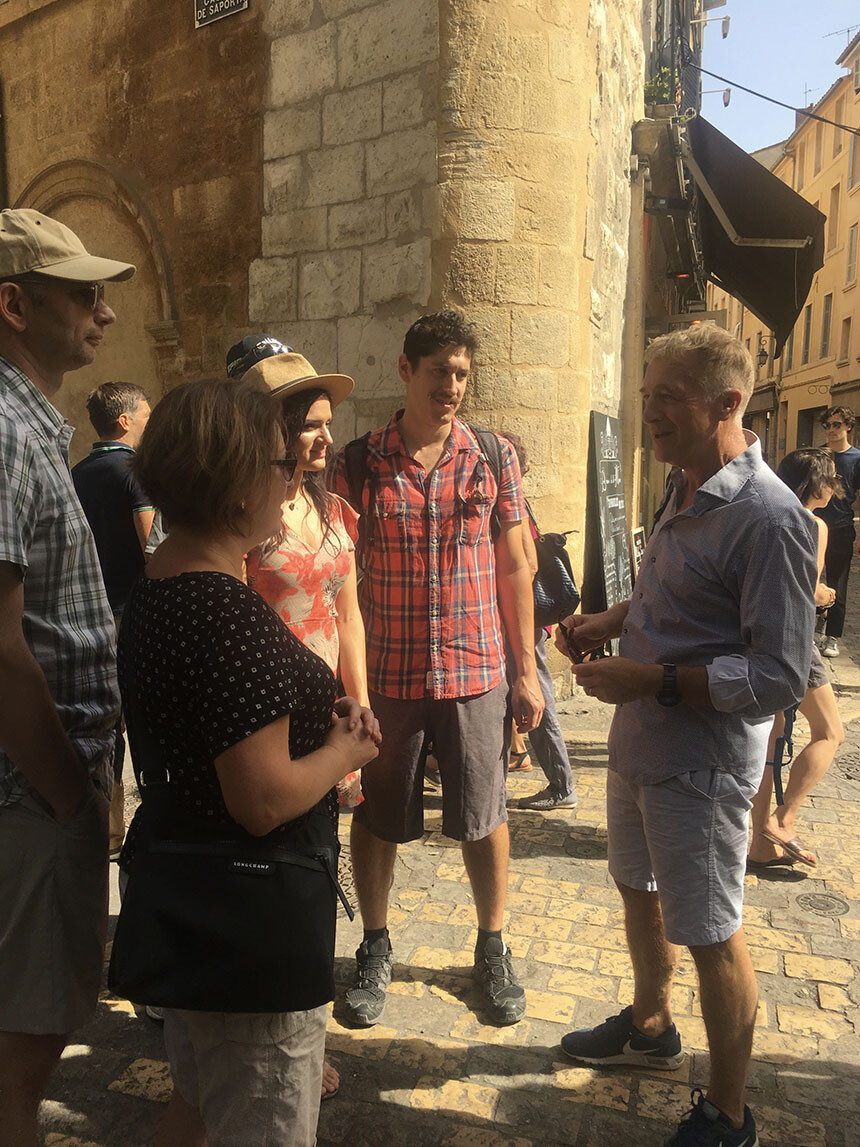 Why is your Aix-en-Provence a great place for someone to visit?
Aix is a city full of beautiful old buildings, the iconic boulevard the Cours Mirabeau and elegant clothes stores. There are loads of cafes, bars, and restaurants with terraces where you can people watch. The city was the home of Paul Cézanne, so there are lots of museums and galleries. Each summer, visitors and residents enjoy world-class music festivals in Aix. To top it off, we are surrounded by stunning countryside, fantastic scenery and topography, swimming in lakes and the calanques on the coast. You can risk sounding too enthusiastic about this area, but the Aix-en-Provence area does have something for everybody.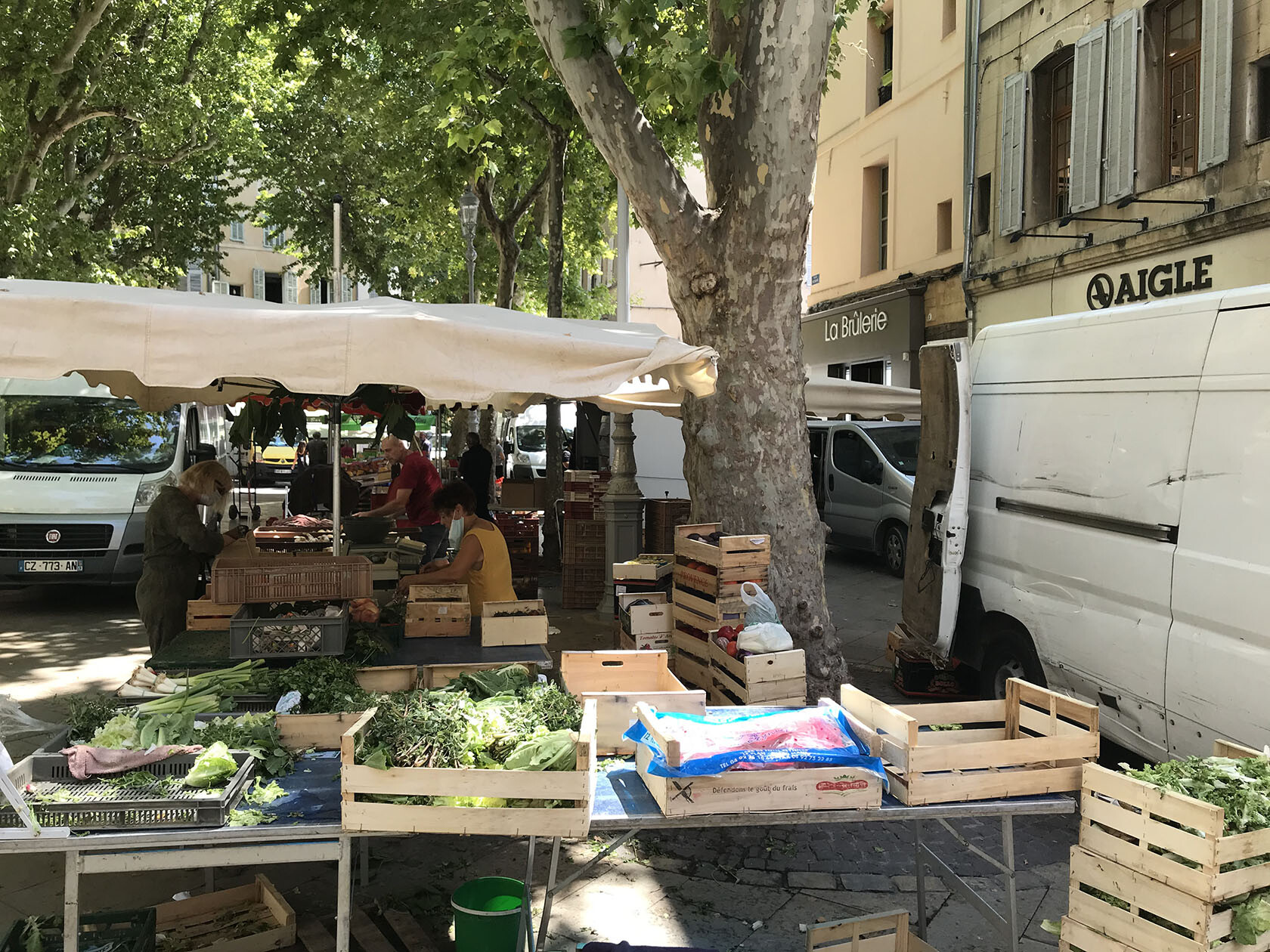 Aix: Don't Miss This!
I would suggest the Hôtel de Caumont, a superb art gallery. One of the most spectacular houses in the city, completed in the early 18th-century, the building is on my walk, and it has a great story. Hôtel de Caumont has an excellent permanent art gallery and always has unique visiting exhibitions from all over the world. Last year's Guggenheim Collection was one of the best that I have seen. The building not just an art centre. The house also has the original 18th-century furniture from the De Bruny family, the last family occupants. There is a restaurant next to the restored Italian-style formal garden or enjoy tea inside in the rooms decorated in period motifs.
What is the best day trip from Aix-en-Provence?
There are so many fantastic day trips from Aix, from beaches, countryside to canyons. However, as we are talking about history, I would suggest the Pont du Gard, a spectacular Roman aqueduct. This UNESCO World Heritage site has an excellent museum attached and a beautiful river underneath for kayaking. Then onto the town of Arles, famous for its Art festival and Roman remains, notably the Theatre. The Roman ruins dot Arles' old centre, making it a perfect choice after visiting the Pont du Gard.
Aix-en-Provence Wonderful Markets
Aix does have fabulous markets. The morning market in the Place Richelme has taken place daily since 1360 on the orders of then Archbishop (find out more on my walk…). There are also large markets in town on Tuesday, Thursday and Saturday mornings. All the produce and most of the clothes in the Cours Mirabeau are of high quality, making it hard to pick a favourite vendor.

Coffee and Bread
My favourite coffee shop is La Brulerie, in Place Richelme, right by the market. There is coffee from all over the world, which they roasted in the shop. It is a serious coffee shop with terrace tables outside so you can watch the market activity.
Anywhere you buy bread in France is going to be better than elsewhere. The French take breadmaking seriously with loads of boulangeries that open at 6 am. It is one of the great joys of living in France, and I'm serious! There are many patisseries here as well, how the French remain slim is a mystery, must be all the kissing, (before Covid). One of the fanciest in Aix is Weibel on Rue Chabrier with plenty of tempting choices. Don't leave France without sampling a Tarte Tatin.

Last Words on Aix-en-Provence
Of all the cities that I have visited and lived in Aix is immediately one of the most welcoming. In this town, it is easy to feel comfortable quickly.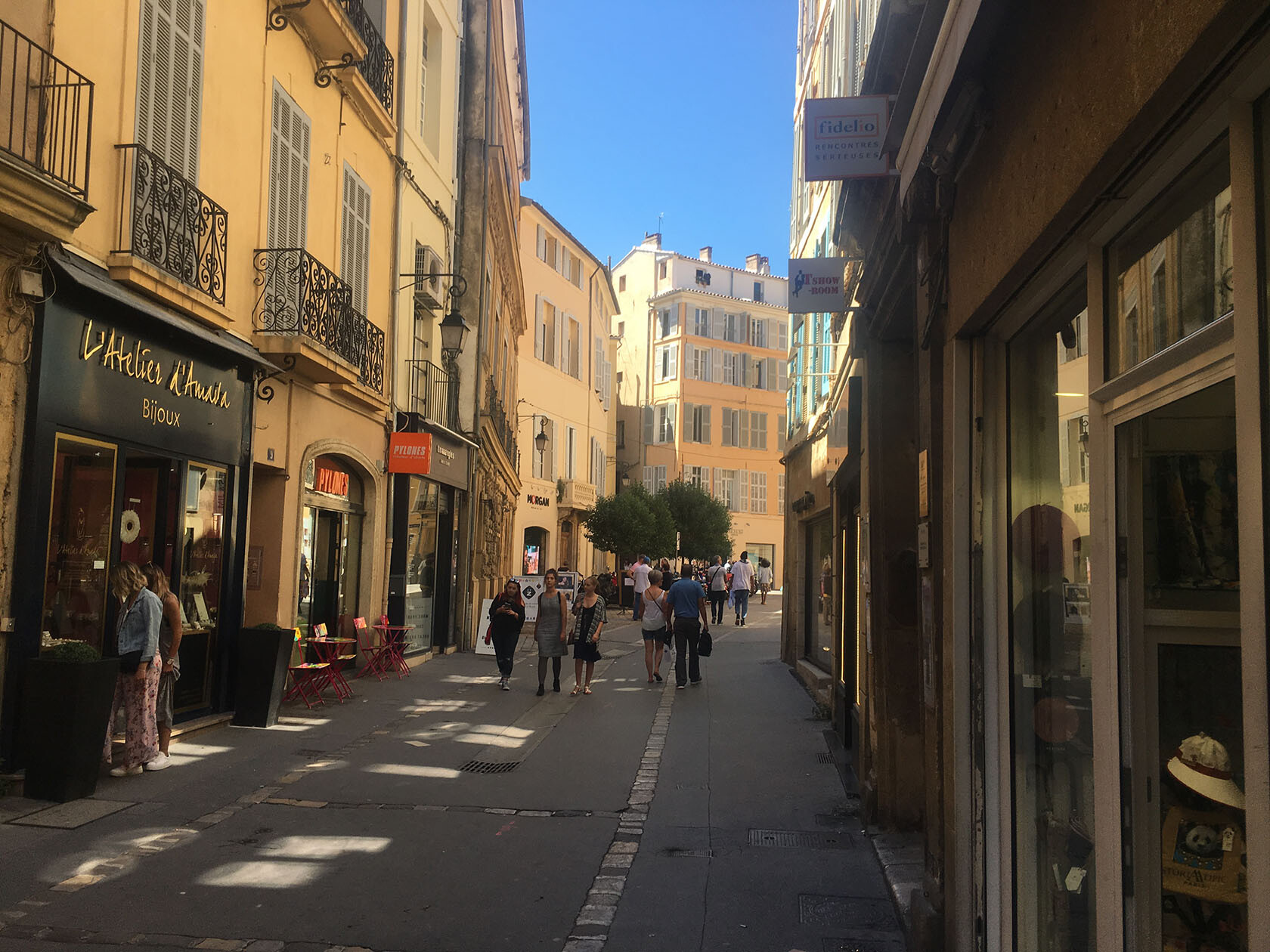 Walking Tour Details
Aix Walking Tours (website)
Book directly via email: Richard@aixwalkingtours.com
The Aix Walking Tours last approximately two (2) hours.
The walk is mostly flat and suitable for strollers or wheelchairs.
The tours are limited to a maximum of eight (8) people
Tours start at 10 am and 3 pm (Saturdays at 9 am and Mondays at 2 pm). Although times can be flexible by arrangement.
What makes these tours unique? "I have lived and worked in lots of different places around the world, so I can give a perspective on France and Aix in particular that visitors can appreciate. I want my guests to think, "yes, I could live here" this is a great place, that's not probably what most tour guides are trying to achieve."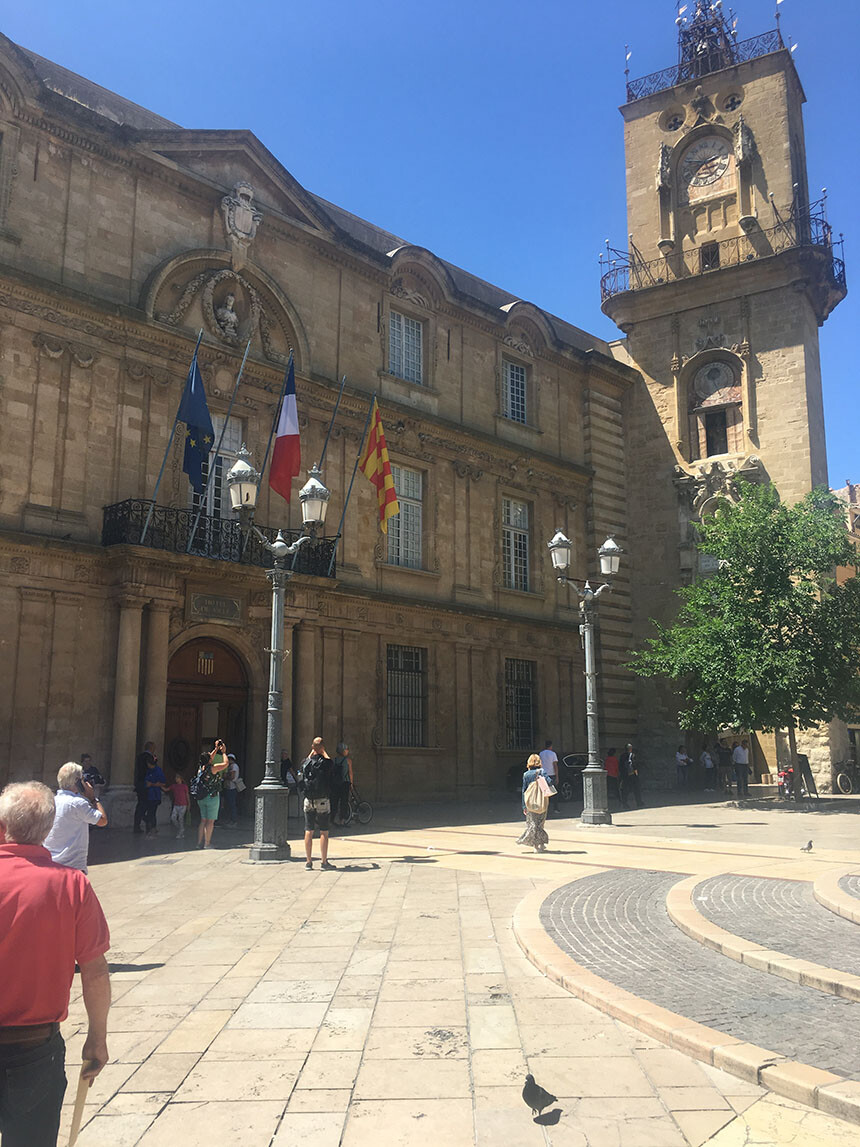 Image credits: all photos were provided by and published with the permission of Richard at Aix Walking Tours.
All rights reserved. Perfectly Provence articles and other content may not be published, broadcast, rewritten (including translations into other languages) or redistributed without written permission. For usage information, please contact us.
Syndication Information
Affiliate Information
As an Amazon Associate, this website earns from qualifying purchases. Some recipes, posts and pages may have affiliate links. If you purchase via these links, we receive a small commission that does not impact your price. Thank you in advance for supporting our work to maintain Perfectly Provence.