How to Make a Charcuterie Cheese Board
Sometimes when life calls for relaxed, stress-free dining, try an indoor picnic. Make a charcuterie cheese board as an appetizer or add more ingredients for a light meal – apéro dinatoire.  According to Saveur Magazine, the Hungarian's have perfected this low-key form of entertaining.
We served the delicious spread with a Provence white wine from Château la Calisse. One of the best things about making a charcuterie-cheese tray is you select the ingredients that you want dependant on your tastes and budget. Enjoy this recipe with friends or as a quiet no-fuss evening on your own.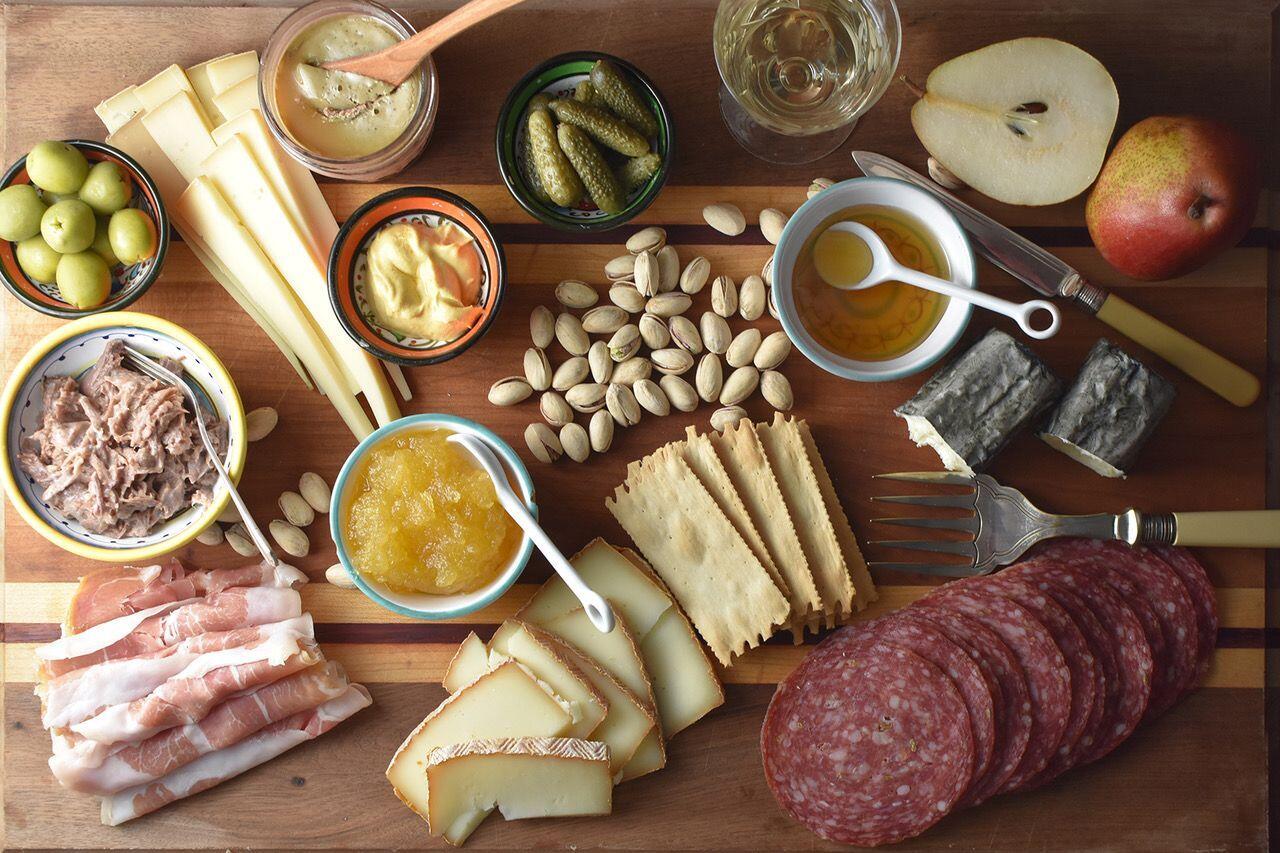 Charcuterie Cheese Board
Easy to prepare, no cooking involved and you get to choose all the ingredients. The selection below will serve 6-8 as an appetizer, or 3-4 as a meal.
Ingredients
3-4

types

Cured Meats, Pâtés, or Sausages

3-4

types

Cheeses

mixture of soft, hard, mild, strong

some

Fresh Fruit

apples, pears, grapes

some

Preserved Fruit

membrillo, cren, marmalade

a few

Condiments

mustard, pickles, honey

mixture of

Nuts

Bread and/or crackers
Instructions
Arrange the items on a large board or tray, and set out a little early so all ingredients come to room temperature to maximize their flavours.
Picnic Ideas from Provence
Here are some portable recipes that work just as well at the beach as on a buffet table. The endless sunny days and cicada-filled symphonies of Provence inspired this picnic menu.
Crespeou (pronounced cres-PAY-oo) means crêpe in Provencal or Gâteau d'Omelettes. A traditional Provencal recipe crespeou often appears in picnic hampers and at potluck parties.
Make it yourself grilled sourdough tartines. This recipe is a delicious combination of savoury (sourdough), creamy (ricotta), sweet (peach and honey), and tangy (chicory, radicchio, vinegar). Enjoy a DIY open-faced sandwich in the sun with a crisp rosé from Provence.
Whether you need a carefree look for your outdoor table or a picnic spread, discover Provencal fabrics.
Aioli is a classic garlicky Provençal dip. Serve with some fresh colourful vegetables for a healthy crowd-pleasing snack for the beach or on a picnic. Here is an aioli recipe that is perfect for daytime or cocktail hour grazing.
Author Elizabeth Bard shared that she and her husband Gwendal lost weight the summer that they opened Scaramouche Artisan Glacier in Cérèste. The tale of how an art historian from New York and a Frenchman with a Ph.D. in computer science turned film executive end up in small-town Provence is the fodder for Elizabeth's recently published second book: Picnic in Provence: A Memoir with Recipes.