1 Domaine 1 Chef Gatherings for Wine and Food Lovers
Since On Thursday evenings, between July 8th and August 19th, food and wine lovers have a chance to explore several vineyards near Aix-en-Provence on Thursday nights. 1 Domaine 1 Chef is a program that combines education, wine tasting, and delicious picnics or gourmet meals prepared by renowned local chefs.
1 Domaine 1 Chef Program
Anew summer food and wine event that is all about the numbers:
Nine vineyards
Six chefs
Seven gourmet evenings
These wine and food events start at 18:30 and last for roughly four hours. Registration in advance is necessary as there are only 30 spots each night. Each event includes a vineyard walk and tour of the cave, followed by gourmet food and select wines from each domain. The cost per person runs between 35-45 Euros and includes your meal and wine.
"Organized every Thursday in July and August from 6.30 p.m. to 10.30 p.m., these evenings invite you to embark on a real gourmet journey on our territory. On the menu: guided tour of the vines and cellar, wine tasting accompanied by a picnic of Chefs … sometimes starred."~1 Domaine 1 Chef
Reserve your spot on the 1 Domaine 1 Chef (website) here.
Email: 1domaine1chef@gmail.com
Telephone: +33 (0)6 16 72 61 50

* Exceptional appearance by 3-star chef George Truc
The Vineyards
Château Calissanne
Route Départementale n° 10
13680 Lançon-Provence
To the west of Aix-en-Provence, Château Calissanne has 25 plots of vines planted on gentle stony slopes. The vineyard grows a range of grape varieties including syrah, cabernet sauvignon, mourvèdre, grenache and cinsault for red and rosé wines; rolle, clairette, ugni and sémillon for white wines.
Château de Calavon
12 Avenue de Badonviller
13410 Lambesc
In Lambesc, in the heart of the Coteaux d'Aix-en-Provence appellation winemaker, Michel Audibert continues the traditions of this family vineyard. Five generations of the Audibert family have tended the vines and respected the terroir. This 60-hectare vineyard follows organic growing principles.
Château Vignelaure
RD561, 83560 Rians
Covering a vast 200 hectares, the vines at Château Vignelaure cover roughly one-quarter of the property (55 hectares). Following the organic standards, the winery's grapes grow in favourable clay-limestone soil at altitudes of 350 to 400 metres.
Domaine les Bastides
Route de Saint-Canadet
13610 Le Puy-Sainte-Réparade
The vineyard is located 12 km north of Aix-en-Provence, with a beautiful view of the Luberon and Mont Sainte Victoire. The vineyard has followed organic farming principles since 1975.
Domaine de la Brillane
195 Route de Couteron
13540 Aix-en-Provence
Facing Mont Sainte-Victoire, Domaine de la Brillane's 12 hectares of vines are situated in the Coteaux d'Aix-en-Provence AOP. This vineyard has been farming organically for 15 years, and Ecocert certified since 2004.
Domaine de la Galinière
13790 Châteauneuf-le-Rouge
Built on an ancient Roman road, Château de la Galinière is nestled at the foot of the Cengle plateau, the first limestone step of the majestic Montagne Sainte-Victoire. The 40 hectares of vines, 100% certified in organic farming, flourish on sandy clay soil composed of bauxite.
Domaine du Loup Bleu
Route de Trets
13114 Puyloubier
The Piconin family estate includes 9 hectares of vines, located in a magnificent setting at the foot of Sainte-Victoire. After acquiring the property in 2011, they undertook a massive project, including replacing old vines, rebuilding the cave, redesigning support spaces and switching to organic cultivation.
Domaine de la Mongestine
RD 561, 83560 Artigues
Four years ago, the current owners took the reins of this promising estate and its unique terroir in Provence. Vinification by parcel allows for a refined range of wines.
Domaine des Masques
Chemin Maurely
13100 Saint-Antonin-sur-Bayon
Situated at an altitude of 550 m, Domaine des Masques sits on the Cengle plateau, with Mont Sainte-Victoire dominating the view. Vines are cultivated on the southern slope, in the middle of this magical place classified as a "Great European site" and "Natura 2000" territory.
The Talented Chefs
Glenn Viel (Michelin***) is the official ambassador of the Un Domaine, Un Chef program. Since 2015, this talented chef has been at the helm of the Oustau de Baumanière kitchens in Les Baux de Provence.
René Bergès followed his family's tradition in the kitchen at Le Relais de Sainte-Victoire in Beaurecueil. The Relais is ranked of the best restaurants in the Aix region. A revered chef and Maître Cuisinier de France René Bergès is a role model for aspiring young chefs.
Felipe Licandro began his training in Spain, followed by time at large hotel chains. His experience as a chef at Château La Coste allowed room to experiment with traditional cuisine and Provence's freshest ingredients.
Yannis Lisseri draws inspiration from local, seasonal ingredients. His creative talent leads to fabulous culinary discoveries. Lisseri trained in Glen Viel's kitchen.
Édouard Loubet (Michelin**) grew up in Val-Thorens in the Alps. He was a skier before launching into a culinary career. Work at high-end (and high altitude) hotels followed by international kitchens allowed the young chef to expand his cooking skills. Back in France, Loubet opened Le Moulin de Lourmarin in 1992 and received his first Michelin star in 1995.
Eric Sapet (Michelin*)honed his skills in Paris for over a decade. After acquiring his Michelin star in Joucas, he assumed responsibility for Édouard Loubet's kitchen at Moulin de Lourmarin. Today Chef Sapet holds court at his Petite Maison de Cucuron, a must-try gourmet experience in the Luberon. Here is one of his signature desserts:
Tarte aux fraises, tomates confites et tapenade olives noires
Tarte aux fraises, tomates confites et tapenade olives noires - a pastry base with sweet tomatoes, strawberries and fennel tapenade. This dessert does have several components, but in the end it is not complicated. The mixture of ingredients may seem strange, the result is sublime. Our dish was garnished with vanilla ice cream, which is optional, but certainly did not take away from the lovely result.
Check out this recipe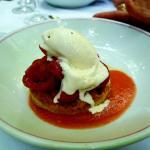 Image credits: As marked.
All rights reserved. Perfectly Provence articles and other content may not be published, broadcast, rewritten (including translations into other languages) or redistributed without written permission. For usage information, please contact us.
Syndication Information
Affiliate Information
As an Amazon Associate, this website earns from qualifying purchases. Some recipes, posts and pages may have affiliate links. If you purchase via these links, we receive a small commission that does not impact your price. Thank you in advance for supporting our work to maintain Perfectly Provence.