Château Margüi Rosé Wine Pairing
Today's wine and food pairing for Provence WineZine is one I approached with some trepidation. I was confident that the Château Margüi rosé wine would be good (okay, excellent), and I knew the recipe well enough to be happy with it. But together? I just wasn't sure. I certainly didn't expect a full-on tug-of-war, but I had no idea it would be one of my favourite pairings in recent years. Go figure.
The recipe for cauliflower gratin includes many Provençal flavours — and is a delicious vegetarian entrée or side dish. Pairing wines with cabbage-y things was probably the starting point for my reluctance, but the match was excellent.
The Wine
Winery: Château Margüi
Cuvée: Château
Appellation: Côteaux Varois en Provence
Type: Rosé
Vintage: 2020
Grape Varieties: 45% Grenache, 35% Cinsault, 15% Cabernet-Sauvignon, 5% Syrah
Alcohol content: 13%
Domaine de Château Margüi is located in the Haut-Var, also known as Provence Verte. The soil is a mix of clay and limestone, and the estate benefits from the drying effects of the mistral wind when it blows from the north.
Boutique du Château Margüi
83670 Châteauvert
Telephone: + 33 (0) 9 77 90 23 18
Recipes for Gratins
Eggplant Tomato Gratin
A new way to enjoy eggplant cooked with fresh local tomatoes! Use a heavy baking dish like a lasagna pan or pyrex.
Check out this recipe

Cauliflower Gratin
If you are looking for an easy and delicious side dish to complete your meal you should try this recipe!
Check out this recipe

Endives au Gratin
Au gratin dishes are traditional fare from northern France and the Haute Savoie. This recipe is easy to make and served with a green salad is perfect for lunch or a light dinner.
Check out this recipe

Zucchini Gratin
This creamy gratin that will tickle your palate from the fall and into the winter months.
Check out this recipe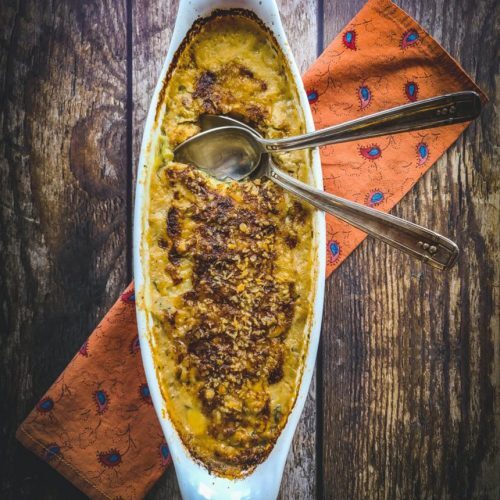 White Asparagus Gratin
Depending on availability and preference, you can use green or white asparagus. This dish is a terrific, tasty way to celebrate spring. It serves 2 as a main course or 4 as a side dish.
Check out this recipe