Mont Sainte-Victoire Celebrate and Revered in Provence
The massif looks like a fortified stone ridge or a sharp triangle pointing to the sky, depending on how you approach Mont Sainte-Victoire. Regardless of the time of day or season, the only certainty is that the mountain, located on the outskirts of Aix-en-Provence, never looks the same twice. Artists and photographers continue to capture the limestone summit in all its glory. Celebrated and revered, Mont Sainte-Victoire has, since 2004, been a protected natural preserve – a Grand Site de France. Explore the mountain by car, on foot, on a bike or while sipping a glass of wine.
In this article, learn about Mont Sainte-Victoire and all that it has to offer.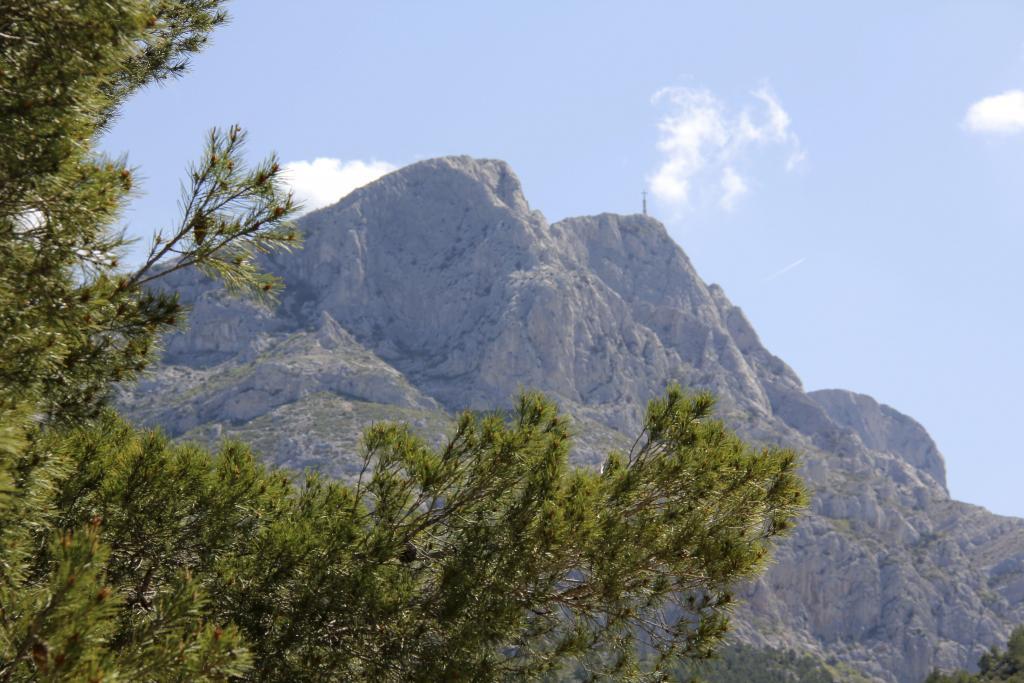 The Mountain
Mont Sainte-Victoire's limestone ridgeline runs 18km from east to west outside Aix-en-Provence.⁠ The summit is at 1011 metres, lower than Mont Ventoux, but soars above anything else in the vicinity. Under the Grande Cite de France label, almost 50,000 hectares, between Aix-en-Provence and Marseille, including Mont Sainte-Victoire, form the most significant wooded area in the department of Bouches du Rhône. Despite a devastating forest fire in 1989, the mountain maintains a sacred presence.⁠
Perfect for nature lovers, this area has many walking and mountain bike (VTT) trails. There are two sharply different faces to Mont Sainte Victoire, with a mix of gentle slopes and sharp ridges. The grey-white limestone ridge plunges sharply into the Arc basin on the south side. Whereas by contrast, the northern side rolls gently towards the Durance Valley. Pic des Mouches is the highest point on the mountain. The reward for this strenuous hike is the views towards the Alps and Mediterranean.
Agricultural land surrounds Mont Sainte-Victoire. The combination of clay, limestone and sandy soil is a terroir where grapevines and olives flourish. The vineyards surrounding Mont Sainte-Victoire fall under the Coteaux d'Aix-en-Provence appellation with these red grape varietals Cinsaut, Counoise, Grenache, Mourvèdre, Syrah and several white grapes. This article by Provence WineZine provides additional detail on the AOC.
Religious Attraction
Perhaps it is the jagged summit stretched towards the heavens or the 19m Croix de Provence on the western edge, but Mont Sainte-Victoire has a mythical aura. The mountain's religious pull is evidenced by the 17th-century Sainte-Victoire Priory and the Saint-Ser Hermitage, which pays tribute to a hermit who sheltered in a nearby cave in the 5th century.
Cézanne's Mountain
Montagne Sainte-Victoire was Paul Cézanne's muse. He painted and sketched the mountain from many angles during his lifetime. Despite having a studio in Aix, Cézanne preferred painting en plein air surrounded by nature.
"Everywhere, Mont Sainte-Victoire dominated the landscape. It became his favorite subject: 44 oils and 43 watercolors testify to Cezanne's fascination of the mountain." ~ Aix-en-Provence Tourism Office.
The pays de Cezanne and Mont Sainte-Victoire held much inspiration for Pablo Picasso, who idealized the works of his forefather Paul Cézanne. The Château de Vauvenargues is at the base of the beautiful, iconic mountain featured in numerous works by Cézanne. The Spanish artist Pablo Picasso so loved the place that he was convinced it would be his last home. By that time (1959), Picasso had achieved tremendous notoriety as a prolific and avant-garde artist. His bold, innovative, artistic style continues to drive the demand for his works today.
Art and Photography
Contemporary artist Fabienne Verdier produced a series of striking, large-format paintings for a solo exhibit in 2019 at the Musée Granet "Sur les terres de Cézanne."
Talented Aix-en-Provence photographer Camille Moirenc compiled 49 of his photos in a series called "Sacrée Montagne – Mouvances et Permanence" – Sacred Mountain – Movements and Permanence. Some of Moirenc's photos of Mont Sainte-Victoire date from as early as 2004, but the majority are more recent, taken in 2020 and 2021.
Jill Steenhuis is an American who has spent four decades painting the same landscapes as Paul Cézanne and Vincent Van Gogh. In June 1980, Jill Steenhuis arrived in Aix-en-Provence to study at the Marchutz School of Fine Arts for an intensive six-week program. On this occasion, the 21-year-old stood in front of Mont Sainte Victoire, the mountain that was Cézanne's muse, a subject he sketched and painted obsessively during his lifetime. Speaking no French, Jill's life in France began when Serge Ruffato, a charismatic Frenchman, asked her for directions two days after her arrival. Their chemistry remains despite initial language barriers after 38 years of married life, and Jill's artistic journey in Provence continues.
A meandering path led Miriam Hartmann to her artist's atelier in the village of Ménerbes. Arriving in Provence almost twenty years ago, she felt immediately at home in the region. Then, during a particularly windy year, Hartmann had a powerful revelation deciding to face the elements and paint plein air. Attaching canvases to trees and securing paper to the ground with stones, she discovered the essence of Provence. Using various techniques, Hartman paints with oil, watercolours and ochre pigments from Roussillon. She finds the legacy of famous artists, including Cézanne, Delacroix, Liebermann, Monet, and Rubens, inspirational. Provence's colourful abstract landscapes, including Mont Sainte-Victoire, dominate Hartmann's work.
Mont Sainte Victoire Hiking
There are several hiking trails on and near Mont Sainte Victoire for hikers of all levels. Here are three (3) popular walks for randonneurs:
The Bibémus Plateau: 1h45, 6km, easy
If you are a fan of Paul Cézanne's work, this trail provides many viewpoints from where the artist painted Mont Sainte Victoire. Start this walk in the village of Le Tholonet outside of Aix-en-Provence. Along Chemin de la Paroisse at the trail is partially shaded. The route snakes up the hillside gently to the Bibémus plateau and the Zola dam. The dam was built in the 1850s by François Zola, father of the French writer Emile Zola. If you have visited Aix-en-Provence, you might recognize the ochre-coloured rock on the Bibémus plateau. The stone appears in several municipal buildings in the city, including the Halle aux grains (now La Poste) and the Hôtel de Ville. From the dam, the trail loops back to your starting point.
Croix de Provence: 4 hours, 650 metre gain, medium
Perhaps it's because the Cross of Provence at 946 metres is visible from so many angles, but for many hikers, reaching that point on the mountain is a goal. Park at Plan d'En Chois, on the south side of Mont Sainte Victoire. The first section of the trail to the Cézanne refuge is relatively easy. Along the way, you pass the ruins of Le Trou. Two farming families occupied this site three centuries ago. Now, the trail leads to the Priory (le Prieuré). However, there is a choice of the easy route (facile) or a more challenging route. Both options take 1h30 to complete; either way, the views are worth the climb.
The Venturiers Trail: 10km, 580 metre gain, hard
Park your car in Vauvenargues as this trail attacks the Croix de Provence from the mountain's north side. Driving through the village, you might see the Château de Vauvenargues, previously the home of Pablo Picasso. The Venturiers trail is an out-and-back vertical route to the Cross. It is dog-friendly, but make sure your pet has plenty of water and energy. This trail is not recommended in wet or inclement weather.
Hiking Resources:
Amis de Sainte Victoire website
Hiking in Provence
Provence has many hiking trails for all levels. The Luberon and Alpilles hills are moderate. Whereas the slopes near Mont Sainte-Victoire, Mont Ventoux, and the Dentelles de Montmirail are steeper. You can also head to the coast in either direction (east or west) from Marseille. There are beautiful hikes along the coast, although some trails could be difficult if you suffer from vertigo. The standard hiking rules in Provence apply: wear good shoes, carry sunscreen, hats, extra water, snacks, and take a mobile phone.
As an Amazon Associate, the site earns from qualifying purchases. Note: if you purchase a book via these links, we receive a small commission that does not impact your price. Please click on the book cover images or titles to order a copy. Thank you in advance for supporting our work to maintain Perfectly Provence.
All rights reserved. Perfectly Provence articles and other content may not be published, broadcast, rewritten (including translations into other languages) or redistributed without written permission. For usage information, please contact us.
Syndication Information
Affiliate Information
As an Amazon Associate, this website earns from qualifying purchases. Some recipes, posts and pages may have affiliate links. If you purchase via these links, we receive a small commission that does not impact your price. Thank you in advance for supporting our work to maintain Perfectly Provence.