Wine Tasting at the Vineyards of Bellet in the City of Nice
Looking at the Mediterranean while sipping a crisp glass of Rolle at a vineyard confirms the City of Nice's enviable location on the French Riviera. Historians believe that wine grapes have grown in the vineyards of Bellet since Phocean mariners settled in Massalia (Marseille) and Nice near the Baie des Anges. Although documentation is scarce, there was plenty of wine trade along the Mediterranean in that era. As a result, in 1941, the wines of Bellet (vins de Bellet) became one of the earliest wine districts in France to achieve Appellation d'Origine Contrôlée (AOC) status.
Additional reading about the wines of Provence:
1. Wines of Provence Understanding the Colours and Terminology
2. Essential Reading the Wines of Provence – Tricolour
A Bit More History
We may never know whether the Phoceans commercialized wine production near Nice or grew grapes for their consumption. However, by the Middle Ages, the monks in local Abbeys had recognized that producing and selling wine resulted in a valuable source of income. Most notable was Abbaye Saint-Pons de Nice. By the 16th century, nobility and well-heeled merchants were consuming and trading the wines of Bellet. Today, Bellet wines are consumed internationally, with the local Cuisine Nissarde.
Bellet is a prestigious appellation with a long wine tradition, wines which were appreciated by Louis XIV and US President Thomas Jefferson! Bellet lies on the hills on the east side of the Var River, which flows west of Nice, and the vineyards are at altitudes of 100 to 300m. During the day, the Mediterranean moderates the temperature, whilst the wind from the Alps along the Var River cools it down at night. Thanks to the climate with these special winds, the freshness of the grapes is preserved. ~ excerpt from The Wines of Provence Tricolour
Book a Holiday Rental Near Nice
Bellet Terroir
With the Alps as a backdrop and the Côte d'Azur in the foreground, the vineyards of Bellet not only deliver great wines but a beautiful setting. Situated in the foothills of the southern Alps, the AOC Bellet is an AOP under EU rules. While the appellation covers 650 hectares, only 50 are planted with vines at 200-300 metres altitudes. Like many others in Provence, this appellation benefits from over 300 days of sunshine per year, sufficient natural rainfall in most years, and the mistral and tramontane winds that ensure the grapes don't suffer from noble rot.
Terracing exists in several of the vineyards of Bellet, protecting the soil from erosion and maintaining some humidity in the earth. The ground is a well-draining mix of compacted sand with clay layers. Like Châteauneuf-du-Pape, Bellet's vineyards have smooth galets roulés (small stones) that capture the heat of the day and slowly release the warmth during the nights, thus providing the vines with steady temperatures. The principal grapes include Rolle (Vermentino) and Chardonnay for white wines, and Folle Noire (Fouola Negra in Niçois means the crazy black grape), Braquet, Cinsault, and Grenache for red wines. The Braquet varietal is the main ingredient in a Bellet (AOP) rosé and often the only variety used.
The Bellet Vineyards
With only 50 hectares under cultivation, the vineyards of Bellet are one of the smallest appellations in France and the only one within the limits of a municipality. However, blessed with plenty of sunshine, sufficient rain, and enough wind, Bellet is a perfect microclimate for growing grapes. There are currently nine (9) vineyards in Bellet listed below:
Château de Bellet (website)
482, Chemin de Saquier,
06200 Nice
Telephone: +33 (0)4 93 37 81 57
13 hectares of vines
Wine tasting in the deconsecrated 19th-century chapel
Château de Crémat (website)
442, chemin de Crémat,
06200 Nice
Telephone: +33 04 92 15 12 15
12 hectares of vines
Book a guided experience of the vineyard, vinification cave, and the furniture from the Coco Chanel suite at the Ritz in Paris.
In his blog "Wines of Provence," Göran Boman wrote about Château de Crémat. The impressive castle vineyard is the only one on Bellet Hill located within the city of Nice. The vineyards and wine cellar were refurbished 20 years ago by a Dutch businessman who unfortunately went bankrupt in 2017, after which the property was sold to Daniel Derichebourg, CEO of a recycling company. Derichebourg has expanded his domains as he bought Domaine de Toasc on Bellet hill, so their share is now 30% of Bellet's vineyard area. The idea is to continue to run these as two separate vineyards.
Clos Saint-Vincent (website)
Collet des Fourniers,
Saint-Roman de Bellet,
06200 Nice
Telephone: +33 04 92 15 12 69
10 hectares of vines with an annual production of roughly 30,000 bottles.
The vines are planted on three (3) hills Crémat, Saint-Roman-de-Bellet, and Saquier.
Collet de Bovis (website)
Le Fogolar
370, Chemin de Cremat,
06200 Nice
Telephone: +33 04 93 37 82 52
4.5 hectares of vines
Guided tours with tasting by appointment.
Domaine de la Source (website)
303, Chemin de Saquier,
06200 Nice
Telephone: +33 06 17 77 87 98
7 hectares of vines
They offer wine tasting from Monday through Saturday, along with food and wine experiences.
Read more about the vineyard in AOC Bellet: Historic Appellation with a Vibrant, Innovative Spirit, a Provence WineZine article.
Domaine de Toasc (website)
213 Chemin de Crémat,
06200 Nice
Telephone: +33 04 92 15 14 14
8 hectares of vines (they also have an additional 1.5 ha of vines about 10 kilometres from Nice Pays des Alpes Maritimes IGP)
Open for wine tasting from Monday through Saturday
Domaine de Vinceline
305 bis, chemin de Saquier,
06200 Nice
Telephone: +33 06 62 07 10 32
This micro-winery is a Dauby family affair.
Book in advance for a wine tasting.
Domaine St Jean (website)
34 Chemin de la Pouncia,
06200 NICE
Telephone: +33 06 08 28 08 74
4 hectares of vines
Reserve a wine tasting in advance.
Via Julia-Augusta
Saint-Roman de Bellet,
06200 Nice
Telephone: +33 06 08 07 65 65
1.5 hectares of vines
If you are visiting Nice, head to the hills behind the city to see this small wine-growing area or hire a local guide to take you on tour.
Food and Wine
There are plenty of rules for food and wine pairing, but one of the easiest is to drink local wines with regional food. So, with that in mind, here are several traditional Niçoise recipes to try with wines of Bellet.
Pan Bagnat
Like the pissaladiere, the pan bagnat takes us back to the origin of food and meals made of bread and accompaniments. Pan bagnat remains one of the summer's delights and a favourite picnic dish.
Check out this recipe


La Pissaladière
This traditional recipe is so popular that there are even songs written about this savoury flatbread. Slow-cooked onions are layered on a soft dough crust and decorated with olives and anchovies. Nothing could be better served with a glass of local rosé any time of the year!
Check out this recipe

Salade Niçoise - La Salada Nissarda
This salad is presented flat with the ingredients arranged artistically on the mesclun lettuce. The presentation of this salad is important because it is only mixed before serving.
Check out this recipe

Tourte de Blettes Salée from Nice
This savoury tart's main ingredient is blette (chard), which grows all year near Nice, France. Considered part of traditional Niçose cuisine, there are two variations sweet and savoury (salée). Serve this tart with a green salad for lunch or a light dinner.
Check out this recipe

Swiss Chard, Raisin and Pine Nuts Tart
Tarte niçoise aux blettes et pignons de pin is such mouthful, of words, for a dessert. On my last visit to Nice, I tasted this fabulous local délice. French cooking is absolutely regional like its weather, and you can only find certain specialities in specific towns. Ok, I have to say this tart is not for everyone. Dessert with veggies in it does sound strange. Some might sprinkle confectioner's sugar before serving. The tart is even better the next day.
Check out this recipe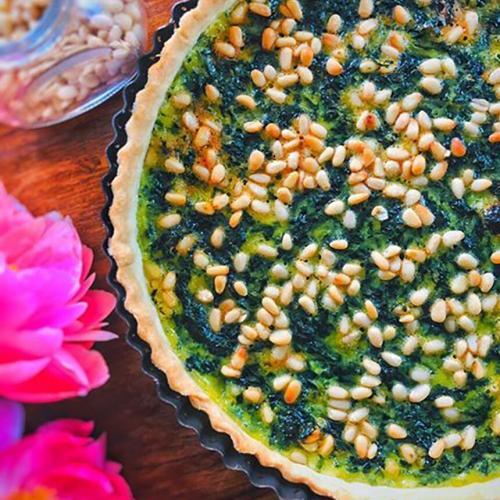 Trouchia a Zucchini Omelette
Try this alternative to trouchia, a Niçois favourite, for the perfect lunch with a side salad.
Check out this recipe