December Holiday Menus Christmas with Provencal Flavours
For most people, Tuscon, Arizona does not spring to mind as a foodie capital, but if you are "into" food the city has a surprising culinary vibe. Marc and I moved to the desert city without much of a plan. We took a leap of faith, quitting our jobs and selling our house in New York State to relocate to Tucson. We fell in love with the city and all its benefits.
During working hours, I am a fundraiser for the University of Arizona Honors College. My professional training is as a classical musician. However, my hobby and passion is cooking, which leads to wine pairing, you can read about some of these matches on Provence WineZine.
You need to choose your audience when you admit that roast turkey is not your favourite meal. I started cooking with my mother when I was very young but didn't become serious until I was in my early 20s. Although, I have no professional training I did work for a while as a caterer. It would be impossible to choose my favourite cuisine from Italian, French, Asian and South American, but my culinary style is to delight our guests without making the menu too complicated to prepare or serve.
So, with that in mind here are five (5) December holiday menus for the Christmas season. Choose between these multi-course meals of seafood, poultry, meat or a vegetarian option. Note: please click on the links for the complete menus and recipes.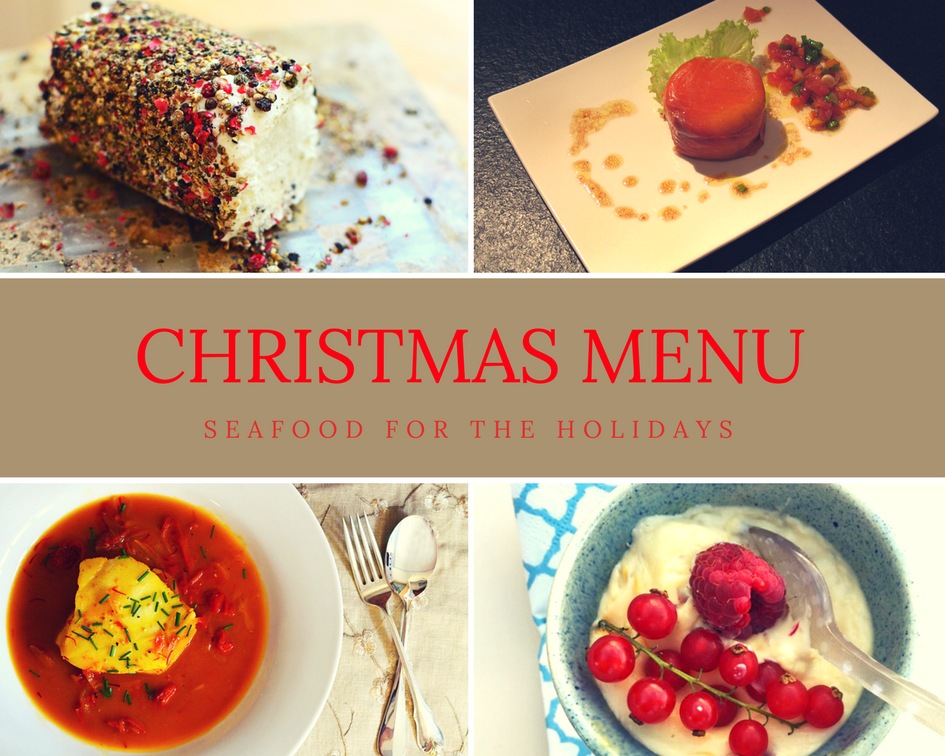 With Drinks: Peppered Fresh Chèvre with Toasts
Starter Course: Salmon, Avocado, and Crab Parcels
Main Course: Sea Bass Poached in Tomato-Saffron Broth
Salad: Poireaux en Vinaigrette
Sweet Stuff: Lavender Honey and Almond Pots de Crème


With Drinks: Zucchini and Shrimp Fritters, Saffron Mayonnaise
Starter Course: Bouillabaisse Terrine
Main Course: Swordfish with Tomato Caper Butter Sauce
Salad: Lamb's lettuce (mâche), hazelnuts and Camembert
Dessert: Lemon Tart


With Drinks: Zucchini Fritters
Starter Course: "Ratatouille My Way"
Main Course: Curried Vegetable Terrine
Salad: A Simple Green Salad
Dessert: Molten Chocolate Cake


With Drinks: Aioli Provencal
Starter Course: Tomato Soup with Pastis
Main Course: Braised Lamb Shank with Provencal Spices
Salad: Green Salad
Dessert: Apple Tart – Panade aux Pommes


With Drinks: Savoury Olive Cake Appetizer
Starter Course: Duck Skewers with Fig and Shallot Compote
Main Course: French Bistro Coq au Vin
Salad: Endive, Apple and Walnut Salad
Dessert: Lemon Madeleines