Apples and Cherries a Twist on Classic Clafoutis
Clafoutis is a summer classic in France. It's such an easy dessert to make, and only requires whatever fruit you have on hand and basic ingredients most people have in their fridge and cupboards. Apple and cherry is such a delicious combination, sweet but with just the right amount of sourness. You can use frozen cherries if you don't have fresh ones at hand or any other berries for that matter. Paired with our Sparkling Rosé La Folie, it's the perfect dessert to impress guests and bring some French vibes to your meal!

Pink Lady Apple and Cherry Clafoutis
Clafoutis is one of the easiest desserts to make with whatever fruit you have on hand. In this culinary collaboration with Pink Lady® apples, we added cherries for a twist on the classic dessert.
Ingredients
250

g

Milk

250

g

Double Cream

2

Whole Eggs

2

Egg Yolks

60

g

Cornflour

80

g

Sugar + 20g

20

g

Sugar

1

tsp

Vanilla Extract

a handful of

Cherries

2-3

Pink Lady Apples

depending on how big your dish is

a pinch of

Salt
Instructions
Preheat the oven to 180 degrees Celsius (350°F) (fan-forced/convection).

Peel the apples cut them into 1/8 and remove the core. In a pan, melt the butter and place the slices of Pink Lady. Cook on medium heat for about 10 minutes. When golden, add 20g sugar and cook until the apples are tender and caramelized, stirring occasionally.

Butter an ovenproof dish and sprinkle with a bit of sugar, before arranging the apples at the bottom of the dish. Add the cherries.

In a bowl, mix together corn starch, sugar, vanilla extract, salt and eggs. Incorporate the cream and milk, and mix until smooth and homogeneous. Pour the mixture in the dish over the fruits. Bake in the oven for about 50 minutes.

Eat warm right out of the oven, with a glass or two of Mirabeau La Folie Sparkling Rosé! Cheers!
Delicious Variations of Clafoutis: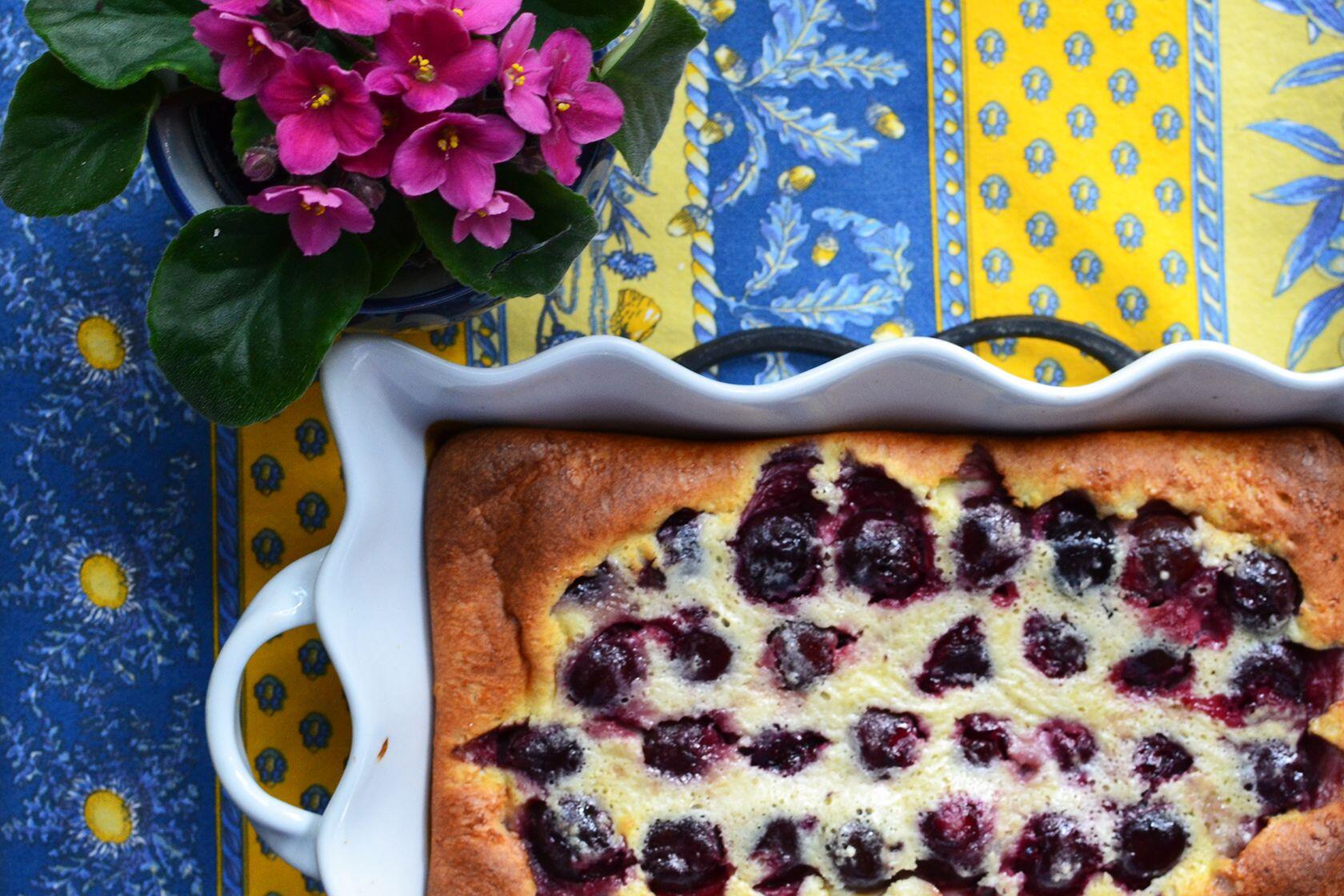 Classic Cherries Clafoutis from Provence
Provencal Mixed Fruit Clafoutis
Clafoutis with Almonds and Cherries
Black Cherry Clafoutis aux Cérises Noires