Clafoutis with Muscat Grapes
Clafoutis is a classic dessert in Provence. Traditionally it's made with cherries, but it is completely acceptable to use fruit that is in season. However, berries (such as strawberries) are not a terrific choice because the juices run. Try melon, grapes, peaches, pears or a combination of your favourites. In this version of clafoutis, Paula uses Muscat grapes.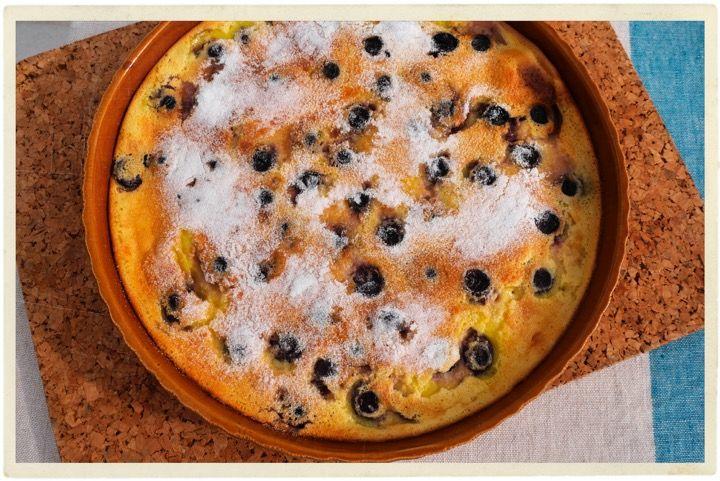 Clafoutis with Muscat Grapes
When I am in Provence I am always asked to bring a dessert when going to a dinner party. I have a minimalist kitchen so I have to come up with a dessert such as clafoutis that is simple.
Ingredients
1 1/4

cups (300 ml)

Milk

2/3

cup (130g)

Sugar

divided

3

Eggs

1

tablespoon

vanilla

1/8

teaspoon

Salt

1/2

cup (50 g)

Flour

2

cups

Muscat Grapes

seeded cut in half

Powdered Sugar

for garnish
Instructions
Preheat oven to 350 degrees F (175C).

Using a blender, combine the milk, 1/3 cup sugar (65g), eggs, vanilla, salt and flour and blend.

Lightly butter a large baking dish and pour a 1/4-inch layer of the blended mixture over the bottom.

Set remaining batter aside.

Place dish into the oven for about 7-10 minutes, until a film of batter sets in the pan but the mixture is not baked through.

Remove from oven (but don't turn the oven off yet).

Distribute the grapes over the set batter in the pan.

Pour the remaining batter over the grapes then sprinkle with the remaining sugar.

Bake in the preheated oven for 45 to 60 minutes, until the clafoutis is puffed and brown and a knife inserted into the center comes out clean.

Sprinkle with powdered sugar and serve warm.
Notes
Try serving this dessert with a bit of ice cream. If you can get your hands on lavender ice cream, even better!