How to Make Tielle Sétoise Fisherman's Octopus and Tomato Pies
This recipe for Tielle Sétoise (fisherman's hand pie) is from the kitchen at La Maison du Rire, a Food and Wine School in Corbières, France. Author, wine instructor and gourmet cook, Emma Kershaw has lived in the region with her family since 2010. You can make these pies as bite-sized appetizers, or in a larger format for lunch or a light dinner.
These little octopus pies come from the pretty town of Sète, sometimes called the Venice of the Languedoc due to the canals that run through the town. The pies were created by the Italian fish-wives for their husbands when they went out to sea. I once took a group of clients on a weekend gastronomic tour in and around Sète and they fell in love with these tielles and named them octo-pies, and the name has stuck since! ~ Emma Kershaw from her cookbook A Taste of Le Sud.
Today, Sète is an important Mediterranean fishing port; there are 12km of white sandy beaches within the city limits and the seafood is really fresh. Sète today has a permanent population of roughly 43,000, a number that swells in the summer months and anytime there is a festival, which is often. The city's economy is propped up by two primary drivers – fishing and tourism. The fish market in Sète – la Criée – is second to Gros du Roi in volume and number one in total sales turnover due to the high price of tuna. A quick drive from many locations in Provence read about 10 Reasons to visit Sète.
---

Tielle Sétoise - Octopus and Tomato pies from Sète
These hand pies are rather fiddly to make but the difference between the homemade version and the store-bought is worth that effort. I have experimented with all sorts of crusts and have come to the conclusion that this simple olive oil crust works best, as the dough is, well, too doughy to be honest. The addition of polenta gives a pleasing crunch.
Equipment
Large Pan

for boiling water
Ingredients
500

g

Octopus

or Squid tubes

1

medium

Onion

finely chopped

3

cloves

Garlic

finely chopped

Saffron

large pinch

1

tsp

Piment d'Espelette

4

large

Tomatoes

peeled, seeded and diced or 1 tin of puréed tomatoes

1

tbsp

Tomato Purée

1

tbsp

Fresh Rosemary

finely chopped

2

tbsp

Olive Oil

Salt and Pepper

to taste
Pastry
450

g

Strong Plain Flour

100

g

Fine Polenta

1

tbsp

Tomato Purée

4

tbsp

Olive Oil

10

ml

Muscat de Frontignan

pinch of

Salt

Cold Water
Instructions
Important Note:
If you are using octopus it is best to freeze it first. This ensures that it is tender, so you need to buy it several days before you want to make these. The day before, remove from the freezer and defrost thoroughly.

Bring a large pan of water to boil with some bay leaves, half a lemon, coriander seeds, whole garlic cloves and a large glug of olive oil. With a pair of tongs, plunge the octopus into the boiling water and pull out; plunge again and pull out with the tongs, repeat three times. This process ensures that the tentacles curl up nicely and that the meat tenderises. Then submerge the octopus into the water, ensure that it is covered completely, and simmer for 30 to 40 minutes until you can easily pierce it with a fork. Drain and cool.
To make the Pastry:
Put all the ingredients (except the water) into a food processor and combine; slowly add enough ice-cold water to form a ball. Remove, knead gently on a floured surface, then wrap and rest it in the fridge while you make the stuffing.

In a heavy-bottomed frying pan heat the oil with a pinch of salt, add the onions so they soften but remain translucent but if they start to colour turn down the heat.

Add the garlic, saffron, rosemary and piment. Stir well to combine.

Now add the octopus, cut into fine dice (or squid tubes cut into fine rings).

Add the tomatoes and purée, a few grinds of pepper and simmer on a gentle heat until thickened. Check for seasoning. Then cool.

Heat the oven to 180°C, prepare your mould, you can either make one large tielle or several small ones. For my tastings, I always make the small ones and this usually yields around 24. Generously oil two muffin cases with twelve holes.

On a well-floured, cool surface roll out the pastry to roughly 3mm thickness and cut out the circles to suit your muffin tin, mine is 5cm in diameter, saving enough pastry for the lids which should be slightly smaller.

Fill the pies with the stuffing, roughly a dessert spoon's worth, making sure that you drain off any liquid.

Brush the edges of the lid and 'glue' onto the base. There is a traditional way of sealing the edges of a tielle: using a knife, make 2 to 3cm incisions all around the edge of the pie, every 2cm, then pinch in the strips of pastry.

Brush the pies either with olive oil or if there is any sauce leftover with some of the tomato sauce and cook for 15 to 20 minutes until the pies take on an orange colour.

Remove from the oven and cool. Serve either cold or warm.
Notes
Wine match: These spicy tomato and octopus pies work so well with a full-flavoured rosé. Fifteen minutes down the road from me here in the Corbières is a small domaine owned by husband and wife team Didier and Jen of the Colline de L'Hirondelle. They produce quirky, handcrafted wines, small in quantity and large in flavour. Their rosé, Ventilo, is made from the much forgotten and dismissed Chenançon variety. The ripeness of the fruit here ensures that the wine harmonises, rather than is overpowered by the spiciness of the sauce; just don't serve it too cold!
Additional Seafood Recipes:
Seafood Pot Pie
Simple to prepare, this seafood dish delivers "wow" factor with the golden, puff pastry crust.
Check out this recipe

Provençal Seafood Stew
This recipe from Cocoa & Lavender was adapted from a recipe by Mark Bittman.
Check out this recipe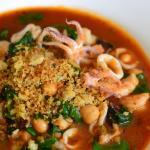 Filo Salmon Pie
A creamy seafood pie with salmon, mushrooms and leeks with a crispy golden top of filo pastry.
Check out this recipe