Traditional Negroni Cocktail Made for the French Riviera
Maison Mirabeau has taken some liberty with the traditional Negroni it's a classic cocktail, with a rosé twist! With equal parts of our Dry Gin, Lillet Rosé and Campari, it is the perfect aperitif cocktail. Cheers!

Negroni Cocktails
The secret of a great Negroni is in the ice.
Ingredients
25

ml

Mirabeau gin

25

ml

Lillet Rosé

25

ml

Campari

Ice in an old-fashioned glass

Long orange peel
Instructions
With plenty of ice in an old-fashioned glass, add the ingredients (Mirabeau pink gin, Lillet Rosé, and Campari). Let the ice work its magic by giving it a gentle stir to start it melting and diluting the cocktail to your preferred taste.

Take a long peel of orange zest (avoid the pith) and wipe it around the rim of the glass. Pinch the peel over the drink to express a little oil.
More Cocktail Ideas from Maison Mirabeau
Spicy Gin Winter Punch
A wonderfully warming gin cocktail to enjoy during these colder days, with spicy aromas to warm the cockles of your heart!
Check out this recipe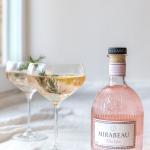 Gin and Rosé Sparkling cocktail
All you need is a cocktail shaker to craft this festive gin-based sparkling start to the evening.
Check out this recipe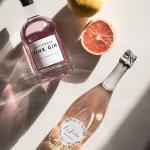 Pure Rosé Cocktail Recipe with rose ice cubes
The most time-consuming part of this drink recipe is making the ice cubes in advance. Find some beautiful miniature roses and freeze them in ice cube trays with water. The cocktail is delicious (of course), but the frozen rose ice cubes make the presentation.
Check out this recipe