Beet Carpaccio with Smoked Salmon and Pomegranate a Colourful Starter Course
This starter course with thinly sliced beets is a brightly-hued plate to start a meal. The deep-purple beets and bright pink salmon are festive and bursting with flavour. This dish is a light first course or terrific for a cold lunch in the warmer months.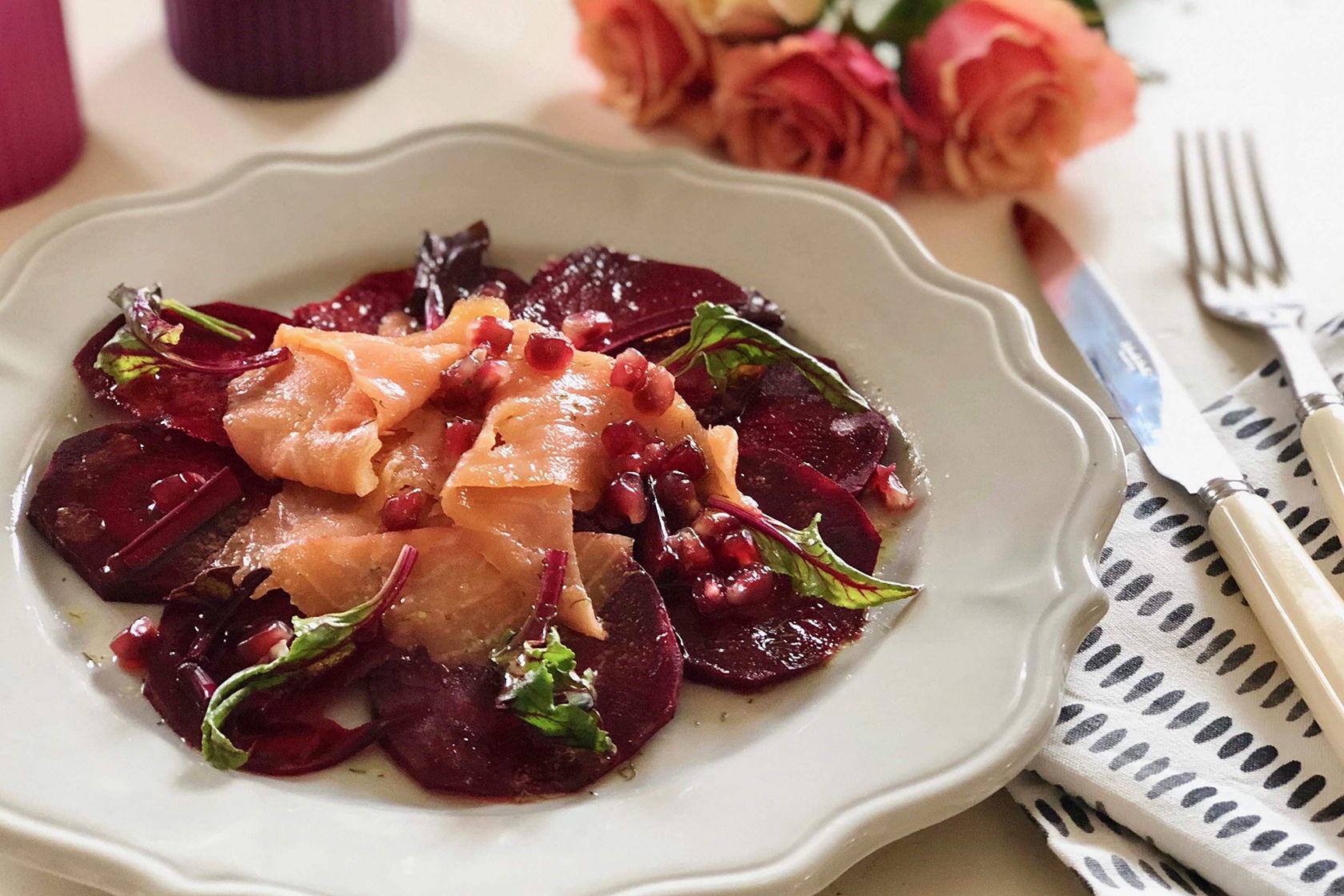 Beetroot Carpaccio with Smoked Salmon and Pomegranate
An easy, colourful first course (or lunch dish) that is full of antioxidants.
Ingredients
2

large slices

Smoked Salmon

good quality or wild, if possible

2

small

Raw Beetroots

or 1 large one

1

whole

Pomegranate

or pre-prepared Pomegranate seeds

a sprig of

Dill

Honey Mustard

Lemon juice

olive oil

to taste

Salt and Pepper
Instructions
Thinly slice the raw beets and arrange in a flower shape on your plate.

Tear of pieces of the smoked salmon and add over the top.

Then half your pomegranate and extract some pomegranate seeds with a pointy knife (use the rest for tomorrow's breakfast) and sprinkle over the plate.

Chop the dill and mix with a small spoon of honey mustard, lemon juice and olive oil, until you get a relatively runny consistency.

Lightly season with pepper and salt (remember the salmon is already salty). Spoon the vinaigrette over the dish, making sure you reach the beetroots on the outside.

Pour two glasses of chilled Mirabeau rosé and serve!