Stylish Cocktail Ideas for Summer
The team at Maison Mirabeau loves summer, and we're embracing the Provençal lifestyle with strolls to the market, walks near the lavender fields and toasting long evenings with our rosé. Not that we ever get tired of rosé, but we have had a lot of fun experimenting with these great summery cocktails.
Nothing marks the end of a summer's day by the French Riviera like a refreshing cocktail, with stylish glassware as the pièce de resistance.
Continue reading here for more cocktail ideas from our team.

Raspberry Chambord Martini
Ingredients
60

ml

Mirabeau Dry Gin

15

ml

Lillet Blanc

10

ml

Chambord Raspberry Liqueur
Instructions
Shake all together in an ice-filled cocktail shaker, then strain into a martini glass.

Pink Gin Gimlet
A refreshing summer cocktail.
Ingredients
1.5

oz

Mirabeau Dry Gin

.75

oz

Simple Syrup

1.5

oz

Lime Juice

1 lime

2.5

oz

Pink Grapefruit Juice

1/2 a Grapefruit

Crushed Ice
Instructions
Pour all the ingredients into an ice-filled cocktail shaker. Shake together and pour into a cocktail coupe.
More Cocktail Ideas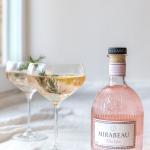 Gin and Rosé Sparkling cocktail
All you need is a cocktail shaker to craft this festive gin-based sparkling start to the evening.
Check out this recipe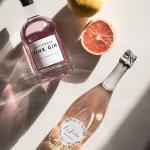 Pink Elephant Martini Cocktail
This cocktail is festive, fun and easy to mix. Enjoy!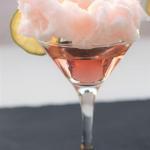 Pure Rosé Cocktail Recipe with rose ice cubes
The most time-consuming part of this drink recipe is making the ice cubes in advance. Find some beautiful miniature roses and freeze them in ice cube trays with water. The cocktail is delicious (of course), but the frozen rose ice cubes make the presentation.
Check out this recipe