Fall in Provence Dinner Party Menu to Try with Friends
Writer, entrepreneur and small group tour director Annette Charlton says, "I was a Francophile long before I visited France." She agreed to curate our 2022 dinner party menu inspired by the change of seasons in Provence. Autumn is harvest time, so with the abundance of delicious seasonal produce available in markets, it is easy to satisfy even the most demanding taste buds in fall. With the cooler evenings in the fall, it's the perfect excuse for cooking those favourite dishes with a heavier texture, especially after the lighter salads and meals of summer. Annette's fall weather menu includes four delicious courses and a special cocktail for an easy-going dinner party with friends.

Even before her first trip to France from Australia, Annette searched the internet for a second home in the French countryside despite her husband's preference for the English coast. They purchased a stone cottage in rural Brittany in 2009, and the fun began. Annette documents their adventures and mishaps in her blog – A French Collection.
It's a long way from Australia to France, but since Annette Charlton and her family bought the property, they return annually (or more often) for holidays. Living part-time in France has given the family an appreciation for French cultural nuances and a taste for exploration. Annette shares her passion with other ladies on small group tours in Paris, Normandy and Brittany. In 2019, Annette launched My Beautiful French Collection Box, a subscription gift service – read more here.

---
Annette's Provence Dinner Party Menu
Fall is also the time our family enjoys pulling out board games and reconnecting after the busy summer weeks of socialising and late evenings. For me, cooking over a stove is always more pleasurable in the cooler months, so it is with gusto that I head back into the kitchen at the beginning of fall to prepare my favourites and try new recipes I've discovered over the previous spring and summer months.
I hope you enjoy my fall menu, a feast and a half with a starter of marrow on toast, hot broth, Pot-au-Feu, a cheese plate and Fig Tart with Marzipan. Join me in cooking this delicious fall menu accompanied by a fun Martini cocktail to start things off.
Be transported to the South of France in the fall with these dishes.
Contact us here for a PDF copy of the menu
Festive Cocktail
To get into the party mood and maybe sip while playing a board game before the main dinner event, try these fun Pink Elephant Martini Cocktails.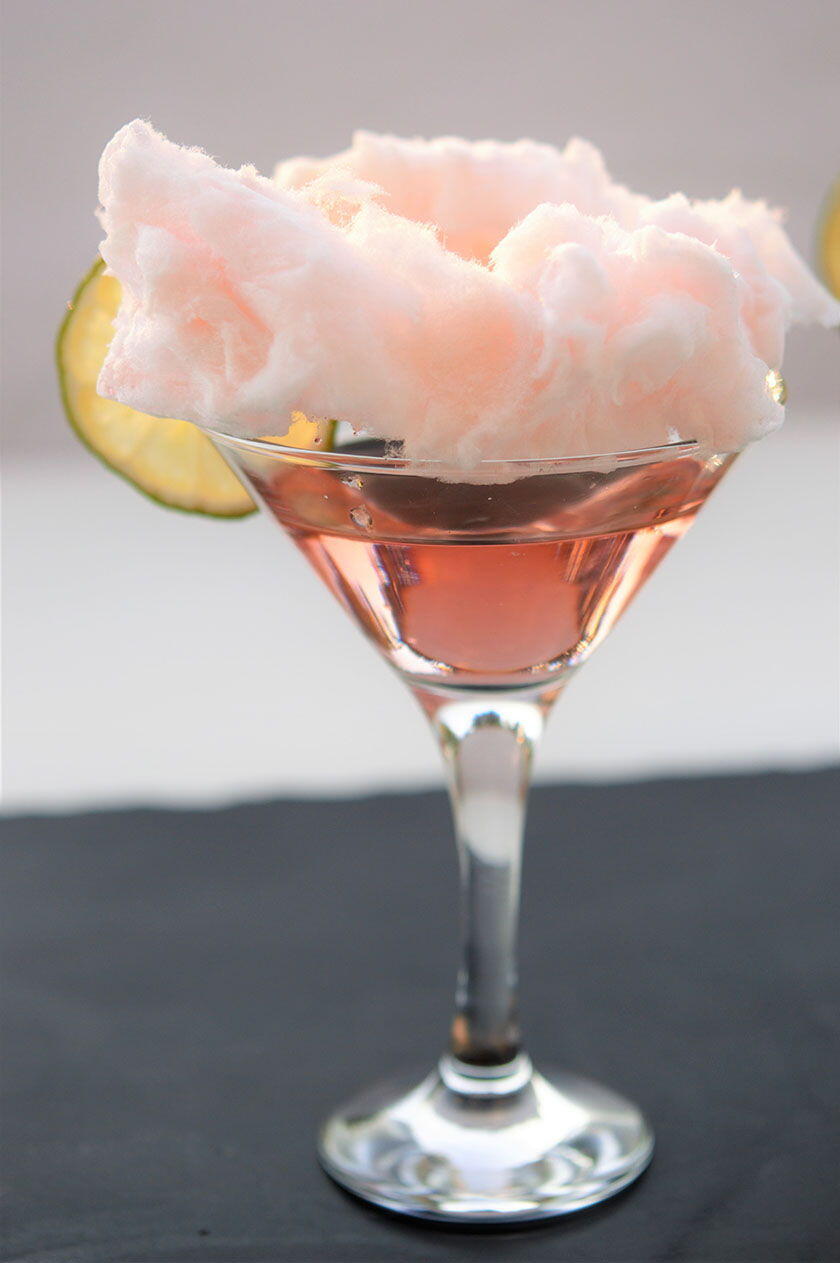 Pink Elephant Martini Cocktail
This cocktail is festive, fun and easy to mix. Enjoy!
Ingredients
4

shots of

Vodka

4

squeezes of

Lime

to taste

Fentimans Rose Lemonade

4

slices of

Lime

Pink Cotton Candy
Instructions
In a Martini glass (or cocktail glass of your choice) add a shot of vodka and the lime juice.

Top up with the pink lemonade and serve with a slice of lime and a tuff of pink cotton candy
Notes
Practical note: Instead of placing the cotton candy around the rim of the glass you can also place a tuff of pink cotton candy in the Martini glass and serve with a flask of the cocktail. The cotton candy is fragile once it touches the drink, it will start to dissolve.
The Main Event
A pot-au-feu is a classic stewed dish with meats and vegetables and is a great intro back into warmer dishes. Originally cooked in the fireplace and more suited to winter, this dish can now easily be cooked in Autumn, even in the warmer regions of Provence, on your cooker or stove.
With the marrow spread on toast as a starter, the broth served as one course and then the stew as the main meal, it certainly earns its keep. I love the versatility this brings and that this one-pot dish can cook away (and it will take the better part of an afternoon) while you enjoy the last rays of sunshine that autumn brings.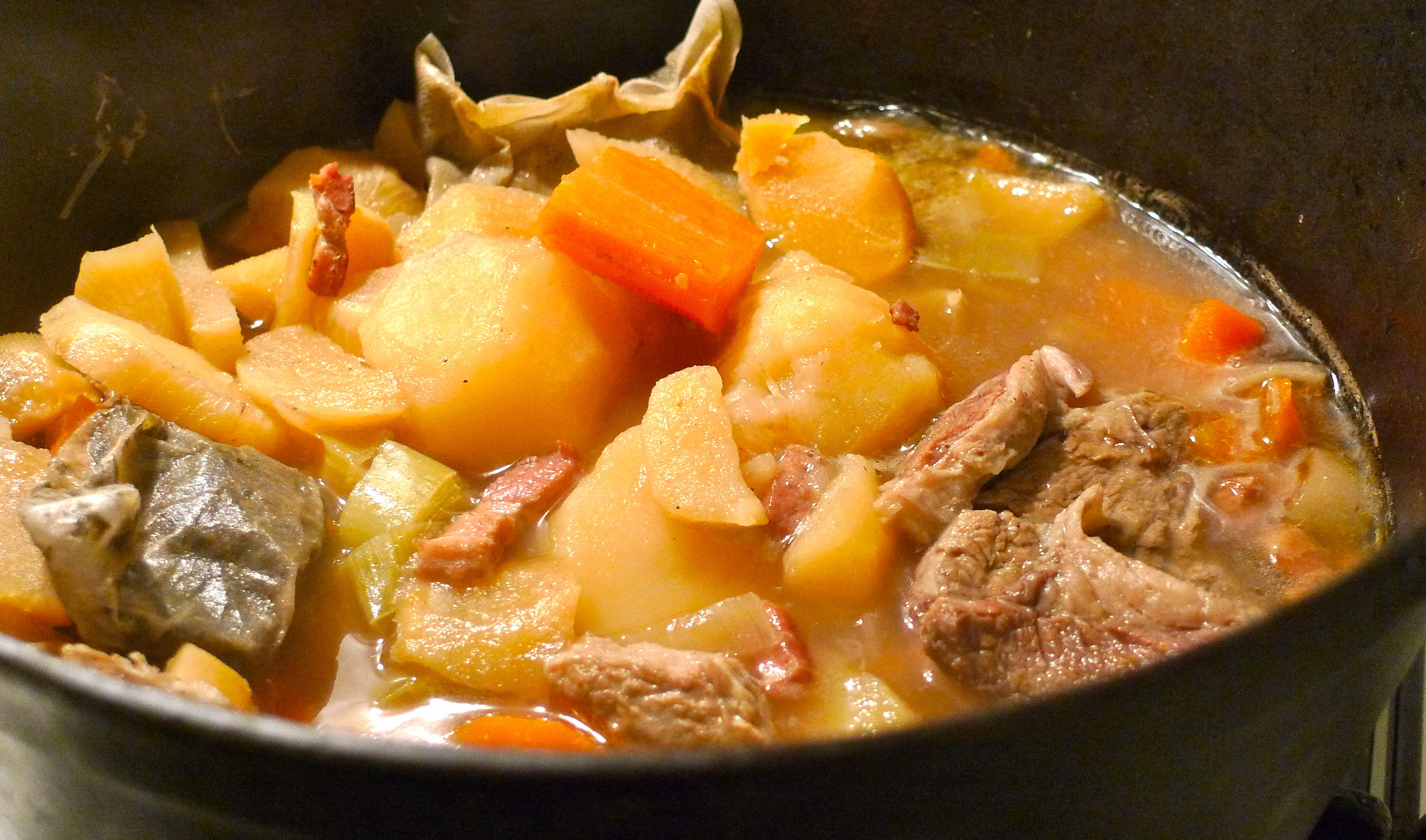 Pot au Feu
This is a very traditional French main meal. Like a stew, pot-au-feu is easy to make, and you can vary the ingredients depending on what you have in the fridge. Traditionally, this dish is served in two courses. The marrow is spread on crusty bread and served with the broth, then the meat and vegetables follow in the second serving.
Ingredients
2

Pieces

Oxtail or sliced bacon

3

Pounds

Rump Roast or small Pork Roast

1

Whole Large

Onion

peeled and sliced

3

Medium

Leeks

cleaned and sliced

3

Medium

Carrots

peeled and cut in large pieces

6

Small

Turnips

peeled and chopped

2

Whole

Celery stalks

cleaned and sliced

2

Garlic Cloves

crushed

1

Bouquet Garni

1

tbsp

Ground Black Pepper

2

tbsp

Herbes de Provence

2-3

Cups

Water

2-3

Cups

White Wine

6

Small

Potatoes

cleaned

2

Fresh

Baguettes
Instructions
In a large stockpot on high heat cook the oxtail or bacon slightly

Add the meat (beef or pork) and brown on all sides

Add the onion and cook until translucent

Add the leeks, carrots, turnips, celery, garlic, bouquet garni, black pepper, herbes de Provence

Add enough water and white wine to cover the ingredients and bring to a boil

Reduce the heat to simmer and cook partially covered for about 3 hours, until the meat is tender

Skim foam off the surface occasionally

Strain the vegetables from the meat and broth and set-aside for later

Return the meat and broth to the pot and bring to a simmer. Cook partially covered for another hour, add the potatoes after 30 minutes

Remove the meat from the broth, discard the trussing strings and carve

While carving warm the vegetables in the broth for a few minutes until warm

Serve the meat and vegetables along with some crusty bread
Cheese Course
Figs are one of the stars of the fall season thriving in the Mediterranean region of France during the months of August, September and October and are a great pairing with cheese.
I recommend adding grapes and thin pear slices, which are also in season at this time, just in case you think your guests will be all 'figged' out if you only offer figs on your cheese plate, knowing your Fig Tart is to follow.

Cheese plate with Seasonal Figs
The quantities will vary depending on the numbers at your table. However, as a rule, provide a selection of cheeses from mild to strong. You can prepare individual plates for each person or one larger board allowing everyone to select their favourite cheeses.
Ingredients
1

Mild Cheese

Such as brie, fresh chevre, Camenbert

1

Medium Cheese

Comté, Cantal, Tomme, Mimolette

1

Cheese with a stronger flavour

Reblochon, Epoisses, SaintNectaire

1

Blue Cheese

Such as Roquefort

Walnuts or other nuts

allow 3-4 person

Fresh Figs

allow 1-2 person

Dried Fruit

dried figs, prunes, apricots

1

Baguette

sliced
Instructions
Prepare your cheese tray, placing the cheese in order of mild to strongest.

Wash the figs. Cut off the tops and slice in half or quarters.

Decorate the cheese plate as you wish and serve with fresh sliced baguette.
The Sweet Finish
What is better than baked fig? Baked fig with marzipan! This wonderful recipe by Nito Carpita is easy, delicious and a tribute to the Provençal almond. Did you know almonds are one of Provence's three flagship products along with olives and figs.
Using figs when in season, this recipe also gives options for using other stone fruits throughout the other seasons.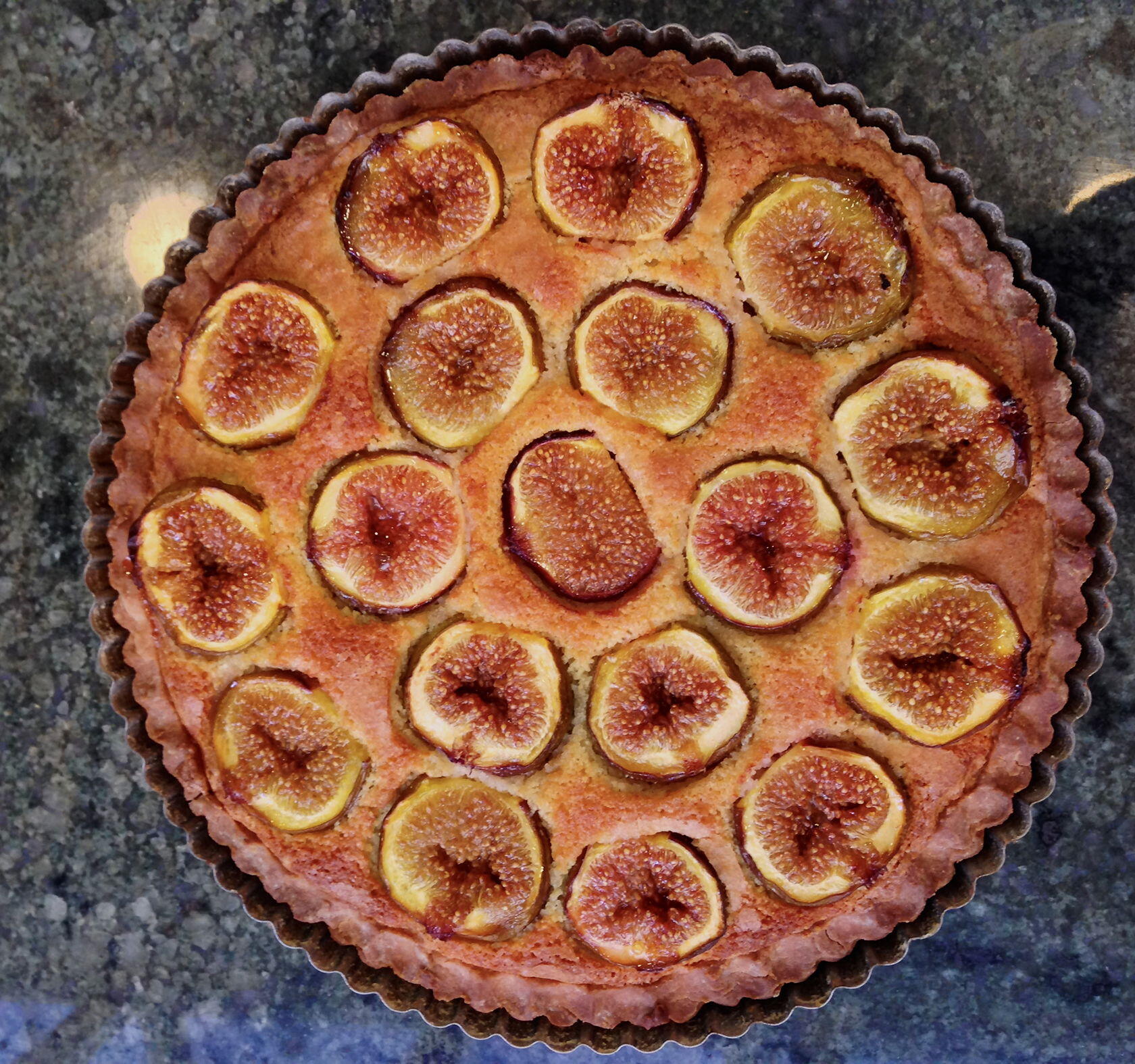 Fig Tart with Marzipan
This tart is relatively easy to make and absolutely a crowd favourite.
Ingredients
1

roll

Pâte sablée tart shell

blind bake for 10 minutes

1/2

cup

Almond powder

1/2

cup

Castor Sugar

1

tbsp

Corn Flour

1/2

cup

Butter

unsalted and softened

1

large

Egg

1

Egg white

1

tsp

Vanilla extract

10

Fresh Figs

not too ripe, cut in halves

1

tbsp

Powdered Sugar
Instructions
Mix with a hand-held beater or food processor: almond powder, sugar, flour, butter, egg, egg white and vanilla extract. Mix until the batter becomes creamy.

Pour batter into the baked tart shell and level with a spatula.

Place figs cut side up in the creamy mixture, pressing them gently in two or three circles, leaving a small space between them.

Dust the figs with powdered sugar.

Bake in a preheated oven at 350°F (180°C) degrees - until the surface of the figs caramelizes and the batter puffs up. About 35-40 minutes.

Remove from the oven, let the tart cool slightly in the pan before placing it on a rack to cool completely. Cut and serve.
Notes
Placing the figs cut side up helps prevent the pastry from becoming soggy. When figs are out of season this tart can be made with other stone fruit, such as apricots, peaches, nectarines or plums.
Bon appétit!
For more seasonal recipes, explore our Tastes of Provence section, and put together your own menu.
For Pinterest fans:

All rights reserved. Perfectly Provence articles and other content may not be published, broadcast, rewritten (including translations into other languages) or redistributed without written permission. For usage information, please contact us.
Syndication Information
Affiliate Information
As an Amazon Associate, this website earns from qualifying purchases. Some recipes, posts and pages may have affiliate links. If you purchase via these links, we receive a small commission that does not impact your price. Thank you in advance for supporting our work to maintain Perfectly Provence.