Figs and Chocolate Make a Delicious Tart
Almost indescribable, the scent of a fig tree full of almost ripe fruit is a fragrance that is both sweet and earthy, it's summer in Provence. The scent is distinctive, almost arresting in the open air, however, in a closed space can be overwhelming. And, you can eat too many!

Most fig tree varieties produce fruit twice a year; a first crop (breva) in the spring and then the second production in late summer. The second harvest is typically larger, and the fruit is of higher quality. The fig season is brief; the fruit is delicate and does not travel well. Fresh figs can be eaten as is; they provide an exceptionally high source of calcium and fibre. Often figs are dried or made into jam due to the rate at which they perish.
What to do with all those figs? Make Rose's delicious tart with chocolate and figs:

White Chocolate Tart, Red Fruits and Fresh Figs
There is nothing better in this world than a combination of white chocolate and fresh fruits. These tarts are so light and deliciously sweet, you'll be reaching for another one before you even finish the first!
Ingredients
For the dough:
9

oz

Small Butter Cookies*

3 1/2

oz

Unsalted Butter

melted

1

Orange

juiced
For the tart: ⁠
9

oz

White Chocolate

1/2

cup

Heavy Cream

1 1/2

oz

Unsalted Butter

1/2

cup

Red Fruits

mixed berries

4-5

Fresh Figs

Icing Sugar

for decoration
Instructions
Mix the small butter until they turn into a coarse powder.

Add the melted butter and orange juice, then mix to obtain a very moist paste.

Spread the dough by hand in the bottom of a mould (cheesecake type).

Reserve in the refrigerator for at least a half-hour.

Meanwhile, melt the white chocolate into pieces in a double boiler, then add the cream and the butter, stirring regularly.

Pour the preparation on the dough and let cool quietly

Put in the refrigerator for at least 2 hours and decorate the tart with fresh fruit & icing sugar
Notes
 *If you are in France or can buy Petit Beurre biscuits, these are used in the crust. Originating from Nantes, these dry shortbread cookies are produced by the LU company. You can find them in some stores in North America and via Amazon (affiliate link or click on the image below).

There are other brands on the market, and in a pinch, you can use graham crackers, but the flavour will be slightly different.

Sparkling, dreamy, sensitive, Rose has enjoyed travelling through Provence since she moved there (a few years ago), her eyes filled with wonder, with her little dog Roy-Marius.
This young business manager passionate about charming real estate, history & the art of living in Provence divides time between her daily discoveries and the property entrusted to her.
Don't be surprised if… From Sainte-Victoire to Luberon, you cross her on her bike, crisscrossing the small roads in the middle of lavender fields… strolling, basket in hand, on the local markets… or sitting on a terrace, sipping
a fresh rosé from Provence.
---
Savoury Fig Recipes
Stuffed Zucchini Flowers with Goat Cheese, Figs and Ham
Sadly, zucchini flowers and figs are only available for a short time in Provence, but if you can source both, this colourful creation will have your guests begging for more.
Check out this recipe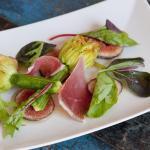 Roasted Figs with Cheese and Bacon
This recipe is the perfect storm of sweet and savoury yumminess and a great appetizer.
Check out this recipe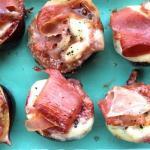 Duck Breasts with figs
This main dish is a recipe from Hilda it is easy to prepare and a perfect savoury pairing with duck and figs. According to Hilda, "This is a truly moorish dish that is so simple to make."
Check out this recipe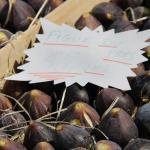 Cambozola and Fig Flatbread
A warm and toasty lavash (sheet flatbread) covered in bold creamy Cambozola cheese and figs with fresh thyme and pine nuts baked to perfection.
Check out this recipe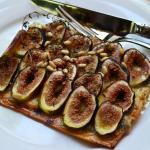 Fig, Walnut and Lardon Quiche
I love to make seasonal quiches, as there's always a nice combination that will work. Figs are lovely with nuts, so you can make a very tasty number with some crushed almonds or walnuts, figs and some lardons for extra taste.
Check out this recipe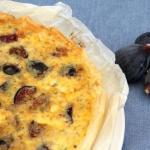 Figs for Dessert

Fig Tart with Orange Flower Custard
This is a delicious tart, easy to make a perfect way to use up those figs that your guests brought to your dinner party.
Check out this recipe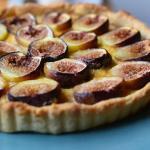 Mini Fig and Ricotta Cheesecakes
This is a recipe our lovely intern Bella delighted us with during her stay in Provence and that has made it into my list of all time favourite deserts.
Check out this recipe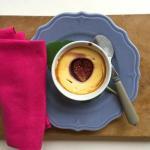 Fig and Buttermilk Custard Tart 
The recipe makes a 1-10 inch tart, which should serve 6-8 people.
Check out this recipe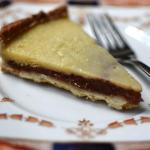 Fig Tart with Marzipan
This tart is relatively easy to make and absolutely a crowd favourite.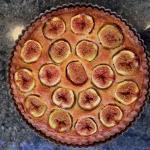 Blue Cheese and Fig Tart Two Ways
This recipe is based on a blue goat cheesecake by Braiden Rex-Johnson found in her "Pike Place Market Cookbook." I made the dessert into more of a tart format, using the same basic ingredients.
Check out this recipe