When Life Gives You Figs – Make a Fig Tart with Orange Flower Custard
What is your go-to dinner party hostess gift?
A bottle of wine of course is an easy option. Flowers are nice, but then the hostess needs to scramble to find a vase and arrange the bouquet, which might not be practical. This is what David shared in his post about hostess gifts.
"Never show up empty handed." It's a rule I grew up with and, for many years, that meant I brought a bottle of wine to every dinner party.
As I got older, and was on the receiving end of lots of bottles of wine, other issues presented themselves. Do I serve the wine that was gifted me, even though it doesn't go with the meal?
…Continue Reading here for David's original post and gorgeous (mouth-watering photos). The recipe for Fig Tart with Orange Flower Custard adapted from Finecooking Magazine is below. You can use other fruit such as apricots or peaches, but our personal favourite is with figs.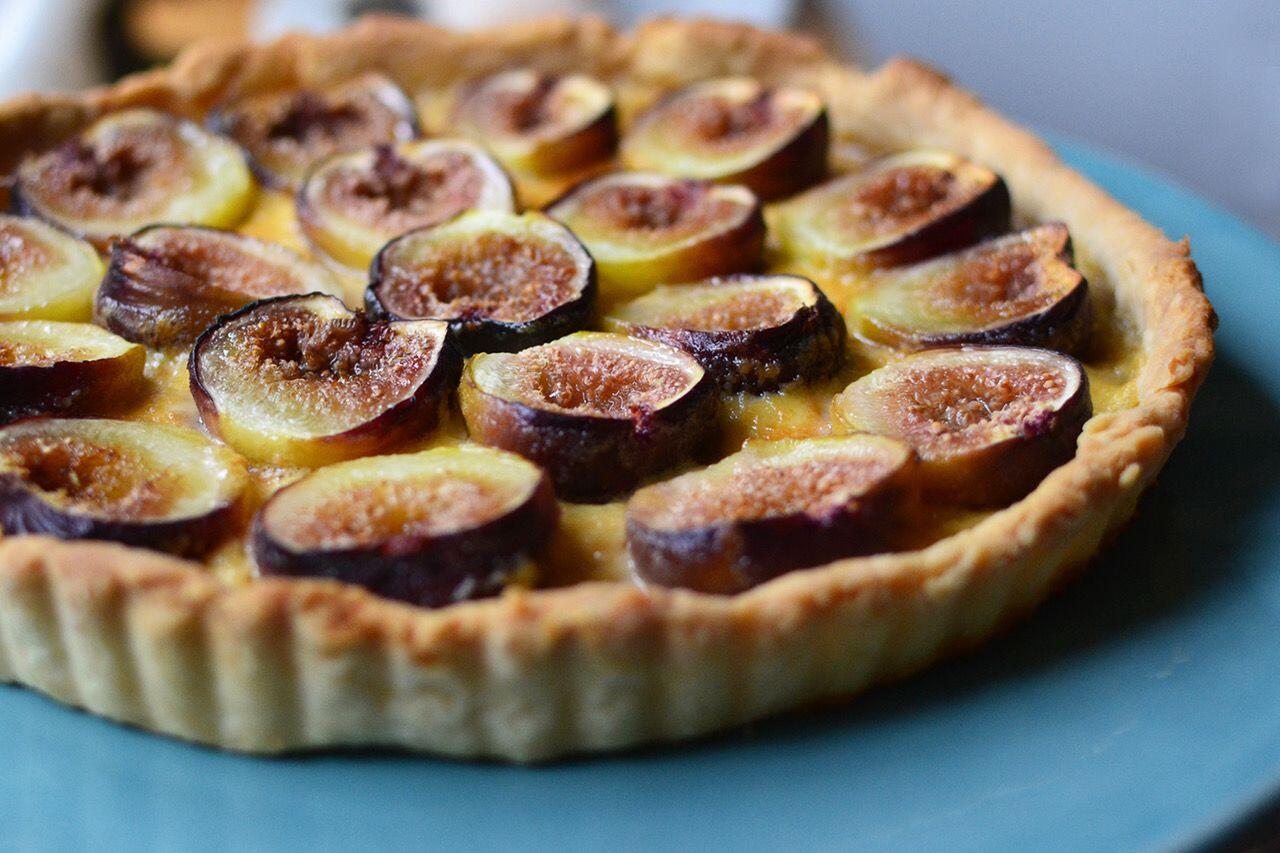 Fig Tart with Orange Flower Custard
This is a delicious tart, easy to make a a perfect way to use up those figs that your guests brought to your dinner party.
Ingredients
1 1/3

cups

All Purpose Flour

pinch

Salt

8

tablespoons

Unsalted Butter

chilled

1/4

cup

ice water

10-12

Ripe Figs

1

large

Egg Yolk

1/2

cup

Crème fraiche

see note

3

tablespoons

brown sugar

packed

2

teaspoons

Orange Flower Water

flaked sea salt

for finishing
Instructions
Combine the flour and salt in a large, wide bowl.

Cut the butter into 32 pieces and add to the flour; toss to coat.

Working quickly with your fingertips, pinch the butter into the flour to create flakes of flour-covered butter. Do this until there are no chunks of butter left, only flakes.

Sprinkle the water on top, and, using a fork, toss the mixture to evenly distribute the water.

Then, with your hands pull the dough together and knead briefly to form a ball.

Refrigerate for 10 minutes before rolling.

Roll the dough into a 12-inch circle and put it in a 9-inch tart pan with a removable bottom.

Fold the excess dough down to make a thick rim for the tart, pressing it into the fluted pan.

Prick the bottom of the pastry all over with a fork, then put in the freezer for 20 minutes while you heat the oven to 425°F.

Line the pastry shell with foil, and fill with beans or pie weights.

Bake until it's lightly coloured, about 20 minutes.

Remove the tart and reduce the oven temperature to 400°F; remove the weights and foil.

Cut the stems off the figs (leave the skins on) and slice the figs in half.

Whisk the egg yolk, crème fraîche, brown sugar, and orange flower water until combined and then pour into the tart shell.

Place figs into the custard, cut side up on concentric circles starting from the outside.

Bake the tart on the baking sheet in the 400°F oven until the custard is lightly coloured and set, about 30 minutes.

Sprinkle the tart with flaked sea salt and serve slightly warm.
Notes
* If you don't have crème fraîche, you can approximate it by putting 1/2 cup heavy cream in a jar with a tight-fitting lid. Then add 1 tablespoon of buttermilk, cover, then shake of a few seconds. Set aside at room temperature for 24 hours. You will need to do this a day in advance.