How to Make a Traditional Epiphany Cake
This recipe is shared by our contributor Phoebe Thomas. She makes this French January treat, a delicious, buttery, frangipane pastry, called la galette des rois, which translates to the King's Cake at home with her kids. Follow along and enjoy!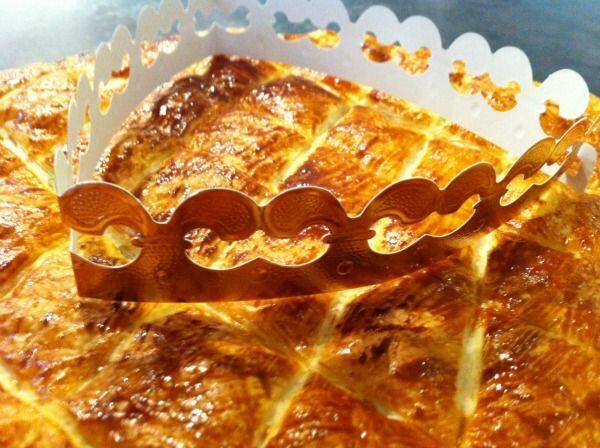 Galette des rois (Epiphany cake)
Here is what Phoebe has to say: Making your own Galette des rois is very simple, assuming you can get hold of ready-made puff pastry. In France we're spoilt with excellent quality puff pastry that comes ready rolled with its own baking paper, available in every supermarket.  And even better than that, during the festive period, roughly December and January, kits of puff pastry with a crown and figurine are sold too!
Ingredients
460

g

Puff Pastry

2 rolls of ready-made pastry

100

g

Ground Almonds

75

g

Sugar

1

whole

Egg

1

Egg Yolk

beaten

50

g

Unsalted Butter

at room temperature

A few

drops

Almond Essence

1

Fève

small ceramic figurine or a dried broad bean

1

Paper Crown
Instructions
Roll out the bottom pastry, into thin rounds of approximately 30-35cms diametre onto a baking tray lined with baking paper.  Prick it with a fork several times.

Mix all other ingredients except the extra egg yolk in a mixing bowl, beat till thoroughly mixed and creamy.  The paste should be quite thick.

Spread the paste over the pastry, leaving an edge of a couple of centimetres.

Paint some beaten egg yolk around the edges as "glue" to help stick the top layer of pastry.

Place the fève (figurine) somewhere not too near the centre.

Place the 2nd round of pastry over the top and pinch around the edges to stick it firmly closed.

Prick a few holes and cut a pattern on the top with a knife (if you wish!)

Paint with the beaten egg yolk to make the pastry beautifully golden.

Bake at 200°c (400F) (fan assisted oven) for approx 25 mins (or until golden, keep an eye on it, all ovens are different).

Can be served warm or cold.
Notes
Serve to as many as possible, but make checking carefully not to break a tooth or choke on the fève.
Please share this with friends and family.